Six-times Russian national champion Ivanov retires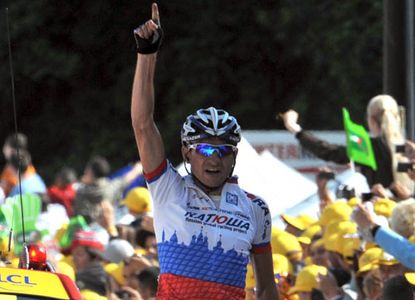 A dispute with Katusha team manager Andrei Tchmil has led former Amstel Gold winner and six times Russian national champion Sergei Ivanov to call time on his career, at 36.
Ivanov's first claim to fame came as long ago as July 29 1998, in the Tour de France, after a rider's go-slow during the entire stage had almost brought the drug-wracked race to a halt.
Ivanov, then a first year pro, was a rider for TVM, the squad which had been hauled off en masse by the French police for questioning over possible drugs use - an arrest which proved a 'provocation' too far for the peloton, which then went on strike.
Ivanov was one of the first of the the TVM riders to cross the finish line at Aix-les-Bains at the end of that go-slow, raising his arms in the air as he did so. The entire team then quit when the race entered Switzerland, not after making some rather less polite gestures with their arms towards the French frontier as they did so.
By a bizarre coincidence, Ivanov then 'won' again in the Tour at Aix-les-Bains in 2001 - but only after he had been thrown off the 2000 Tour for having a blood thickness level (haematocrit) above the mark considered 'healthy'.
"Last year I made some mistakes," he was quoted as saying in his stage winner's press conference in 2001, "but they were not my mistakes."
Fast forward a decade, and Ivanov has now hung up his wheels, the last of the TVM riders from the infamous 1998 Tour de France to do so. However, he is hardly going quietly.
"I did not retire, it is Andrei Tchmil who caused this departure," Ivanov told Belgian agency Sporza. "He retired as the general manager of Katusha and told his successor, without asking me, that I would stop."
Inbetween that 'double' win at Aix-les-Bains in the Tour, has come another stage win, in 2009, when he attacked close to the line at Besancon for a solo victory. It was also the same day that George Hincapie, then with HTC-Columbia, narrowly missed out on the yellow jersey. His final two years, at Katusha, have not seen any significant results.
Related links
Tour de France 2009: Ivanov wins stage 14
April 2009: Ivanov takes Russia's first Amstel Gold
Thank you for reading 20 articles this month* Join now for unlimited access
Enjoy your first month for just £1 / $1 / €1
*Read 5 free articles per month without a subscription
Join now for unlimited access
Try first month for just £1 / $1 / €1