Steve James takes another Wessex League cyclo-cross win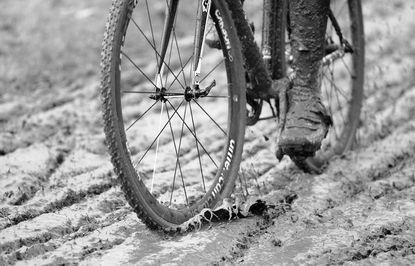 Steve James (Hargroves Cycles) continued his warm-up for the start of the National Trophy Series with another victory in the Wessex League on Sunday.
The top under-23 and third overall in last season's National Trophy, James looks set to make waves in this season's competition.
He won at Eastleigh, Hampshire, on Sunday by ten seconds over Wheelbase rival Michael Cotty, while Crispin Doyle (Hargroves Cycles) took third in the senior race, having just won the veterans race too.
Elsewhere, Cardiff JIF youngster Adam King continued his great run of results with a third consecutive victory in the Welsh League on the Foxley Estate in Hereford on Sunday.
The 17-year-old - who will regard the opening National Trophy race at Abergavenny as a home event - soloed to victory having dropped early companion Ryan Bevis (NFTO).
In the Lincolnshire League Mark Cotton (Ellmore Factory Racing) took a second victory in three races so far when he held off the challenge of Steve Lampier (Node 4-Giordana) in the latest race at South Ormsby Hall.
He was 23 seconds clear of his rival, having jumped clear as Lampier slightly overshot an early corner.
Securing his first Yorkshire Points Series win of the season, Nick Barnes (Zepnat RT) won the Jonathan Noble Memorial cross at Temple Newsam Park in Leeds.
The 19-year-old was 27sec ahead of Dieter Droger (Scott UK) at the end of the event. It proved to be a second consecutive podium appearance of the weekend for Droger, who had won the previous day's Notts and Derby League in Allestree Park, Derby.
In the London League, Herne Hill staged round five and it was Matt Holmes (Arctic SRAM RT) who took the win, just ahead of VC Londres' Jules Birks, who had won the previous day's Eastern League event at Welwyn.
Junior Danny Fox (RST Trigon) battled through from a mid-field start to take victory in round three of the Western League, staged in Pittville Park, Gloucester, on Sunday.
The 17-year-old was just ahead of Scott Chalmers (Dream Cycling) at the end, while MG Maxifuel professional Will Bjergfelt was third, 52sec off the pace.
Under-23 Adam Martin (Metaltek-Knights of Old) took the honours in the fifth round of the CXNE Rat Race Series at Gateshead on Sunday.
The 19-year-old held off Scott UK rival Tony Fawcett by 17sec, with Stuart Wearmouth (MTS Cyclesport) third.
And in the opening round of the Scottish Series, Roger Campbell-Crawforth (Team Thomsons Cycles) won in the Auchentoshan Cross in Clydebank.
He was around ten seconds clear of Colin May (VC Edinburgh), with Steve Halsall (VC Moulin) third.
And in the North West League at Heaton Park in Manchester, Giles Drake (Herbalife-Leisure Lakes) took the win, while Pete Banham (Fred Williams Cycles) was victorious in the West Midlands League at Baggeridge Country Park in Dudley.
Thank you for reading 10 articles this month* Join now for unlimited access
Enjoy your first month for just £1 / $1 / €1
*Read 5 free articles per month without a subscription
Join now for unlimited access
Try first month for just £1 / $1 / €1
Snowdon Sports is a long-established independent sports news agency, which supplies editorial to a range of media outlets - such as Cycling Weekly - as well as sports governing bodies. Snowdon Sports often covers results at Cycling Time Trials events in the UK and has long been a source of information and imagery to Cycling Weekly.