Taylor Phinney: Aiming to impress in the Year of the Horse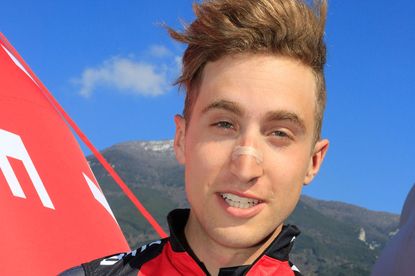 Taylor Phinney (BMC Racing) takes comfort in the Chinese Year of the Horse. The American was born in that year, which comes around again this January 31.
"Yes, it's the year," Phinney told Cycling Weekly. "Let's get it on."
He sat in the back of a team van at the start of Tour de San Luis stage two trying to escape the heat. His red racing BMC cap sat low and sunglasses concealed his eyes. In his friendly and humorous way, he spoke about the Chinese New Year
According to the China Highlights website, "People born in the year of the horse are extremely animated, active and energetic. Horses love to be in a crowd, and they can usually be seen in such occasions as concerts, theaters, meetings, sporting occasions, and parties. With a deft sense of humour, horses are masters of repartee. They love to take centre stage and delight audiences everywhere."
The Year of the Horse also signals Phinney's fourth season. Since 2011, 'the horse' soloed away for a Tour of Poland stage, placed fourth in the Olympics time trial and road race, and time trialled to a stage win and wore the pink jersey at the Giro d'Italia.
"I think I've progressed relatively well over the last three years. This year is an important year for me, I come into this season quite strong, stronger than last year," Phinney continued.
"The team is putting positive pressure on me and giving me the opportunity to shine, like targeting the time trial here. I'm excited, it's going to be a good year."
The wind blew outside the van and the sun brought the temperature up to 35°C. The time trial comes in stage five, on Friday, and the rest of the year remains. His "good year" includes Tour of Flanders and Paris-Roubaix, and what Phinney hopes will be his first Tour de France participation. He said that he feels ready for it.
He explained that he has now stopped growing - he is six-foot-five and a quarter or 197cm - which eases the pressure on his joints. Before, his joints could not keep up with his muscles and caused him hip and knee pains. That is good news for the twice Under 23 winner of Paris-Roubaix. After placing 15th in Paris-Roubaix in 2012, he wants to win it or Flanders the week before.
"Flanders and Roubaix are the biggest priorities," he said. "Other than performing well in the classics, the biggest goal of the season is to make the Tour team. It's my fourth year as a professional, it's about time I get to the biggest race there is."
Getting there will come via races like San Luis and training in Nice, France. Phinney uprooted from Tuscany for the Côte d'Azur this winter.
"There are many American riders and British riders who live in Nice and Monaco. Adam Blythe, one of my best friends still lives in Monaco," Phinney added.
"I loved being in Quarrata and close to Max Sciandri and having Mark Cavendish around, but I ended up spending a lot of time there by myself. I'll have a bigger network of people to hang out with. I feed off others' energy. I was missing that a bit. It's a bit different, we'll see if it's good."
Related links
Tour de San Luis 2014 preview and coverage
Taylor Phinney: Rider profile
Thank you for reading 20 articles this month* Join now for unlimited access
Enjoy your first month for just £1 / $1 / €1
*Read 5 free articles per month without a subscription
Join now for unlimited access
Try first month for just £1 / $1 / €1