Team Hope prepare for Tour Series in DoonHame crit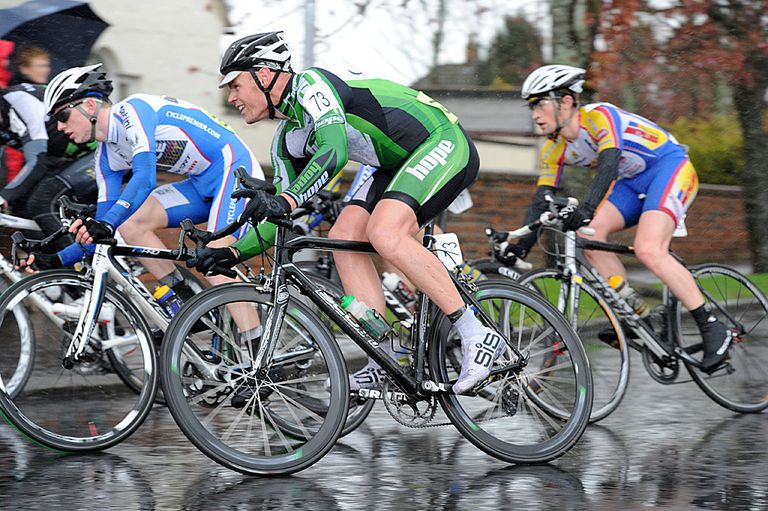 Heavy rain, tired legs and an in-form team driving the peloton hardly make for the best environment for a new squad to test out their crit-riding credentials in.
Unfortunately for Team Hope Factory Racing, that was what they came up against in Sunday's Tour DoonHame stage two, a 16.5-mile gallop around the streets of Girvan.
Despite repeated success with their off-road outfits, this
is their first proper foray into the road racing scene. Their past glories have already paid off - they secured one of the coveted 10 Halfords Tour Series slots.
Therefore, against the likes of previous winners Rapha-Condor Sharp and Node 4-Giordana, yesterday's 45-minute burn-up therefore presented a good opportunity to see what they'll be up against come May.
The circumstances were slightly different, mind. The top squads had eight riders; with Steve Whitehurst not starting, Hope were down to four. Having 80 miles in the legs from the morning stage also distorted things. Would they cope, or would they need more than their name suggests?
In the pit area, positioned immediately before the finish line in Victory Park, team manager Lee Owen-Stamford was understandably keen to see
how his team would fare.
"We're pleased and excited to get the offer to ride the Tour Series and we're looking forward to it," he states. "Some of our guys have ridden crits before, but this [DoonHame stage] gives us a chance to test where we need to be."
It starts off well, with all four riders staying within the peloton. When the elastic begins to break shortly before the halfway point, former National Cyclo-Cross champion Paul Oldham and Dave Collins stay in the front group.
"He's been ill recently, but he's still giving it
everything," Owen-Stamford says of Sam Ward, who is trying frantically to get
back on. "And this is Tommo's [James Thomson] first ever crit."
Stamford-Owen taking shelter from the storm, literally.
In many ways, this type of racing is similar to cyclo-cross events; the riders are flat out for an hour or so. Position is crucial; you don't want to be caught on the wrong side of any split or crash. Experience, too, comes in handy.
Even so, when Oldham crosses the line within with the main peloton, you cannot help but feel impressed.
Collins comes in soon after too, beating riders from Metaltek-Scott and Herbalife-Leisure Lakes, who are the other two new teams selected to ride the 2012 Tour Series.
"I'm happy with that," Owen-Stamford said. "It's a bit different to what Paul and Dave are used to, especially having already raced for 80 miles in the morning.
"We raced 100 miles on road for the first time this week,and now we've got that crit experience under our belt."
Round one in Kirkcaldy will be upon the team before they know it.
Related links


Thwaites makes it two out of two for Endura at DoonHame
Rowsell takes DoonHame opener
Premier Calendar 2012: Cycling Weekly's coverage index
Tour DoonHame 2012: The Big Preview
Super Team Challenge: Standings