Team Raleigh 'stepping up'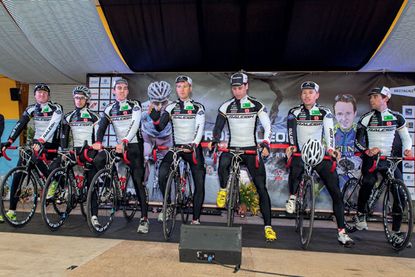 Team Raleigh's new recruits have been hitting the headlines in France in recent weeks thanks to a string of impressive results and strong showings on the Continent this spring.
Frenchmen Alex Blain and Eric Berthou have led a group of five Antipodeans and one Canadian, all new to the team, with Blain and Kiwi rider Tom Scully both winning stages at the Tour of Normandy.
Add to that a mountains classification for Australian Lachlan Norris at the Circuit des Ardennes and a ninth place finish for Brit Tom Moses at last week's Paris-Camembert, and it's fair to say that French heads have well and truly been turned by the British team they pronounce 'Ra-layg'.
"It was always in the plan to step up a little bit this year and to bring some guys in so we could compete in Europe for the first time," explained team manager Cherie Pridham. "What we've done so far was not unexpected, but surprisingly came together quite quickly."
Blain and Berthou both placed in the top 30 at last weekend's Tro Bro Leon in West Brittany, although the latter failed to replicate last year's second place when riding for the Bretagne-Schuller team (see page 20). However, with competition for invitations to UCI-ranked races in Europe becoming increasingly fierce, Raleigh's early success should also help them in seasons to come.
"Moving to Professional Continental [level] has always been in the plan, but gradually," Pridham said. "We go by the philosophy of little steps. We've got to keep our feet on the ground and keep progressing the way we are, and we'll get there eventually."



This article was first published in the April 18 issue of Cycling Weekly. Read Cycling Weekly magazine on the day of release where ever you are in the world International digital edition, UK digital edition. And if you like us, rate us!
Thank you for reading 20 articles this month* Join now for unlimited access
Enjoy your first month for just £1 / $1 / €1
*Read 5 free articles per month without a subscription
Join now for unlimited access
Try first month for just £1 / $1 / €1