The 'local bike shops' of a bygone era weren't as good as you remember them, argues Dr Hutch
Following the financial troubles of one of cycling's online super sellers, the Doc offers a reality check about the shambles of pre-internet bike shopping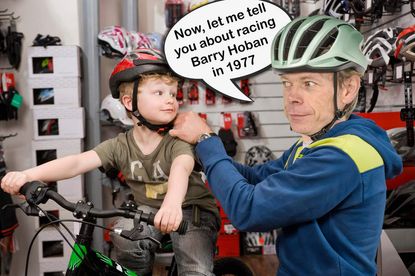 (Image credit: Alamy/Future )
Michael Hutchinson is a writer, journalist and former professional cyclist. His Dr Hutch columns appears in every issue of Cycling Weekly magazine.
On a ride last week with my friend Bernard, the subject of the online retailer Wiggle Chain Reaction came up. The company is in deep financial water after its parent company pulled the plug.
Bernard was, if not actually pleased, at least not distraught. "They crushed all the local bike shops," he said. "Without big websites we can have proper bike shops again."
It would be fair to say that Bernard is a man who liked his past better than his present. But the sheer optimism means that he's always confident that we can get back to 1995 one way or another.
If you don't remember the way things worked before the big web stores, let me tell you. You had a local bike shop, with a twinkling proprietor who had stock of everything, limitless expertise and would give you a cup of instant coffee in a chipped mug while he told you about racing Barry Hoban in 1977.
These shops were brilliant but were much thinner on the ground than Barnard remembers. Most local bike shops, as now, were general shops aimed at a general market. "Hello! I'd like a nine-speed Dura-Ace rear mech please!" you'd announce. Instead of a fanfare and balloons dropping from the ceiling, the assistant would say, "What's one of them, then?"
The handful of really good shops dealing in the sort of crack-cocaine bike kit we were looking for were thin on the ground. You might have to ride 40 miles there and back and come home with your new rear mech in a jersey pocket. It was funnier if you were buying new road bike wheels.
The other option was the back Cycling Weekly's print magazine. It used to have adverts for mail-order shops – a double page spread of incredibly small type that listed hundreds of items with their prices, as if someone had printed out the internet. They were fascinating. Ask any rider over the age of about 40 about them and they'll go a bit misty eyed as they remember speccing an imaginary dream bike, magnifying glass in hand.
Even I'm too young to remember the days you did it all by post – but I can remember ordering by phone. Then you'd wait for several weeks, and the wrong thing would arrive. I once ordered a mid-range pair of wheels – Ultegra hubs and some sort of middling Mavic rim. What arrived were the top-of-the-range rims built onto a pair of anonymous cheap hubs with bearings made of gravel – an almost useless product. "Same price, mate," they said when I rang. "We just adjusted the spec."
They went out of true first ride. "Well, the spokes needed de-stressed," they said. "You should have taken them to a local bike shop first. Any decent shop will do that for you for nothing." I should have sent them back, but the modus operandi of many mail order shops was to make you so grateful for anything that you didn't argue.
The delivery period was often many weeks. Once, after a six-week wait for a pair of shoes, I phoned up. "Haven't got 'em," said customer service. "Doubt we ever will if I'm honest, mate."
"You charged my credit card fast enough." "Yeah. That sounds like us."
At least with the evil giants, you don't have to actually listen to them explicitly saying this. But, in their defence, they're almost always very good at sending you the right thing, and doing it fast. They may be evil, but they have made life easier.
All isn't lost, though. In the last few years I've noticed more and more small shops running decent e-commerce operations, and they can be the best of both worlds. If you're used to a familiar Amazon-esque one-stop shop, it can feel a bit of an adventure. But you're supporting a "local" bike shop, even if it isn't local to you.
Thank you for reading 20 articles this month* Join now for unlimited access
Enjoy your first month for just £1 / $1 / €1
*Read 5 free articles per month without a subscription
Join now for unlimited access
Try first month for just £1 / $1 / €1