This 39-year-old INEOS Grenadiers rider moonlights as a pro triathlete
Cameron Wurf, who ran a half marathon post-Paris Roubaix, takes bronze in brutal ironman Lanzarote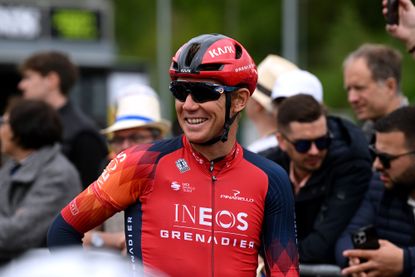 (Image credit: Getty Images)
Cameron Wurf, who ran a half marathon post-Paris Roubaix, takes bronze in brutal ironman Lanzarote.
Cameron Wurf is a domestique for INEOS Grenadiers professional cycling team, but doubles as a successful pro triathlete. The Australian grabbed headlines earlier this spring when, immediately after completing the grueling 280km Paris-Roubaix classic, he swapped his cycling shoes for running shoes and completed a 21-kilometer run.
This training seems to have paid off as Wurf this week took third place at the iconic Ironman Lanzarote in the Canary Island.
On Saturday, May 20, Wurf clocked a time of 8:30:17 after leading the race through 23km of the marathon. Wurf checked in a 4:12:09 bike split - the fastest of the day - and still ran a sub-3 hour marathon (2:55) and started the day with a 49:16, 3.8km swim.
A Jack of All Trades
Wurf grew up as a rower and even represented Australia in the 2004 Athens Olympics in the men's lightweight double sculls rowing event, placing 16th.
The rower had always dabbled in cycling, and after leaving the crew world, Wurf turned to his second love: cycling. He raced with the Cannondale team in 2013 and came in third at the 2015 Oceania time trial national championships.
Despite initial success in cycling, Wurf wanted to further expand his athletic prowess and dipped his toes into the triathlon scene in 2015, where he won his age group at Ironman Whistler in Canada.
Wurf took his professional triathlon license in 2016 and quickly became known as a force on the bike, twice setting a new bike course record at the Ironman World Championship, riding the 180km mile course in Kona, Hawaii in 4:09:06 in 2018 and the same distance course in St. George, Utah in 2022 in 4:15:43
Wurf has since won multiple Ironmans and been in the top five overall pro men at the Ironman World Championship - all while balancing training with INEOS, with whom he signed a contract in 2020 and specializes in being a rouleur and time trialist.
Riding Around the World
Wurf is known to be here, there, everywhere thanks to his "double life" as an athlete for INEOS and a professional triathlete.
In the past month, Wurf completed Paris-Roubaix (with a half-marathon immediately following his dismount of the bike) with INEOS, raced the Professional Triathletes Organization European Open in Ibiza, and found the podium at Ironman Lanzarote.
Wurf shared that between February and March 2023, he and his wife and son checked off five continents in five weeks, including a flight from Los Angeles, California to Dubai before ultimately settling in Andorra to catch his breath.
According to his Strava, Wurf averages nearly 435km of cycling a week and 7400m of elevation gain per week on his bike for a total of about 15 hours a week spent in the saddle.
He also clocks about 64km a week on his feet running and 14,000m per week in the pool.
Wurf hasn't yet announced where he'll be heading next and for which discipline it will be - cycling or triathlon - but he is a force to be reckoned with whether he's decked out in his red INEOS Grenadiers kit and grinding it out in a peloton or in his triathlon suit and time-trialing for 180km solo before finishing things off with a marathon off the bike.
Wurf has been referred to as endurance sports' "most interesting man," and we're obliged to agree.
Thank you for reading 20 articles this month* Join now for unlimited access
Enjoy your first month for just £1 / $1 / €1
*Read 5 free articles per month without a subscription
Join now for unlimited access
Try first month for just £1 / $1 / €1