Three on the spin for Tour Series leaders UK Youth in Torquay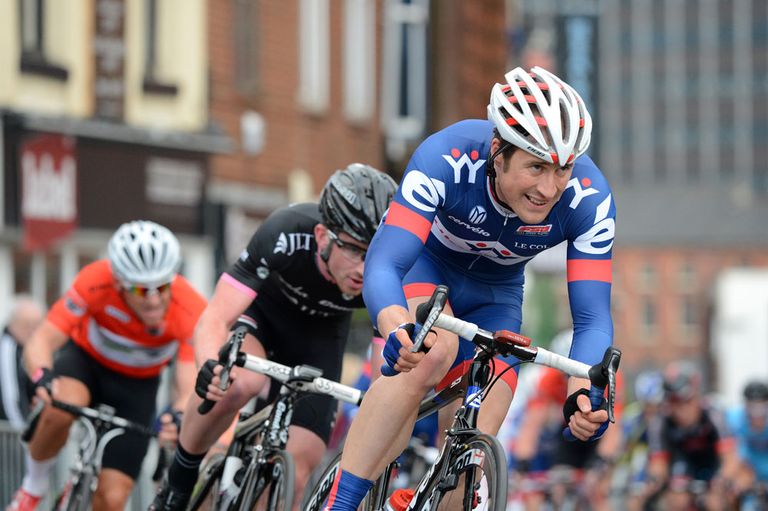 UK Youth continue to lead the way in the Pearl Izumi Tour Series as they made it three wins on the spin in Torquay last night.
They have opened a five-point lead over series newcomers Madison Genesis with seven races remaining, although this victory was arguably the toughest of their triumphs in 2013.
Ed Clancy (Rapha-Condor-JLT) also continued his majestic form to win for the second round running as he narrowly beat his former team-mate Dean Downing. Clancy now moves level with Downing as the series' most successful individual riders, having both taken five victories each since the event was first run in 2009.
This was the first round in 2013 that has finished in a bunch sprint, and the results sheet threw up a number of surprises. Liam Stones (MG-Maxifuel) finished third and Will Bjergfelt rounded out the top-10 as MG-Maxifuel placed fourth on the night, their best result in this year's series.
Despite placing two riders in eighth and ninth, Raleigh placed fifth and lost second spot on the overall classification to Madison. Metaltek-Knights of Old continue to impress as they moved to within three points of Node4-Giordana, and Spin Rotor-Primal C-Originals finished ninth for the second round in succession.
Round six takes place in Colchester on Thursday, which also sees round two of the women's Johnson Health Tech GP Series.
Results

Pearl Izumi Tour Series 2013 round five: Torquay

1. UK Youth 10pts
2. Rapha-Condor-JLT 9pts
3. Madison Genesis 8pts
4. MG-Maxifuel 7pts
5. Raleigh 6pts
6. Metaltek-Knights Of Old 5pts
7. Node4-Giordana 4pts
8. IG-Sigma Sport 3pts
9. Spin Rotor-Primal C-Originals 2pts
10. Hope Factory Racing 1pt
Individual result

1. Ed Clancy (Rapha-Condor-JLT)
2. Dean Downing (Madison Genesis)
3. Liam Stones (MG-Maxifuel)
4. Chris Opie (UK Youth)
5. Ian Wilkinson (UK Youth)
6. Felix English (Rapha-Condor-JLT)
7. Alex Peters (Madison Genesis)
8. Tom Scully (Raleigh)
9. Alex Blain (Raleigh)
10. Will Bjergfelt (MG-Maxifuel)
Costa Express Fastest Lap Competition

1. Ed Clancy (Rapha-Condor-JLT)
Pearl Izumi Tour Series 2013 standings after round five

1. UK Youth 46pts
2. Madison Genesis 41pts
3. Raleigh 40pts
4. Rapha-Condor-JLT 38pts
5. Node4-Giordana 28pts
6. Metaltek-Knights of Old 25pts
7. MG-Maxifuel 22pts
8. IG-Sigma Sport 15pts
9. Hope Factory Racing 13pts
10. Spin Rotor-Primal-C-Originals 7pts
IG Sprint Competition

1. Alex Blain (Raleigh)
Related links
UK Youth extend advantage in Aberystwyth
UK Youth top Tour Series standings after Stoke-on-Trent win
Gallery: Tour Series, Stoke-on-Trent, by Andy Jones
Gallery: Johnson Health Tech GP, by Andy Jones
Raleigh continue perfect Tour Series start in Durham
Raleigh take the honours in Tour Series opener
Tour Series round one photo gallery by Andy Jones
Pearl Izumi Tour Series 2013: Cycling Weekly's coverage index