Tom Boonen back in action after serious arm infection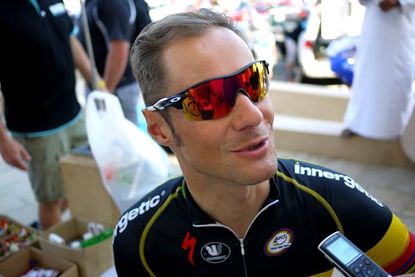 Tom Boonen (Omega Pharma-QuickStep) is back in the Tour of Oman after an off-season that saw him nearly lose his arm to an infection. The classics star, winner of the tour of Flanders and Paris-Roubaix last year, underwent an emergency operation last month after a mountain bike crash.
"The doctors told me that if the bacteria hit the bone, my arm would've been gone. It was almost three or four millimetres from the bone," Boonen said.
"It's unbelievable. If you see how fast it can go, it's unbelievable. Friday there was nothing and Sunday they told me if you wouldn't have come in today, Monday would've been too late."
The Belgian Champion crashed on his left elbow while riding a mountain bike last month. It was a fall like all others, leaving himwith scrapes and bruises. However, a bacterial infection took hold shortly after the incident.
Boonen believes that sometime around the team's presentation with Mark Cavendish on January 15 the bacterial infection spread. Blood flows less around the elbow, which mean that there were even less white blood cells to defend Boonen.
"It's a bacteria that everyone has on their skin, but it got in me when the wound was closing and the crust got on, so it was inside when the crust closed and started spreading," Boonen added. "It had time to spread and get strong enough to attack my body."
Though he kept his arm, he lost a week of training while in the hospital. He has previously won the Tour of Qatar four times, but had to skip this year because he was recovering. Instead of racing, he travelled to Majorca, trained and watched Cavendish win a few stages on TV.
In Oman, he begins a long road to the classics. He will race Milan-San Remo, the Tour of Flanders and Paris-Roubaix. Last year, he won his third Flanders and fourth Roubaix title.
Boonen will be pushed to enjoy the same success this year. "You can put it all into perspective," he said, "I could have lost my arm."
Related links
Marcel Kittel wins Tour of Oman 2013 opener
Tour of Oman 2013: Preview and coverage
Tom Boonen: Rider Profile
Thank you for reading 20 articles this month* Join now for unlimited access
Enjoy your first month for just £1 / $1 / €1
*Read 5 free articles per month without a subscription
Join now for unlimited access
Try first month for just £1 / $1 / €1