Touring with man's best friend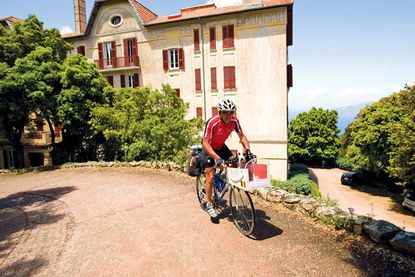 Endless days in the sunshine sauntering around the countryside on a bicycle: it's not exactly a dog's life, is it? Well, it is for Zara, the six-year-old Jack Russell owned by Belgian cyclist Eric Desmette and who goes touring everywhere with him.
Last year, Zara and Eric - or Zaric as their joint business card calls their partnership - rode their own 5,000km Tour de France in 22 days, heading over all the big cols. This year they've just completed an eight-day ride around Corsica, knocking up roughly 150km a day.
The pair are a sight to behold coming up a hill towards you - Eric pedalling rock steady, Zara poised on all fours in the custom made carrier attached to the front of the bike.
"Zara enjoys it," asserts Monsieur Desmette, who's been taking her on trips for the last four years. "She's always looking around, taking in the scenery, especially in the mountains. She sometimes gets very excited when we stop to meet people, but she's never a problem."
Together the pair completed ultra-endurance randonnée Paris-Brest-Paris in 2011 and are next year planning on a "Grand Tour of Italy" and riding the ancient pilgrims' route to Santiago de Compostela in Galicia.
Taking man's best friend on the road does, of course, present its problems. Hotel or chambre d'hote reservations have to be given notice in advance of the special guest, who Eric admits often sneaks onto the foot of his bed in the night. Then there's the issue of feeding Zara. "I just give her a bit of whatever I'm eating," Desmette happily discloses. "I take her to the restaurant. She ensures I don't eat too much!"
Although a member of the Club CycloTouriste d'Antoing, not far across the border from Roubaix, Desmette says that in taking Zara on all his rides, he's "never alone" while touring. "I like my bicycle and I like my dog so I take her with me.
"I talk to her as we ride along," he adds. "I say to her how nice it is and point out things of interest along the way.
"I've never seen anyone else take their dog touring."
This article was first published in the June 20 issue of Cycling Weekly. Read Cycling Weekly magazine on the day of release where ever you are in the world International digital edition, UK digital edition. And if you like us, rate us!
Thank you for reading 10 articles this month* Join now for unlimited access
Enjoy your first month for just £1 / $1 / €1
*Read 5 free articles per month without a subscription
Join now for unlimited access
Try first month for just £1 / $1 / €1