Tuft wins Eneco Tour time trial and takes lead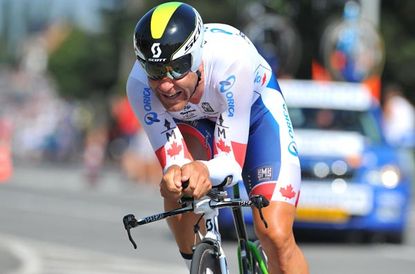 It was only a 17.4km time trial, draggy and open as West Flanders can be, but it was still long enough to cause a significant shift in the overall classification of the Eneco Tour.
It had been widely expected that a time trial specialist with no pretensions to the overall classification would win the stage, but nobody thought to ask Svein Tuft, the time trial champion of Canada about his plans.
It was a bit of a shock for the spectators to see the Maple Leaf on a national champion's jersey on the podium, but the Orica-GreenEdge rider, who was 12th on GC, 11 seconds behind deposed overnight leader Tom Boonen, "absolutely killed it" as one specialist rider put it.
Tuft - his grandad was a Norwegian - took the stage and the leader's jersey, leading Lars Boom of Rabobank by four seconds and Omega's Frenchman Sylvain Chavanel by 16 seconds on the revamped GC.
On a stage perfect for a specialist - an L-shaped out and back on wide draggy roads and a strong, nagging wind which was rarely helpful - Tuft sent the media scurrying for online reference sources to discover that yes, he did indeed have a track record at this kind of thing. The 35 year old from British Columbia won a silver medal in the 2008 time trial World Championships and has won so many time trial championships in Canada they should just suspend the championship till he retires.
For a man who had just upset the Belgian script - deposing national hero (Boonen) and default national Belgian team (Omega Pharma) from the top slot, he looked surprisingly relaxed. "We didn't actually ride the circuit, we drove around it in the car last night. When you've ridden as many of these things as me, you know how its going to pan out," laughed the Canadian later.
"It wasn't a super technical course and those long 4km drags are where you make or lose time, not railing it through a few bends. I've been training and racing in Canada and you can never be sure how you are going to adapt to racing back in Europe because the level is higher and the rhythm of the racing changes too. But after the team time trial on stage two I knew I was going pretty well and had half an eye on today' stage.
"In the warm up this morning I felt like I had good legs, like you know when you are on one of those really good days, so if I hadn't finished in the top five I would have been disappointed," said the affable Canadian. "Tomorrow? I'm going to go back to the hotel and ask the guys for help! The climbs aren't really my thing but I think if you've got the form, that's the main thing. I've ridden them a few times so let's say I've got...a healthy respect for them!"
Although the short solo test spread the field out and sifted some of the wheat from the chaff at the top of the classification, the top ten overall are still all within a minute (as opposed to 11 seconds, as they have been for most of the race) and there are four Orica Green Edge riders in there and three Omega Pharma riders, so it looks like the race will be decided between them.
The final stage is a mini Tour of Flanders - actually, it's better than that since it actually includes the Muur of Grammont - with a full supporting cast of leg-bending bergs, including the Leberg, Langendries, Valkenberg, Tenbosse, Eikenmolen as well as the Muur itself crammed into the final 140km of the 214km stage between Maldegem and Geraardsbegen.
The ride of the day was, perhaps a little surprisingly, produced by Alberto Contador who declared himself contended with his week in Flanders so far. On a time trial route that wouldn't appear to have suited the 60 kilogram climber, he finished seventh, 22 seconds behing Tuft and other rouleur types.
"I'm here to enjoy myself as much as possible and tomorrow, in the bergs, I'm setting out for a bit of an adventure and I'm not sure what to expect. I have actually spoken with Peter Van Petegem about them - we were together at Astana - and he's given me some advice. In any case, no matter what the outcome, I'm reassured at my form with the Vuelta coming up."
So, while the expected slug-fest between Orica-GreenEdge and Omega Pharma rages to sort out the final classification, it sounds like Contador is intending to test his climbing legs on the Muur of Grammont and make it to the finish of his comeback race.
Results

Eneco Tour 2012, stage six: Ardooie to Ardooie individual time trial, 17.4km

1. Svein Tuft (Can) Orica Green Edge in 20-25
2. Taylor Phinney (BMC) at 5 secs
3. Lars Boom (Rabobank) at 6 secs
4. Lieuwe Westra (Vacansoleil) at 18 secs
5. Adriano Malori (Lampre) at 19 secs
6. Sylvain Chavanel (Omega Pharma) at 20 secs
7. Alberto Contador (Saxo Bank-Tinkoff Bank) at 22 secs
8. Luke Durbridge (Orica-GreenEdge) at 25 secs
9. Jens Mouris (Orica-GreenEdge) at 26 secs
10. Jonathan Castroviejo (Movistar) at 30 secs
British
14. Alex Dowsett (Team Sky) at 35 secs
24. David Millar (Garmin Sharp) at 53 secs
140. Adam Blythe (BMC) at 2-51
147. Jeremy Hunt (Team Sky) at 3-02
Overall classification after stage six

1. Svein Tuft (Orica Green Edge) 826km in 19-56-57
2. Lars Boom at 4 secs
3. Sylvain Chavanel at 16 secs
4. Jens Mouris at 25 secs
5. Luke Durbridge at same time
6. Sebastian Lageveld (Orica Green Edge) at 37 secs
7. Niki Terpstra (Omega Pharma) at 39 secs
8. Michael Kwiatkowski (Omega Pharma) at 47 secs
9. Jonathan Castroviejo (Movistar) at 48 secs
10. Alberto Contador (Saxo Bank-Tinkoff Bank) at 49 secs
Svein Tuft in the lead
Related link
Nizzolo takes surprise win in Eneco Tour stage five
Kittel makes it two at Eneco Tour as Boonen moves into lead
Bos takes Eneco stage three sprint
Contador builds form in Eneco Tour ahead of Vuelta
Contador back from ban in Eneco Tour
Thank you for reading 10 articles this month* Join now for unlimited access
Enjoy your first month for just £1 / $1 / €1
*Read 5 free articles per month without a subscription
Join now for unlimited access
Try first month for just £1 / $1 / €1