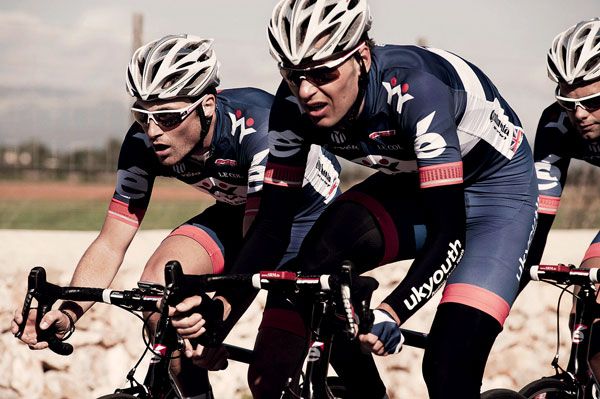 After seeing his team shift up a gear last year, team boss and UK Youth charity president Nigel Mansell has turbo-charged his squad with some big engines that, with the green lights only just illuminated on the 2013 season, have already notched up some results and forced rival team bosses to sit up and take note.
Former Paris-Roubaix winner Magnus Backstedt may have moved on, but in his place comes former Node4 man Marcin Bialoblocki, who won the Perfs Pedal in early February, along with Ian Wilkinson and Rob Partridge from Endura.
Tobyn Horton (or Horton Tobyn, if the UCI is to be believed) also joins from Raleigh to add to remaining core riders Niklas Gustavsson, Yanto Barker and Chris Opie, making a versatile team with its eyes on the top step of the Tour Series podium. But it's not always about results.
"We need guys who can ride a bike and are capable of winning races," explained DS Dave Povall, "but what's also important is that we get on well and we get a cohesive group that enjoys it. We're not trying to sell bikes or kit; when you put that jersey on you're an ambassador for the charity, which is over 102 years old."
With a new jersey and a revamped kit to boot, how would he sum up the 2013 UK Youth team in just three words?
"Does hardworking count as one word or two? Then I'd have to add professional... and happy."
An art historian's guide to the UK Youth kit
Chevron: If you unzip a jersey and lay it out flat, it turns into the UK Youth logo. Clever.
Red stripe: "This is the line. The line between winning and losing. Between failure and..." [that's enough - Ed]
Number five: Nigel Mansell's motor-racing number makes its way onto the back of the jersey. Hidden union jack: The bib-short mesh has a patriotic colour scheme on the off chance it gets warm enough in the UK to unzip the jersey.
Letter E on the shoulders: A contractual obligation from Cervélo bikes.
No more white shorts: A contractual obligation from Ian Wilkinson. Allegedly.
Dave Povall says keep an eye on...
Jon Mould. If you can convert his undoubted ability on the track in terms of scratch and Madison to Tour Series, there is potential there for a really classy rider.
| | | |
| --- | --- | --- |
| Yanto Barker | 33 | UK Youth |
| Marcin Bialoblocki (Pol) | 29 | Node4-Giordana |
| Niklas Gustavsson (Swe) | 24 | UK Youth |
| Tobyn Horton | 26 | Raleigh-GAC |
| Joshua Hunt | 21 | Terra Footwear-Bicycle Line |
| James Lowsley-Williams | 21 | UK Youth |
| Greg Mansell | 25 | UK Youth |
| Jo Mould | 21 | An Post Sean Kelly |
| Chris Opie | 25 | UK Youth |
| Rob Partridge | 27 | Endura Racing |
| Richard Tanguy | 26 | UK Youth |
| Ian Wilkinson | 33 | Endura Racing |
>>> Back to 2013 British Team Guide home page >>>