UK Youth edge closer to overall Tour Series victory in Woking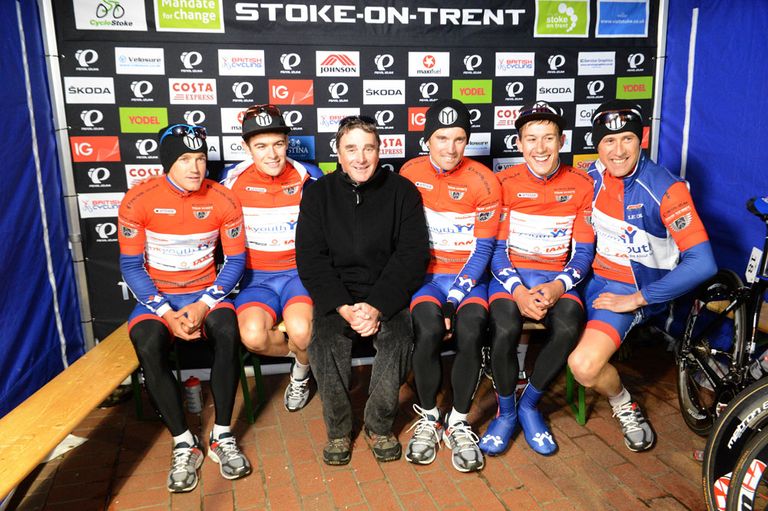 Ed Clancy (Rapha-Condor-JLT) was the surprise winner of the ninth round of the Pearl Izumi Tour Series in Woking as UK Youth edged closer to their maiden overall victory in the event.
Clancy, who admitted after the race that he thought he would never win on the twisty, technical circuit, took his third win of the 2013 series and his sixth in the event's history to become the most decorated Tour Series rider.
UK Youth won the team prize on the night - their sixth win in seven rounds - to open up a 13-point gap with just three rounds remaining.
Speaking afterwards, Clancy told Cycling Weekly: "Another win is great. I've been tired and I really didn't have high hopes today. It's a hard circuit, and I said beforhand that I hate this place. I've never had a good round here, I've always been on the backfoot.
"It was one of the more emotional wins. I've won bigger races than this, but this was the one I didn't think I could win. I really didn't think it was possible."
In the Johnson Health Tech GP Series, overall leader Hannah Barnes (MG-Maxifuel) came back from a nasty crash in the opening laps to win her third round in succession and further extend her advantage at the top of the table.
Barnes needed stitches in her chin after landing face-first in the fall, but got the better of French rider Roxanne Fournier (Big Mat Auber) in the bunch sprint.
The women's series finishes in Aylsham on Thursday, while the men continue after that race to the two-round Grand Final in Ipswich on Friday.
Results

Pearl Izumi Tour Series 2013 round nine: Woking

1. UK Youth 10pts
2. Node4-Giordana 9pts
3. Rapha-Condor-JLT 8pts
4. Raleigh 7pts
5. Madison Genesis 6pts
6. Metaltek-Knights of Old 5pts
7. MG-Maxifuel 4pts
8. IG-Sigma Sport 3pts
9. Hope Factory Racing 2pts
10. Spin Rotor-Primal C-Originals 1pt
Individual result

1. Ed Clancy (Rapha-Condor-JLT)
2. Yanto Barker (UK Youth)
3. Dean Downing (Madison Genesis)
4. Niklas Gustavsson (UK Youth)
5. Mike Northey (Node4-Giordana)
6. Tobyn Horton (UK Youth)
7. Ian Wilkinson (UK Youth)
8. Tom Scully (Raleigh)
9. Roman Van Uden (Node4-Giordana)
10. David McGowan (Metaltek-Knights of Old)
Costa Express Fastest Lap Competition

1. Ed Clancy (Rapha-Condor-JLT)
Pearl Izumi Tour Series 2013 standings after round nine

1. UK Youth 83pts
2. Raleigh 70pts
3. Madison Genesis 67pts
4. Rapha-Condor-JLT 65pts
5. Node4-Giordana 62pts
6. Metaltek-Knights of Old 51pts
7. MG-Maxifuel 39pts
8. Hope Factory Racing 23pts
9. IG-Sigma Sport 23pts
10. Spin Rotor-Primal-C-Originals 12pts
IG Sprint Competition

1. Tom Scully (Raleigh) 77pts
Johnson Health Tech GP Series 2013 round four: Woking

Individual result

1. Hannah Barnes (MG-Maxifuel)
2. Roxanne Fournier (Big Mat Auber)
3. Coryn Rivera (Breast Cancer Care)
4. Ella Hopkins (Breast Cancer Care)
5. Charline Joiner (MG-Maxifuel)
6. Alexie Shaw (Les Filles Racing Team)
7. Louise Mahe (MuleBar Girl-Sigma Sport)
8. Louise Borthwick (Edinburgh Road Club)
9. Clemence Copie (MuleBar Girl-Sigma Sport)
10. Lydia Boylan (CTC)
Round four team winner: MG-Maxifuel
Round four combativity winner: Louise Borthwick (Edinburgh RC)
Johnson Health Tech GP Series 2013 standings after round four

1. Hannah Barnes (MG-Maxifuel) 79pts
2. Louise Mahe (MuleBar Girl-Sigma Sport) 59pts
3. Charline Joiner (MG-Maxifuel) 55pts
4. Natalie Creswick (MuleBar Girl-Sigma Sport) 54pts
5. Gabby Day (Matrix Fitness) 52pts
Team standings after round four

1. MG-Maxifuel 180pts
2. MuleBar Girl-Sigma Sport 152pts
3. Matrix Fitness 139pts
4. Breast Cancer Care Cycling Team 78pts
5. Hope Factory Racing 65pts
Sprints competition

1. Hannah Barnes (MG-Maxifuel) 35pts
Related links
Pearl Izumi Tour Series 2013: Coverage Index