UK Youth end Endura's winning run in Aberystwyth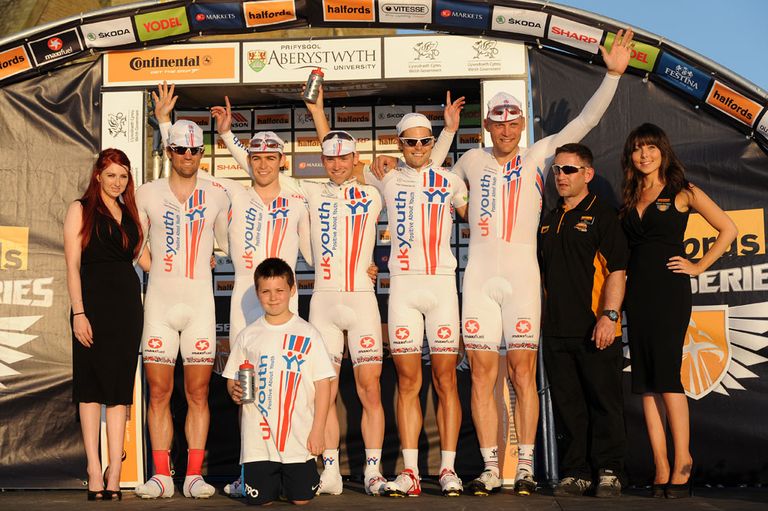 Tour Series round five photo gallery by Andy Jones >>>
UK Youth closed the gap to Endura Racing at the top of the standings after winning their first ever Halfords Tour Series round in Aberystwyth last night.
Coming 24 hours after Niklas Gustavsson's individual victory in Redditch, the boys in white, blue and red achieved what they've threatened to do in the four previous rounds to date to cap an impressive week of racing.
Kristian House (Rapha-Condor-Sharp) took his second individual win of this year's series, as he put the disappointment from missing out on Thursday firmly behind him.
House was part of a four-man group that included two UK Youth riders - Chris Opie and James Stewart - and Raleigh-GAC's Tobyn Horton that broke clear late on, and the former British Road Race champion was too strong for his rivals coming out of the final bend.
House's team-mate Dean Downing led the peloton in to take fifth, but Yanto Barker's seventh ensured the fledgling, Nigel Mansell-backed squad took the team award on the night.
Endura's incredible winning streak ended abruptly, as they came home fourth on the night, behind Rapha and Raleigh-GAC.
Ian Wilkinson had earlier made an unsucessful bid for solo glory, and was their only rider in the top 10, finishing in sixth.
Having taken the team award in the four previous rounds - plus Scott Thwaites's two individual wins in Kirkcaldy and Oxford - fourth marks their worst result in the event since they placed there in Stoke-on-Trent last year.
However, they still have a solid gap back to UK Youth on the overall standings, while defending champions Rapha are eight points back. CyclePremier-Kovert are in sixth, two points ahead of IG-Sigma Sport. Herbalife-LeisureLakesBikes overhauled Hope Factory Racing to go into ninth after finishing eighth on the night.


House wins once again, with Opie second in Aberystwyth for the second year running




Matt Cronshaw (Node4-Giordana) takes an unwanted detour - he also crashed in Redditch


UK Youth: The first team to beat Endura Racing in the Tour Series in 2012
Results

Team result, Halfords Tour Series 2012, round five: Aberystwyth

1. UK Youth 10pts
2. Rapha-Condor-Sharp 9pts
3. Raleigh-GAC 8pts
4. Endura Racing 7pts
5. CyclePremier-Kovert 6pts
6. IG-Sigma Sport 5pts
7. Node 4-Giordana 4pts
8. Herbalife-LeisureLakesBikes 3pts
9. Metaltek-Scott 2pts
10. Hope Factory Racing 1pt
Individual result

1. Kristian House (Rapha-Condor-Sharp)
2. Chris Opie (UK Youth)
3. James Stewart (UK Youth)
4. Tobyn Horton (Raleigh-GAC)
5. Dean Downing (Rapha-Condor-Sharp)
6. Ian Wilkinson (Endura Racing)
7. Yanto Barker (UK Youth)
8. Marcel Six (Metaltek-Scott)
9. Graham Briggs (Raleigh-GAC)
10. Daniel Holloway(Raleigh-GAC)
Team standings after round five

1. Endura Racing 47pts
2. UK Youth 41pts
3. Rapha-Condor-Sharp 39pts
4. Raleigh-GAC 36pts
5. Node4-Giordana 33pts
6. CyclePremier-Kovert 22pts
7. IG-Sigma Sport 20pts
8. Metaltek-Scott 14pts
9. Herbalife-LeisureLakesBikes 12pts
10. Hope Factory Racing 10pts
Boardman Bikes Sprints Competition round winner

1. Marcel Six (Metaltek-Scott)
Boardman Bikes Sprints Competition standings after round five

1. Bernie Sulzberger (Raleigh-GAC) 47pts
2. Marcel Six (Metaltek-Scott) 44pts
3. Kristian House (Rapha-Condor-Sharp) 30pts
Related links


Halfords Tour Series 2012: Cycling Weekly's coverage index
Rider blog: Chris Opie in Redditch
Halfords Tour Series round five photo gallery by Andy Jones