Ullrich apologises and regrets not admitting doping link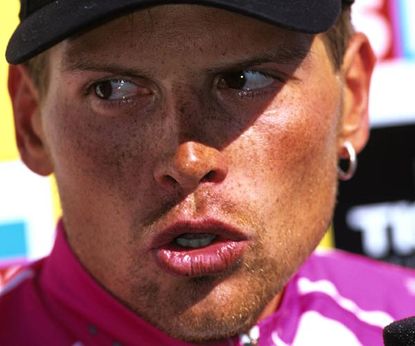 Jan Ullrich admitted his involvement with rogue doctor, Eufemiano Fuentes last night after receiving a doping ban. He said that he wanted to confess his connection sooner, but followed contrary advice in the wake of the Operación Puerto investigation.
"I confirm that I had contact with Fuentes. It was a big mistake, I regret it very much," he said in a press statement.
"I would like to sincerely apologise for this behaviour - I'm very sorry."
The 38-year-old German regretted his decision to see the Spanish doctor, centre of the Operación Puerto doping investigation that shook cycling in 2006.
"Looking back," he added, "I would've acted differently in certain situations."
The Court of Arbitration for Sport (CAS) ruled in favour of the Union Cycliste Internationale (UCI) yesterday, banned Ullrich and stripped him of his wins, including third place at the 2005 Tour de France. The UCI appealed Switzerland's decision to drop the doping case against Ullrich.
Spanish police found blood bags stored in the offices of Fuentes in its 2006 raids. Fuentes coded the bags, linked to cyclists, including Ivan Basso and Alejandro Valverde. DNA analysis confirmed Ullrich's blood in nine bags marked with a 1 or Hijo Rudicio ('Son of Rudy' Pevenage, a team T-Mobile sports director and coach.)
As the investigation heated, Ullrich and others were barred from riding the 2006 Tour de France. He retired shortly after being fired by T-Mobile in July.
He won the Tour in 1997, but after finishing second five times, he said the pressure was on to win again in 2006.
"I wanted to get everything out of that Tour," Ullrich explained. "The public, the sponsors and also my own pressure was immense. Everyone wanted a second Tour victory, especially after the retirement of Lance Armstrong."
Federal investigators dropped a fraud case against Armstrong on Friday. He faces a possible doping investigation by the United States Anti-Doping Agency (USADA). Armstrong denies doping during his reign, which included seven Tour wins.
Ullrich also denied doping and the Fuentes links for years, which he now regrets taking the advice of his lawyers and remaining silent against allegations.
"The mistake I made was not to admit it publicly," added Ullrich. "This issue haunted me so much that I became sick and eventually collapsed."
The CAS confirmed evidence that Ullrich visited Fuentes on multiple occasions and paid him more than €80,000 (£67,000). It banned him for two years, retroactively from August 22, 2011, and stripped all results from May 1, 2005, onwards. He lost five wins and several placings, but remains Olympic time trial champion and twice World Champion in the discipline.
"I am glad that a decision was made," Ullrich said. "It ends a chapter in my cycling career and marks the end of a very difficult time for me and my family."
Related links
Ullrich guilty of doping, banned for two years and loses results since 2005
Thank you for reading 5 articles this month* Join now for unlimited access
Enjoy your first month for just £1 / $1 / €1
*Read 5 free articles per month without a subscription
Join now for unlimited access
Try first month for just £1 / $1 / €1