Valverde returns to top, like it or not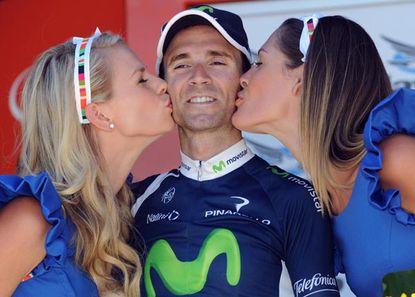 Alejandro Valverde returned to the sharp end of cycling today after serving a two-year doping ban. He won the fifth stage of 2012 Tour Down Under in South Australia on Saturday.
He said that he realises there are mixed feelings about his return and told Cycling Weekly, "There will be some that are happy and some that are not."
The Italians were not happy five years ago when Valverde continued to race despite being linked to the Operación Puerto investigation. The Italian Olympic Committee (CONI) used DNA evidence it collected from Valverde when the Tour de France passed Italy in 2008. It matched it to some of the coded blood bags seized by Spanish police in May 2006.
Its work led to an Italy-wide ban and then, after a Court of Arbitration for Sport (CAS) ruling, a world-wide, two-year ban: January 1, 2010, to December 31, 2011. His results, including those from the 2010 Tour Down Under and a win in the Tour of Romandy, were worthless and annulled.
Spanish team Movistar signed him to race immediately after his ban ended. Anxious for his return, it lent him a bike and kit to use during his suspension. It also tried to present him with its team in November, but the UCI forced the team to wait until January.
Valverde rode with the team when it was known as Illes Balears and Caisse d'Epargne. He won the Vuelta a España and Liège-Bastogne-Liège. The team is happy to have him back.
"He was one of the strongest riders in the world," said sports director, José-Luis Arrieta. "He's loved by the fans. They go crazy for him; the Spanish fans, the French, the Italians..."
Fans, however, booed Alexandre Vinokourov when he returned from a doping suspension and won in Liège in 2010.
"They are different cases," said Valverde. Cycling Weekly pushed for clarification. "Different cases," he said again, "Vinokourov's and mine."
Fans tolerance for dopers has changed significantly since the Festina Affair in 1998 and indeed, since Puerto in 2006. Rules allow cyclists a second chance, but fans may be unforgiving. A huge, collective sigh of disappoint was felt when he won over home favourite, Simon Gerrans on Old Willunga Hill on Saturday.
Valverde will see how the European fans welcome him when he returns home for the rest of the season. He said that his goals are in the Ardennes Classics in April, including Liège, and the Tour de France in July.
Related links
Valverde not permitted at Movistar presentation
Alejandro Valverde: Rider Profile
Valverde wins Tour Down Under stage five
Thank you for reading 20 articles this month* Join now for unlimited access
Enjoy your first month for just £1 / $1 / €1
*Read 5 free articles per month without a subscription
Join now for unlimited access
Try first month for just £1 / $1 / €1