Vigorelli velodrome in fight for survival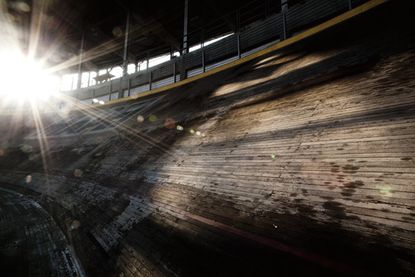 The Vigorelli velodrome is easy to find. Travel northwest from Milan's imposing cathedral, around the Arco della Pace, up Corso Sempione and right on to the Via Arona. Signs point to the ring road, the centre and the former fairgrounds but a few of them - black lettering on a white background - still read Vigorelli.
The building sits between a CO-OP supermarket, a subway construction site and the former Alfa Romeo factory. Its drab grey and cream coloured walls give little away of it's glorius history, and the most ardent cycling historian could walk Via Arona and easily miss this important piece of Italian cycling history.
"The Beatles, Led Zeppelin and the Clash all played here. Then you have the Giro d'Italia visits. The Tour of Lombardy, too," says Marco Pastonesi, a writer for La Gazzetta dello Sport. "Leaving that aside, this is the place where Fausto Coppi set his hour record in 1942."
Despite its past, this 397-metre wooden track balances on a knife-edge between destruction and renovation.
On October 28, 1935, the Italian sports paper sponsored the opening of Giuseppe Vigorelli's velodrome. In the intervening 78 years, its fortunes have fluctuated as wildly as the Italian economy.
Seven years after it opened, bombs rattled its foundations. Like the rest of Europe, Italy was at war. Under Benito Mussolini's fascist regime, Italy declared war on France, Great Britain and the USA.
In 1942, the Allied forces increased its bombing raids in Italy and on October 24, at 17:57, alarms rang throughout Milan. Lancaster bombers roared above and four minutes later, the British Royal Air Force dropped their bombs.
171 people were killed, the Bianchi bike and Caproni aircraft factories were both hit but while they targeted the massive white, multi-spired Gothic cathedral in the city centre it somehow survived, as did Vigorelli.
The future of the Vigorelli velodrome is unclear, despite the funding being in place
The facilitiy is currently used as a venue for American football as the track lies in disrepair
Masi bikes are still made in the shop underneath the velodrome
What was once the fastest track in the world is now looking a little sorry for itself
Marino Vigna has happy memories of the Vigorelli track
Thank you for reading 20 articles this month* Join now for unlimited access
Enjoy your first month for just £1 / $1 / €1
*Read 5 free articles per month without a subscription
Join now for unlimited access
Try first month for just £1 / $1 / €1