Viviani wins India's first international road race, Wilkinson fifth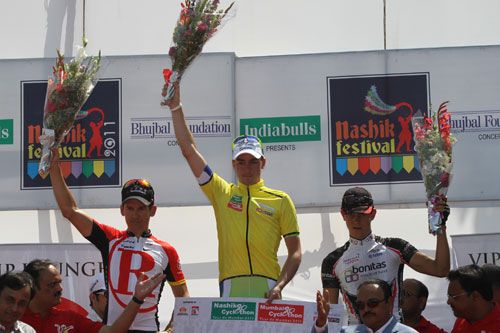 Italian Elia Viviani battled cows, crowds and rickshaws to win India's first international road race, the Tour de Mumbai today in Nashik. The 22-year-old of Liquigas-Cannondale won in the sprint ahead of Robbie McEwen with Brit Ian Wilkinson of Endura Racing fifth.
"It's another country," said Viviani, "a new adventure - a good adventure."
The Italian press celebrated Viviani as their next super sprinter last week when he won the GP Etruschi. Today, thousands of Indian fans cheered. They were not exited for his win, but to see a white-skinned European going so fast on a bike, a tool they use daily to carry food, animals or their family.
Viviani charged down the final straight in Nashik, challenged by Australian McEwen of RadioShack. The two were the favourites and their teams did the majority of the work to pull back the day's five-man escape.
"It's an important win for me. I won ahead of McEwen, a big-named rider," added Viviani.
British fans will have a chance to see Viviani later this month when he races at the Manchester World Cup. He races in Manchester and at the World Championships to prepare for a run at the London Olympics next year.
"This is a good period for me. I won Donoratico [GP Etruschi] seven days ago and now this - I am more excited than ever for the start of the season. I hope to win the next race in Mumbai and then on to win in Manchester."
Wilkinson tucked right behind Tour de France sprinter Robbie McEwen for fifth place after 130.3 kilometres.
"There wasn't a boring moment anywhere," said Wilkinson. "You were looking out for pot holes, bits of rocks, cows, rickshaws and motorbikes going the other way."
The race was at its most hectic after the start in Nashik and when it returned for the seven finishing circuits of eight kilometres. Between, the riders rode out and back 113 kilometres with a seven-kilometre climb that looked over small villages and at distant mountains.
It was the first time for most of Wilkinson's Endura team-mates and Britain's Motorpoint team to travel to India for such an adventure.
"We've never seen much like this before," said Motorpoint's Ian Bibby. "We all had a good look when we arrived. Everything's different."
They will face Viviani and the rest of the Tour de Mumbai's riders on Sunday for the second of two 1.1-ranked races.
Results

Tour de Mumbai 2011

1. Elia Viviani (Ita) Liquigas-Cannondale
2. Robbie McEwen (Aus) RadioShack
3. Tyler Day (RSA) Bonitas
Other
5. Ian Wilkinson (GB) Endura Racing
Tour de Mumbai 2011: Related links
McEwen headlines Indian races with Endura and Motorpoint
Britain's Motorpoint confirmed for Tour de Mumbai
Expanding Tour de Mumbai attracts RadioShack