Wyman wins Women's Tour Series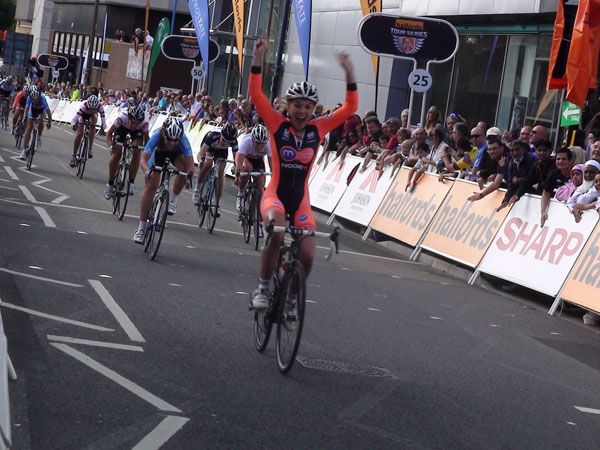 Helen Wyman held off a strong last-minute challenge from Motorpoint to win the inaugural Johnson Health Tech Women's GP Series in Woking.
The Kona Factory Racing rider finished fourth on the night, which was enough to secure the overall victory, despite Lucy Garner's best attempts to snatch the title at the death.
Garner comfortably won the fourth round of the series, with Hannah Rich (Horizon Fitness RT) separating Garner and her Motorpoint team-mate Hannah Barnes.
Wyman had a nine-point gap at the top of the standings go into last night's race, and closely followed every attempt by Garner's team to split the race up.
With riders losing touch with the peloton from as early as the second racing lap, the front group was soon whittled down to a dozen riders.
Once Barnes had secured the sprints competition on, Motorpoint's attention turned to toppling Wyman from the top of the leaderboard.
No-one could match Garner's explosive final sprint, yet a relived Wyman placed highly enough to ensure she won the title, having led since the second round in Stoke-on-Trent.
Going out on a high
Magnanimous in defeat, Garner told Cycling Weekly: "Our plan was to win today, and I'm pleased to have done that.
"I think the course really suited us today, and I couldn't see anyone getting away from the group today as it was so fast.
"With about five laps to go I positioned myself as best as possible, and just went for it at the end."
Barnes, who took third overall, reflected on the series, saying: "It's a shame we weren't really on form in Stoke and Oldham, as we were really tired from other races, but we're pleased to have finished the series like this today."
She won the first round in Peterborough, which meant she led the series briefly, but clearly remains a team player.
"I'm really happy that Lucy won as that means we both took a round."
Aged just 18, Barnes added that she enjoyed competing alongside Wyman.
"Helen's got so much experience, it was really good to race alongside her," she added.
Results

Johnson Health Tech Women's GP Series, round four: Woking

1. Lucy Garner (Motorpoint Pro Cycling)
2. Hannah Rich (Horizon Fitness RT)
3. Hannah Barnes (Motorpoint Pro Cycling)
4. Helen Wyman (Kona Factory Racing)
5. Amy Roberts (For Viored Brookvex)
6. Penny Rowson (Horizon Fitness RT)
7. Sarah Byrne (VC St Raphael)
8. Harriet Owen (Motorpoint Pro Cycling)
9. Ella Sadler-Andrews (Horizon Fitness RT)
10. Joanne McRae (Look Mum No Hands)
Final overall standings

1. Helen Wyman (Kona Factory Racing) 83pts
2. Lucy Garner (Motorpoint Pro Cycling) 80pts
3. Hannah Barnes (Motorpoint Pro Cycling) 72pts
4. Hannah Rich (Horizon Fitness RT) 66pts
5. Penny Rownson (Horizon Fitness RT) 63pts
6. Rohan Battison (For Viored Brookvex) 48pts
7. Dani King (Horizon Fitness RT) 47pts
8. Sarah Byrne (VC St Raphael) 47pts
9. Annie Simpson (Horizon Fitness RT) 46pts
10. Amy Roberts (For Viored Brookvex) 42pts
Final team standings

1. Horizon Fitness RT 219pts
Final Sprint Standings

1. Hannah Barnes (Motorpoint Pro Cycling) 24pts
Related links


Tour Series 2011: Cycling Weekly's coverage index
Garner celebrates a fine victory
Overall winner Helen Wyman