Your ultimate guide to the Tour de France - on sale now!
Cycling Weekly's Tour Preview is bursting with insight and intrigue ahead of the biggest race of the year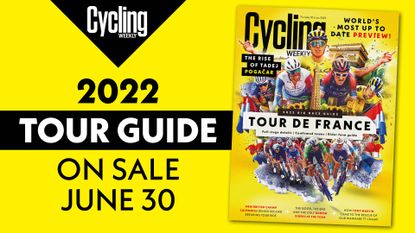 (Image credit: Future)
The Tour de France Grand Depart is looming ever closer, and the excitement is palpable. Cycling Weekly's special edition Tour Guide is here to bring you all the information you need to get every drop of enjoyment out of the three weeks of racing.
The magazine is available online and in store from Thursday, June 30. You can also subscribe to get it delivered each week.
To whet your appetite, here's what Magazine Editor Simon Richardson had to say in his opening editorial...
After a few years on the sidelines I'm making my long awaited, albeit brief, return to Cycling Weekly's Tour team. By the time you read this I'll be at the start in Copenhagen, chasing after riders and team staff in an attempt to bring you the stories behind the race from the opening stages.
Due to the nature of an editors 'backroom' role, and the pandemic of course, I haven't been to a major international race for several years, and I don't mind admitting I'm a bit nervous by how rusty I've no doubt become.
Working on a bike race can take some getting used to. There's the ebb and flow of how stages run, good and bad times to approach people, where to stand and wait for the rider you want to speak to etc, etc.. Get just one of those wrong and it's possible to waste hours of valuable time, leaving you with no quotes and a looming deadline. The stress is always there.
But there's no denying that I'm looking forward to it. I don't think my love of the Tour has dimmed one bit since I first watched it back in 1989, and pulling together our preview issue always takes me back to those halcyon days. However you're following the race I hope your love of it remains as undimmed as mine. And I hope this magazine is part of that experience. Vive le Tour!
Simon Richardson
Editor
Editor's highlights
The making of Tadej Pogačar
Denmark's troubled Tour stories
Tony Martin helps our TT wannabe
60+ pages of unmissable Tour coverage
Cavendish's heroic nationals ride
REDACTED - EMBARGOED TECH LAUNCH! - Ed
The magazine is available online and in store, or, you can subscribe to get it delivered each week.
Thank you for reading 20 articles this month* Join now for unlimited access
Enjoy your first month for just £1 / $1 / €1
*Read 5 free articles per month without a subscription
Join now for unlimited access
Try first month for just £1 / $1 / €1