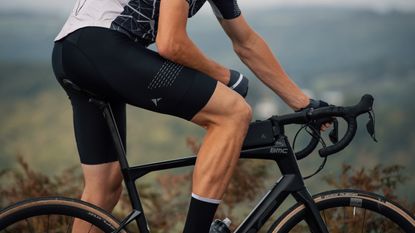 (Image credit: Altura)
Whether you are starting out in the sport, or a seasoned cyclist of many years, bib shorts are one of the most crucial kit choices you can make, not only for your comfort on the bike but for riding for longer and further distances in training and racing.
There are many ways in which bib shorts can vary, with the rule of thumb being a case of you get what you paid for in terms of long lasting quality. Both in terms of the one off performance on the bike during a ride, as well as the longevity of the bib shorts over multiple rides.
The padded insert chamois is often seen as the most crucial aspect of the bib shorts, and even though they do offer the protection where it is needed most, bib shorts must use quality materials and fit to avoid any bunching, friction or unsightly views for your riding mates on your wheel.
Chamois
The chamois part of your bib shorts is arguably the most important section of any cycling kit as this is the part of clothing and body which supports the most weight when riding a bike.
Having an uncomfortable chamois or a chamois which doesn't have a padding which is dense enough could cause you a multitude of problems.
Short term issues could include irritating comfort problems out on a ride which may have a knock on effect to slowing you down on the bike. If you are also unable to pedal efficiently because of this discomfort, then it could have a psychological effect on your riding as well.
Repetitive use of poorly constructed and padded chamois could lead to long term problems with saddle sores or other issues developing all down to a poorly selected set of bib shorts. Altura's Progel Plus Men's Bib Shorts (opens in new tab) come with a re-engineered 3D chamois pad which includes dual density foam and rooted gel. This provides excellent comfort and retains its anatomical shape ride after ride.
Lower priced bib shorts may have a sufficient padded chamois on a one off ride, but their design may not be suitable for long distance riding and may not be as long lasting.
Altura's Men's Endurance Bib Shorts (opens in new tab) are engineered with high quality materials for those long days riding on the bike. They have been developed alongside endurance cyclist Mark Beaumont, so you can be sure that the 11mm thick dual density foam chamois is ideal for offering a mix of comfort without the bulky feel when racking up multiple hours in the saddle.
Upper
It isn't just the chamois that is key to comfort, the upper part of your bib shorts ensure the shorts don't slip down when cycling. It is important these straps are also built for comfort and performance and don't dig in to your shoulders, cutting off any circulation or limit movement in the upper body.
There is also the potential for straps to loosen over time after multiple usages or washing with lower budget alternatives.
Altura's Womens Firestrom Bib Shorts (opens in new tab) are designed for comfort and endurance, with a mesh upper body material allowing for perfect fit and breathability over the duration of your ride.
Leg grippers
The straps of the bib shorts aren't the only thing which are key to keeping bib shorts in place as the leg grip sections which line the inside of the shorts are also a crucial factor.
There is nothing more frustrating than wearing kit which isn't secure during a repetitive motion and this is where leg grippers play a useful role in keeping your shorts in place.
These help limit the movement — as well as ensure block tan lines — and ensures they don't ride up and bunch in uncomfortable positions up your leg.
Finding the balance of a secure set of grippers and a suitable fit which allows for a comfortable ride by not cutting off any circulation is something which comes as standard with higher priced better designed bib shorts.
Fabric
Your legs are the key working part of the body when cycling, which means they are inevitably going to get warm in the summer months. Therefore bib shorts must be breathable and able to wick sweat away when required.
Bib shorts are designed in this way to move excess moisture away from the skin, keeping you dry and comfortable when you perspire. The Altura Icon Men's Bib Shorts (opens in new tab) have Italian Miti carbon fabric placed in key areas to draw toxins away from the skin for a fresh feel.
Conversely in the colder months ensuring your bib shorts are able to keep your legs warm during the early part of rides are key to preventing pulled muscles and loosen up joints without any issues.
Visit www.altura.co.uk (opens in new tab) for more information on Altura's range of bib shorts and other cycling kit.
Thank you for reading 10 articles this month* Join now for unlimited access
Enjoy your first month for just £1 / $1 / €1
*Read 5 free articles per month without a subscription
Join now for unlimited access
Try first month for just £1 / $1 / €1
Paul Knott is a fitness and features writer, who has also presented Cycling Weekly videos as well as contributing to the print magazine as well as online articles. In 2020 he published his first book, The Official Tour de France Road Cycling Training Guide (Welbeck), a guide designed to help readers improve their cycling performance via cherrypicking from the strategies adopted by the pros.