Explore at your own pace with a Headwater cycling holiday
With their expert local knowledge and stunning destinations, Headwater can help you find your ideal self-guided cycling holiday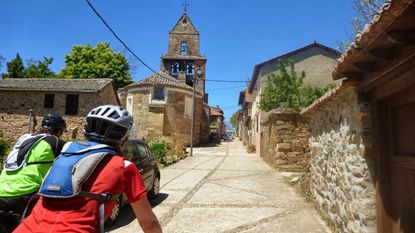 (Image credit: Headwater)
If you love cycling, spending a holiday in the saddle feels like the perfect getaway. As well as enjoying your hobby away from work and the other distractions of your daily routine, it's a chance to explore exciting new places at your own pace, with the freedom to see as much – or as little – as you like.
But assembling your own itinerary doesn't come without its challenges, whether it's planning routes in a place you've never visited before, or working out the logistics of moving your luggage from one hotel to the next. Luckily, travel experts Headwater (opens in new tab) have decades of experience putting together bespoke, self-guided holidays – in other words, they do the hard work so you can make the most of your adventures.
Since 1985, Headwater have been creating bespoke, award-winning walking and cycling holidays for people who want to explore under their own steam. Taking advantage of expert regional knowledge, their expertly curated itineraries can take you to exciting new places you might never have found by yourself. Whether you're looking for places of historical or cultural interest, hand-picked local restaurants, or characterful accommodation where you can put your feet up in the evening, Headwater can steer you in the direction of some memorable hidden treasures. Alternatively, if you're after a change of scenery, they can offer advice on city breaks or trips to the coast, or even adding an e-bike to your itinerary. For extra peace of mind, Headwater offer personalised support from the moment you book to the day you return from your trip, with a service that's been rated 4.7 stars by Feefo (opens in new tab).
With Headwater, there's plenty of memorable destinations ready to be explored on your bike. Perhaps you'd like to ride through the lavender fields of southern France's Côtes du Ventoux (opens in new tab), experience the iconic canal district on a tour from Amsterdam to Brussels (opens in new tab), or head to Ireland to enjoy the spectacular scenery of County Kerry's Wild Atlantic Way (opens in new tab)? Other bestselling Headwater holidays include cycling the Classic Cotswolds route, riding from the Julian Alps to the Adriatic, and following the Danube from Vienna to Budapest.
Thankfully there's no need to worry about luggage slowing you down, because your bags will be transported ahead so they're ready and waiting when you reach your overnight destination. And forget about crowding around a map, arguing over which road to take next – Headwater's navigation app offers meticulous turn-by-turn directions to keep you on the right track, with audio navigations individually created for each itinerary.
So if you're looking to spend your next holiday on two wheels, immersing yourself in the culture of your destination, take a look at Headwater's impressive collection of self-guided and guided cycling trips (opens in new tab). You can also find further inspiration by requesting a copy of Headwater's free brochure (opens in new tab).
Win! A Headwater holiday for two!
Headwater are currently offering you the chance to win a holiday for two. You can choose between the Secrets of Sicily Walking Holiday (opens in new tab) or the Contrasts of Catalunya Cycling Holiday (opens in new tab). To enter, simply enter your details via the link below. The winner will be selected on 5 April 2023 – good luck!
(See full terms and conditions at the bottom of this page.)
ENTER HERE (opens in new tab)
Plus! Get £100 off any Headwater holiday!
If you can't wait to start exploring, Headwater are also offering you the chance to save £100 per person on any Headwater holiday. Simply use code CW100 when booking. (Offer ends 31 March 2023 – more information can be found here.)
Thank you for reading 10 articles this month* Join now for unlimited access
Enjoy your first month for just £1 / $1 / €1
*Read 5 free articles per month without a subscription
Join now for unlimited access
Try first month for just £1 / $1 / €1