Why pedal-based power meters are the best solution
Measuring your power output at your pedals makes for easy set-up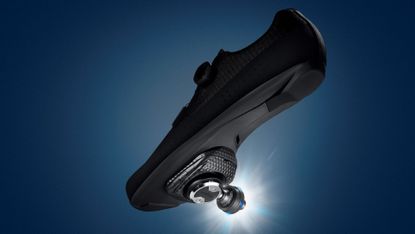 (Image credit: Wahoo)
Sponsored feature in association with Wahoo
A power meter has become an essential piece of equipment for the serious road cyclist, letting you see your power output as you ride so you can gauge your efforts more closely, and providing loads of post-ride information on your performance, including your VO2 Max and FTP. It lets you fine-tune your indoor training better, so you know what drills to do when and when you need to rest up and recover.
But a power meter, particularly a full-featured one, is an expensive option so it's important to choose one which gives you the functionality and information you need and which is easy to use, not just choosing it on price.
What do we mean by full-featured?
You'll want the best accuracy in your power measurement. Most power meters will be accurate +/- 1 or 2 percent, but some can drift as the temperature changes and may need regular recalibration.
More expensive power meters usually measure your left and right side power separately, although some measure your combined power. A cheaper option can be to buy a power meter that measures one side only and doubles this up to derive your total power. It's a good entry into power measurement, although it can lead to over- or underestimates of your output if your legs' outputs aren't balanced.
There's often the option to buy the second side power meter at a later date though, so you get separate measurements of left and right power. Most riders find knowing their left/right balance is useful so they can identify asymmetries in their pedalling and work to address them.
What are the options for a power meter?
All power meters use strain gauges built into the chainset, cranks or pedals to measure the small displacements of the component in response to your pedalling force. They also include a mechanism to measure cadence. Those inputs are translated by electronics in the meter to a power measurement that's output via Bluetooth and/or ANT+ to a cycling computer where it's displayed and stored for later analysis.
Power meters built into the crank arms or chainset have the advantage of being well-protected from potential damage, but fitting one means replacing parts of your chainset and properly installing the meter.
That's not an easy task, and can be time consuming. Bottom bracket compatibility is an issue too, as there are lots of mutually incompatible bottom bracket standards. You need to get the right power meter standard for your bike, and if you change bikes you may find that your power meter isn't compatible with your new ride. You're also not going to want to swap your power meter between bikes that often if you've got multiple bikes and even changing chainring size can be an issue.
A lot of these problems are avoided by opting for a pedal-based power meter.
Why pedal-based power meters are the best option
For many riders, capturing power output with a pedal power meter is the best option. As a starter all pedals work with all cranks, so there's never an issue with compatibility. Want to swap from Shimano to Campagnolo? Sure, just unscrew your pedal power meter and fit the pedals to the new groupset.
That means that you can easily, for example, use the same power meter in your road bike and your time trial bike and don't need to buy a second power meter or spend ages dismounting and refitting your chainset, or pay a shop to do it for you.
You're also going to get consistent data between bikes if you use the same power meter on each.
Although they're slightly more vulnerable than a power meter housed in the chainset, pedals are unlikely to get damaged. How often do you damage your current pedals?
Why Wahoo POWRLINK ZERO pedals are a great choice
The new Wahoo POWRLINK ZERO power meter gives you the benefits of a pedal power meter with all the advantages of the Speedplay pedal system, a favourite of the pros.
That includes massive adjustability - the greatest in the road pedal market - with independent tuning of heel-in and heel-out float through up to 15 degrees. The cleat-to-pedal interface is also the largest out there, and you get double sided entry, rather than the single sided engagement of other road bike pedal systems.
There's also a large amount of stance width adjustment, and you can add cant to the cleats to fine-tune your foot position. The low stack height leads to pedaling efficiency, while the low profile pedal bodies increase the available lean angle into corners and reduce the risk of grounding.
The Wahoo POWRLINK ZERO power meter works with all Speedplay cleats and runs on a robust stainless steel axle. The power meter electronics are enclosed in a neat, low-profile pod that wraps around the inboard side of the pedal spindle, where they're out of harm's way.
You can buy dual sided or single sided versions, it's accurate to 1 percent and transmits using Bluetooth LE and ANT+, so it's compatible with all head units and it can pair simultaneously with multiple devices over both protocols. You can use it with oval chainrings as well as standard round ones.
Accuracy is +/- 1 percent, with automatic calibration and temperature compensation and an internal gyroscope to eliminate inaccuracy and drift. You get the full range of performance data including, for the dual-sided meter, left/right balance.
The Wahoo POWRLINK ZERO power meter is light at 276 grams for the pedal pair, only adding 54 grams over the standard Speedplay Zero pedals. There's up to 75 hours runtime from the internal rechargeable battery, with LED indicators to show when the battery is running low and when the power meter is connected to your head unit. When you do need to recharge, there's a Y-shaped charging cable, so you can power up both pedals at the same time.
The double-sided Wahoo POWRLINK ZERO power meter costs $999.99 / £849.99 / €999.99 and the single-sided version is $649.99 / £549.99 / €649.99, including a non-instrumented right pedal.
Thank you for reading 5 articles this month* Join now for unlimited access
Enjoy your first month for just £1 / $1 / €1
*Read 5 free articles per month without a subscription
Join now for unlimited access
Try first month for just £1 / $1 / €1
Paul started writing for Cycling Weekly in 2015, covering cycling tech, new bikes and product testing. Since then, he's reviewed hundreds of bikes and thousands of other pieces of cycling equipment for the magazine and the Cycling Weekly website.
He's been cycling for a lot longer than that though and his travels by bike have taken him all around Europe and to California. He's been riding gravel since before gravel bikes existed too, riding a cyclocross bike through the Chilterns and along the South Downs.