Assos Equipe RS Johdah S9 Targa Winter Jacket review - can it possibly justify the $725 / £610 price tag?
Warm, versatile, lightweight and incredibly expensive, well it is Assos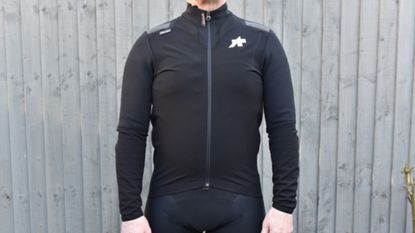 (Image credit: Owen Rogers)
Any winter jacket that can be worn with the same single under layer over a spread of at least 8 degrees Celsius is a great jacket. Warm and versatile it's more lightweight than any comparable item I've used. With legendary build quality, its reflective shoulder flashes, rear gripper and its sturdy zipper, it the Johdah possesses the detail we're used to from Assos. But is black the best colour for dark winter months? And I like the shoulder vents on warmer rides, but near zero they're less useful.
Reasons to buy
+

Peerless build quality

+

Attention to detail with huge pockets and reflectors

+

Excellent insulation but also lightweight

+

Usable in a range of temperature adding versatility

+

Vents to aid cooling on warmer rides
Reasons to avoid
-

Huge price tag

-

Only available in black

-

Vents cannot be sealed for colder rides
You can trust Cycling Weekly. Our team of experts put in hard miles testing cycling tech and will always share honest, unbiased advice to help you choose. Find out more about how we test.
The winter jacket is a conundrum for many manufacturers: how to make a jacket light enough for comfort and versatile enough for a wide variety of temperatures.
Assos describes the Johdah as its ultimate second skin winter jacket, suitable for all but the coldest rides, but, to ensure that versatility, pitch it as part of a layering system to go with their Equipe RS Winter mid layer ($169 / £130) or Equipe RS Alleycat Clima Capsule ($265 / £220).
According to the Swiss company the Johdah is a 'winter-worthy second skin that insulates during easy efforts and breathes and ventilates as the intensity increases maintaining a comfortable, dry microclimate' - we take a look at how it stacks up against the best winter cycling jackets.
Assos Equipe RS Johdah S9 Targa: construction
Cramming the Johdah into a drawer seems wrong, not just because of the $725 / £610 price tag, it's easily my most expensive item of clothing, but because of the quality you feel the moment you open the box. At 520g for a large it's not heavy, but there's the heft and feel of a quality item.
Inside you'll find the fleece lined neck and chest warmer Assos call a 'mini gilet,' and behind that you're struck by a bright blue panel, which contrasts the rest of the jacket, available in any colour as long as it's black. Writing on the striking blue panel boasts the presence of the 'Gob Pok' pocket for carrying that extra layer.
I've been lucky enough to use a fair bit of Assos kit and it's invariably very well put together, so a loose thread by one of the pockets was a surprise. It wasn't attached to anything and the jacket is perhaps more sturdily built than any other kit I've used, with triple stitched external seams and equally robust internal ones.
Assos's windproof 'SPHERE' fabric is the Johdah's most prevalent, used at varying thicknesses across the multiple panels on the body, depending on exposure to the elements. On their website Assos claim 'SPHERE' to be waterproof, while the marketing blurb we were sent mentions only protection.
There's also 'OSMOS' fabric and their three-layer 'ZiggyZaggy' (yes, seriously) foam, which is most obvious on the forearms where the texture shows through and resembles my old granny's eiderdown.
That second skin fit is apparently engineered for WorldTour aerodynamics, but those 'ZiggyZaggy' forearms are a tiny bit on the baggy side. The torso is a close fit though, the jacket cut to push the arms and shoulders into a riding position, great on the bike, but less so in the café. But the Johdah isn't made for cafés.
The ride
It's a winter jacket so let's start with the insulation.
Though part of a layering set, Assos say you can 'wear it alone in most winter conditions.' That's a tad ambiguous, so for my first, very short ride I chose an ancient, paper-thin, short sleeved merino base layer.
It was 3ºC, a bitter wind blowing across the Cambridgeshire snowfields and the Johdah performed surprisingly well heading up what we call a hill round here. Freewheeling home into the wind I got quite cold though.
For my final ride before writing this I wore Assos's own Winter Long Sleeve Skin Layer and rode a bit harder. This time it was 2ºC, windchill making it feel much colder, and it became obvious the 'mini gilet' is a bit too short.
It stops just above my considerable belly and though my chest and shoulders were always cosy, in between efforts my stomach got a bit chilly. However, I never felt the need to resort to the extra layer I'd stowed in the Gob Pok, that jersey arriving home warm and dry.
Otherwise the mini gilet works, while it pokes over the top of the main collar it never rubs the neck, the offset zip is perfectly placed and it's high enough to make a snood redundant.
If you can wear such a lightweight jacket in temperatures below 5ºC with only a single base layer, the jacket is certainly a well insulated one.
I wore exactly the same combination for longer rides up to 10º, and while I was warmer I never overheated with the 'mini-gilet' undone, and the spare fabric never got in the way. Assos has cut vents, or 'valveTec diffusers' on each shoulder and these certainly help, when you're on the drops you can feel the breeze coming in between the external shell in the mini gilet.
The trouble is you can't seal these vents, so when it's proper cold you can still feel the breeze when you might not want it. That said, they do aid the Johdah's versatility, something you'll want when paying $725 / £610.
The pockets are excellent. The middle one swallows two tubes, a pump and levers which are kept in place with Assos's Ramp flap, which folds over the top of the contents, and there's zipped side pocket big enough for an iPhone. The only issue is the jacket's aerodynamic cut which makes reaching them - and sticking your arm out to indicate - a tiny bit awkward.
Value
At $725 / £610 the Johdah is just about the most expensive jacket out there, beyond the reach of the wallets and common sense of many.
To put the price into perspective, similar designs with an inner mini-gilet include the Endura's Pro SL 3-Season Jacket ($299.99 / £199.99) and the Castelli Alpha RoS 2 Jacket ($389.99 / £256.00).
Like a top of the range Colnago or Pinarello or even Specialized S-Works, perhaps the Johdah isn't aimed at the average rider.
But it's not an average jacket - it is by far and away the best jacket I have used - and the criticisms I have are nit-picking. I can't afford that kind of spend myself, but if you can, you're unlikely to be disappointed.
Thank you for reading 20 articles this month* Join now for unlimited access
Enjoy your first month for just £1 / $1 / €1
*Read 5 free articles per month without a subscription
Join now for unlimited access
Try first month for just £1 / $1 / €1