Sportful Stelvio Jacket review
Breathable, waterproof and lightweight, the Sportful Stelvio Jacket ticks all the boxes of the ultimate wet-weather cycling garment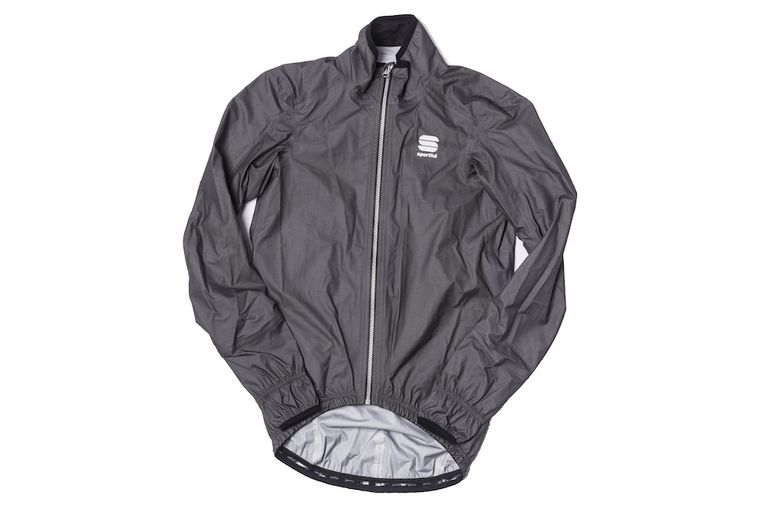 Nobody likes a wet ride, but the Sportful Stelvio goes a long way to help in reducing the misery by keeping you comfortable and dry, when either training or racing. It's a considered purchase, but if you live in the UK or spend much of your time riding in inclement climates, you'll probably find it'll get a fair amount of action.
Reasons to buy
+

Waterproof

+

Exceptionally breathable

+

Close fitting

+

Easy to put on and off on the move

+

Lightweight

+

Stowable

+

Raceable

+
With the advent of new fabric technologies and new manufacturing techniques, wet-weather bike gear has come on leaps and bounds over the past few years, making the race rain jacket a must-have piece of kit for any pro. While the Castelli Gabba stole the initial limelight, has the Sportful Stelvio just put it in the shade?
>>> How to dress for wet weather cycling
Construction
The Stelvio is a reverse-engineered jacket. Sportful, working with the former Tinkoff pro team, knew what was needed but struggled to find existing fabrics with the three main attributes it wanted for the ultimate waterproof jacket: market-leading breathability, high stretch and light weight.
>>>Buy the Sportful Stelvio direct from Wiggle for £240
So the fabric, RainWick Stretch, was developed in partnership with a Japanese manufacturer (Sportful isn't at liberty to disclose who) and has a claimed breathability rating of 50,000g/m2/24hrs (the number of grams of water vapour that can pass through a square metre of the fabric in a 24-hour period so the higher the better). To put this into context, most winter jackets have a breathability rating of around 5,000 to 8,000g/m2/24hrs.
Sportful also says the Stelvio has a waterproof rating of 20,000mm (the height to which water can be filled in a 1in x 1in square tube over the RainWick Stretch fabric before it begins to leak – again, the higher the better), which is as high as waterproof fabric ratings go. When seams are taped and a water-resistant YKK Vislon zip with internal storm flap added the garment is, in theory, impressively leakproof.
All these numbers are impressive, but it's worth remembering that there is no standardised testing for fabrics, and it's only the fabric that is tested - so assessing the waterproof and breathability of a jacket on stats alone isn't as realistic as in the field testing.
>>> Buyers Guide to Waterproof Jackets
The Stelvio's stretchiness means it can be cut to fit closely, so Sportful has added a clever section on the forearm where the fabric is pulled in by an elastic insert, allowing the cuff to widen so the jacket can easily be removed or donned on the fly.
With all this and a weight of only 156g Sportful has, on paper, created the perfect race jacket. However, it's how the jacket performs when out and riding that's most important.
Ride
The Sportful Stelvio is certainly tight around the torso: the stretch allows it to be body contouring and unrestrictive, but there's no squeezing an extra centimetre or two out of it. Ordering the right size using Sportful's size guide is essential.
The arms are slightly looser fitting, especially in the forearm sections, and I didn't personally benefit much from the additional arm elastic. However, I did find the cuffs were more than adequate at preventing water getting in while still allowing me to remove the Stelvio with gloves on.
The breathability and waterproofing elements are outstanding. Even after a couple of hours of constant soaking I was still dry and when going hard on the climbs I didn't feel the need to unzip even slightly.
With correct baselayer and jersey selection the Sportful Stelvio is as versatile as you like. For me mid-weight options of both were spot-on for rainy, hilly riding in late March/early April at around 10°C.
On the more changeable days when the jacket was on and off, I was pleased to find that I was able to scrunch it into a rear jersey pocket – but there was no room for anything else, so it's probably worth taking a saddlebag to free up some pocket space.
Value
There's no denying £240 is a lot of money to spend on one item of cycling apparel but there isn't really anything else that competes with the Sportful Stelvio across all the key areas of waterproofing, breathability, stretch and light weight.
With its ability to be either dressed up or down for temperatures and/or rides I can see it has a lot of versatility and therefore wearability, especially in the UK where rain is an occupational hazard. So based on cost per wear, the Sportful Stelvio will eventually work out to be good value.