Is this 4.8kg build the ultimate hill climb bike?
Using a customized frame and amazing components, we have endeavoured to build the Ultimate Hill Climb bike for the British Hill Climb season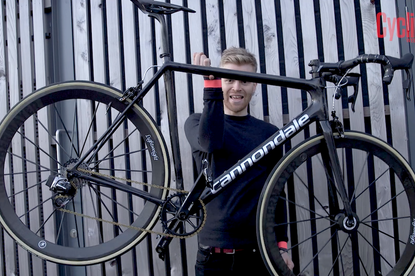 The British hill climb season is in full swing and we thought it was an excellent excuse to have a go at building the ultimate bike for the job.
One of the coolest things about the hill climb season is that there is no weight limit on the bike you can use. With no weight limit, riders are free to modify their bikes and historically there has been a culture of chopping and drilling components to save precious grams.
To see examples of other hill climb bikes, including those used by the winners, you can click here. There are some really interesting builds on show.
With regards to the bike we have built, in some cases, lighter more exotic components are available from various brands, however we have tried to spec bits that are both light and functional. British hill climb races are often short and steep, meaning stiffness is crucial and cannot be sacrificed.
>>> The super light specifications of a Hill Climb Champions bike
The centrepiece of this build is a Cannondale SuperSix Evo HiMod Black Inc frameset, that has had the paint, painstakingly and meticulously removed by Fat Creations.
The paint was replaced with a very thin clear coat lacquer. All in all, this process of removing the paint saved over 200g resulting in a combined frame and fork weight of just 940g for a 56cm frame.
Other components include Lightweight Meilenstein Obermeyer Tubular wheels and SRAM Red eTap rear shifting.
The complete build is coming in at 4.81kg, including pedals, power meter and computer. To learn more about the bike and full specification, you can watch the video.
Keep an eye out for more content in the coming weeks, as we will be riding this we will be putting this beautiful machine to the test in a series of open hill climb races throughout the season.
Thank you for reading 10 articles this month* Join now for unlimited access
Enjoy your first month for just £1 / $1 / €1
*Read 5 free articles per month without a subscription
Join now for unlimited access
Try first month for just £1 / $1 / €1
Oliver Bridgewood - no, Doctor Oliver Bridgewood - is a PhD Chemist who discovered a love of cycling. He enjoys racing time trials, hill climbs, road races and criteriums. During his time at Cycling Weekly, he worked predominantly within the tech team, also utilising his science background to produce insightful fitness articles, before moving to an entirely video-focused role heading up the Cycling Weekly YouTube channel, where his feature-length documentary 'Project 49' was his crowning glory.