Caught on camera: Edinburgh taxi driver assaults cyclist (video)
Taxi driver reportedly charged with careless driving and assault after he struck a cyclist in Edinburgh during August 2015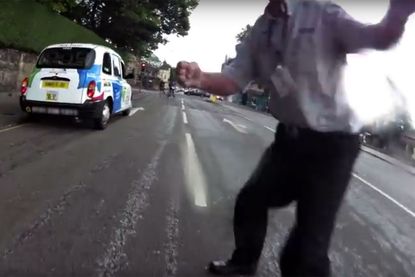 Warning: video contains numerous expletives
An Edinburgh cyclist has posted a video online of the moment he was attacked by a taxi driver in the Scottish capital last year.
The taxi driver and cyclist – who posts videos under the name of 'Another Edinburgh Cyclist' – had been engaged in a verbal altercation due to a 'close pass' by the taxi (at 1:00 in the video) prior to the incident in August 2015.
After the pair originally exchanged words, the taxi drives away. A few minutes later, the cyclist rounds a bend to be confronted by the taxi driver out of his vehicle and standing in the road (at 3:35 in the video).
>>> Driver accused of deliberately hitting cyclist found not guilty
As the cyclist tries to pass him, the taxi driver appears to step in his way and punch or push him off his bike, knocking him to the ground.
The cyclist then gets up and calls the police, as the taxi driver waits. The entire incident was filmed by the cyclist on a high-definition camera, and the footage was passed to the police as evidence.
The cyclist reports that the driver pleaded guilty in court last week, and has been charged with careless driving and assault, given nine points in his driving licence, fined £360 and ordered to pay court costs.
Thank you for reading 20 articles this month* Join now for unlimited access
Enjoy your first month for just £1 / $1 / €1
*Read 5 free articles per month without a subscription
Join now for unlimited access
Try first month for just £1 / $1 / €1