Endura Pro SL Shell jacket review
The Endura Pro SL Shell jacket can take everything its native Scotland can throw at it – and can be stuffed in a pocket in the unlikely event of the sun coming out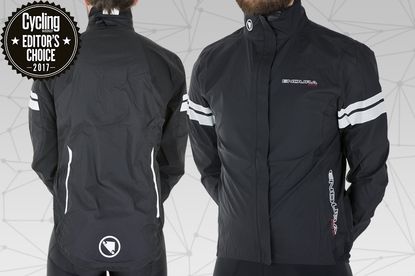 Endura was a company born out of tough Scottish weather and a need to be better protected. In particular, the Endura Pro SL is Endura's lightweight, year-round wet-weather jacket that easily keeps the worst of it out and then some – offering insulation, and top notch technical performance.
All of these attributes secure the Endura Pro SL a spot on the 2017 Cycling Weekly Editor's Choice list.
The Endura Pro SL's brilliance is down to its Exoshell 40 technology. Basically, Endura has managed to manufacture a membrane that is 50 per cent thinner than other waterproof membranes. The finished product is a jacket that feels lightweight, but gets rid of any excess heat build-up.
With Endura being born out of the worst Scottish weather, it felt right that the jacket should return home for the test, to the west coast of Scotland – literally the wettest place in the UK – perfect for putting this wet-weather weapon through its paces.
It was indeed the ideal proving ground: long rides in the torrential Scottish rain during which the jacket managed to perform spectacularly well.
The water simply shed off the edges, running off in beads and never seeping in. Over the course of a 110km ride, all in the rain, the jacket never once gave in.
Strong gusts and gales accompanied the wet weather, but the Endura jacket proved to be more than a match for it. The storm flap over the zip and the high neck added extra protection against any wind and rain that otherwise could have snuck in.
It's a hardshell jacket rather than a skimpy rain cape, but despite this it proved easily packable, even coming with an elasticated band to wrap it up in, and it fits snugly in a jacket pocket. Great wet-weather jackets don't tend to come in small sizes, so it's impressive Endura has achieved what it has with the SL Pro.
Either way, there was no way the conditions would have allowed the jacket to be removed, so it didn't need stuffing that often. Happily it is plenty breathable, never getting too stuffy or overly warm. Endura says the thinner membrane lets the worst of the heat out, and the rest exits via one large vent that's on the side.
On long rides I was able to keep the jacket on, open the vent and not overheat – this included riding with three layers on underneath.
It didn't fit our tester's long arms quite right and when stretched over we found the sleeves pulled up the wrists a little too much – but of course fit is always a personal thing.
Endura's wet-weather-busting claims are borne out by our experience with the Endura FS260-Pro SL: it's exceptionally waterproof, impressively windproof and highly breathable.
Thank you for reading 20 articles this month* Join now for unlimited access
Enjoy your first month for just £1 / $1 / €1
*Read 5 free articles per month without a subscription
Join now for unlimited access
Try first month for just £1 / $1 / €1