Fizik Arione saddle review
The Fizik Arione saddle is renowned across the cycling scene, and as a testament to its quality it's also our first choice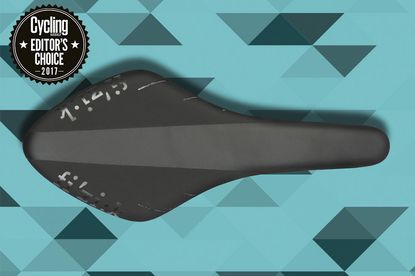 The Fizik Arione saddle is renowned across the cycling scene. It's the first choice of the WorldTour pros and, as a testament to it's quality, it's also the first thing we swap on our test bikes when they come through the door. As a product, it's made itself essential, and this gets it a spot on the Cycling Weekly Editor's Choice for 2017.
It takes all shapes and sizes
The Fizik Arione R1 saddle featured here is the regular version that has no cut out in the middle (a relief channel) which, personally, we prefer and we haven't found the need to go wider or have a cut out.
Fizik takes care of all shapes and sizes, and the Arione is available in both a regular and wide fit as well as an open and closed design to suit the needs of all cyclists.
On paper, the Fizik Arione saddle dimensions are 300x130mm, making it longer than most. On the bike, that means a long narrow nose, a flat profile from tip to tail and wings that won't hinder your leg movement, even when sat right back. This is thanks to something called Wing Flex technology, which enables flexibility where your thighs meet the saddle.
This freedom is what we love the most about the Fizik Arione R1. We can move around completely unhindered to find a comfortable position, or one that will help me produce the power we want; whether climbing, sitting in a bunch or on the track whizzing around at full speed.
Hand made Italian goodness
It features a composite carbon co-injected shell bonded with a braided 7x9mm carbon rail and is hand made in its Italian factory.
The Fizik Arione saddle does weighs 165g despite all this carbon, and it is possible to find one lighter for similar money, although we doubt the its well rounded performance will be as good as the Fizik Arione R1.
And if the shape isn't for you then follow Fizik's saddle finding app; whether you are a Snake, Bull or Chameleon (Arione, Aliante or Antares) you'll find something to suit you. Fizik even offer colour customisation – what's not to love!
We're big fans of the Arione shape, which is for the Snake type rider, who likes a low down aggressive position. We've found we can move around on the saddle as we please and always found a comfortable spot even on the longer days.
Thank you for reading 10 articles this month* Join now for unlimited access
Enjoy your first month for just £1 / $1 / €1
*Read 5 free articles per month without a subscription
Join now for unlimited access
Try first month for just £1 / $1 / €1
Symon Lewis joined Cycling Weekly as an Editorial Assistant in 2010, he went on to become a Tech Writer in 2014 before being promoted to Tech Editor in 2015 before taking on a role managing Video and Tech in 2019. Lewis discovered cycling via Herne Hill Velodrome, where he was renowned for his prolific performances, and spent two years as a coach at the South London velodrome.