AlterLock alerts you if your bike is moved and lets you track its location
Low profile unit sits under your bottle cage and includes a tamper alarm and mobile comms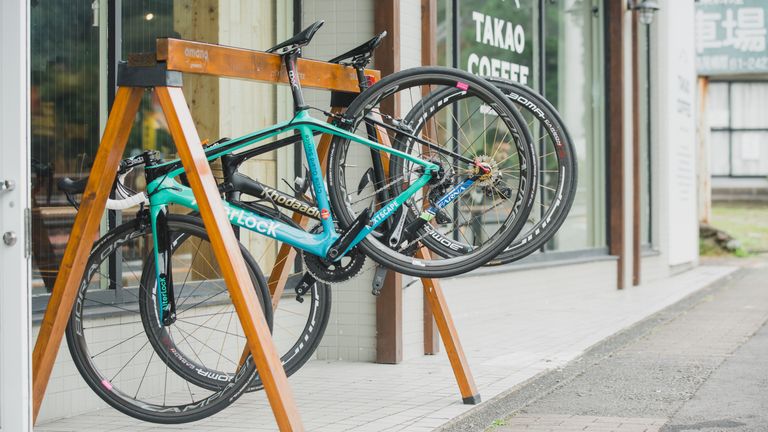 (Image credit: AlterLock)
Promotional article in association with AlterLock
Parking your bike during a coffee stop or at an event can be a nerve-wracking business. Often, your bike will be out of sight while you are ordering a drink or registering and you may not be able to see it from where you are seated or standing.
You've reason to be concerned: Japanese company AlterLock polled 1,500 bike users in the UK, the Netherlands and Germany in February 2021 and found that 60 per cent had either had a bike stolen or knew someone who had. Incidents of bike theft in Europe have risen by 130 per cent over the last four years.
90 per cent of those who had their bikes stolen had locked them and around a quarter of thefts were from at or around the home. Only 27 per cent were recovered.
AlterLock helps you keep tabs on your bike
The Japanese-designed AlterLock provides a solution to alert you to a potential theft and let you keep tabs on your bike's location. AlterLock consists of a sleek unit that's just 9mm thick and weighs only 50 grams which bolts unobtrusively below your bottle cage. This houses a vibration sensor, accelerometer and GPS chip, with its USB C-rechargeable lithium ion battery lasting for up to six weeks between charges.
Once you've set AlterLock, if it senses a vibration which might be caused by someone moving your bike, it will sound an alert, then a loud alarm. It also notifies you via its smartphone app that you need to check your bike. You set AlterLock or turn it off via the phone app and can alter the alert sensitivity. There's also room in the app to record bike details like frame number, specs and photos.
AlterLock keeps track of your bike's location via its GPS chip and WiFi and sends this to your phone, so you can see where it's parked.
Over shorter distances, AlterLock communicates with your smartphone, either Apple or Android, via Bluetooth Low Energy. Once you're out of the range of BLE, which is around 100 metres, the system switches to use a low energy wireless protocol called Sigfox, so your phone will continue to receive location data for your bike. The protocol shifting means that AlterLock uses a lot less energy than comparable devices and so can be kept compact, while still continuing to operate for weeks.
With bike aerodynamics being important to many riders, AlterLock's effect on airflow over the bike has been modelled carefully, with the results showing that there's a minimal increase in drag, which translates to just 0.002 seconds over an hour when riding at 40km/h. AlterLock is IP66 water and dustproof too, so you don't need to worry about the weather and where you ride.
Low cost security
Available in Japan since 2019, AlterLock is now launching in the UK and Europe. Details and how to order are on AlterLock's site.
The device itself costs £114.99 / €134.99. There's then an on-going subscription fee of £3.49 / €3.99 monthly or £34.99 / €39.99 annually.
There's currently a summer sale offer price for AlterLock of £91.99 / €107.99.