Ask a cycling coach: 'If I'm shattered from work, am I better off reducing the power targets or skipping the session?'
How to work out if you should push through the fatigue or take some all-important recovery time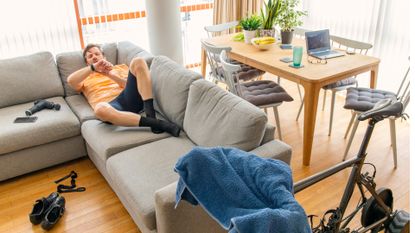 (Image credit: Getty Images - Justin Paget)
Get The Leadout Newsletter
The latest race content, interviews, features, reviews and expert buying guides, direct to your inbox!
Thank you for signing up to The Pick. You will receive a verification email shortly.
There was a problem. Please refresh the page and try again.
We all know that feeling when you get home from work and all you want to do is sit on the sofa with a nice cup of tea. So what should you do? Skip the session or just reduce the power targets? We put the question to cycling coach James Spragg to find out the best approach, and why.
Sports scientist and coach James Spragg is one of the experts who will be answering your questions in Cycling Weekly's ASK A CYCLING COACH series which comes out every Wednesday. Working both in research and applied settings, he currently runs Intercept Performance Consultancy.
How to decide if you should skip the workout or not
In answer to the question, 'most training plans are too specific – how can I improve all areas of my cycling?', I talked about consistency being the key to long-term improvements. For most of us, that means that if we decided to skip the session every time we were tired from work, there wouldn't be a lot of training going on. As a result we would miss out on that all-important training consistency.
My advice would be, unless you are sick, to always start the session. Until you start the session you just don't quite know how you will feel on the bike. So get your kit on and jump on the bike – that's always step one.
What to do once you've decided to start the workout
Now you have got yourself on the bike you have conquered the biggest hurdle to getting your training done. Don't jump straight into the session but instead give yourself 10 mins to warm up and then see how you feel.
It's at this point you can decide what to do with the rest of the session. There are a few possible scenarios:
You feel fine
This is obviously the best-case scenario – if after getting your kit on and getting on the bike you actually feel absolutely fine then crack on and do the session as intended in your cycling training plan.
You feel awful
If after getting your kit on, and riding for 10 minutes you still feel awful then its best to either just carry on at a nice easy intensity or get off and end the session there. If you are so tired that even easy riding feels like hard work then you need to rest rather than a greater training stimulus. Get off, have a nice warm shower, a good dinner and an early night. At this point you shouldn't feel bad about missing the session, you did everything possible to try and make the session happen and some days that is all you can do. The focus should now shift to recovering and coming back to fight another day.
You feel ok but not amazing
This is the most common situation you will face. You feel ok, could probably do the efforts, but don't feel amazing. In this situation, you should tweak the session you had planned. The best way to do this is by reducing the intensity of the efforts. Now some of you might be thinking that you then won't get the same training effect. However, you would be wrong.
We typically think of our Functional Threshold Power (FTP) or Critical Power (CP) as a fixed value. However, this is in fact not quite true. Instead, your threshold power will be a bit higher on the good days and a bit lower on the bad days. Therefore, we can adjust the sessions to those good and bad days without compromising the goal of the session.
There is actually some really interesting research that suggests the amount of power we can produce above threshold (the so called W') is reduced when we are mentally fatigued. Therefore, we simply cannot expect to be able to produce the same numbers when we come home from a stressful day at work as when we are fresh and relaxed. There is absolutely nothing wrong with adjusting the power output in a session to match your level of fatigue. Instead, I would argue that it is fundamental that you do this to maximise your training; go a bit harder on the good days and a little easier on the bad days. Only by doing this can you maximise the training benefit of each and every session.
So there you have it, always get up and get on your bike. That's step one. After that, how you adjust the session should depend on how you feel 10 minutes in. But never be afraid to adjust the session.
Do you ever find yourself with a burning question you'd like to directly ask a cycling coach? Well, now is your chance to ask away! In this series, we'll be putting your questions to expert coaches – send them in to Cycling Weekly's Fitness Features Editor at anna.abram@futurenet.com
Thank you for reading 20 articles this month* Join now for unlimited access
Enjoy your first month for just £1 / $1 / €1
*Read 5 free articles per month without a subscription
Join now for unlimited access
Try first month for just £1 / $1 / €1
Get The Leadout Newsletter
The latest race content, interviews, features, reviews and expert buying guides, direct to your inbox!
James Spragg is a sports scientist and coach, working both in research and applied settings. When not working with athletes James can be found skiing, climbing, cycling or drinking coffee!
Alongside Dan Lorang and Peter Leo, James runs Intercept Performance Consultancy. Over the last 8 years in various roles, as coaches, performance consultants, performance managers, and sports scientists, Dan, James and Peter have played a role in helping athletes achieve more than 10 World Championship titles, several Olympics medals (including a Gold and Silver Medal in Tokyo 2020) and several Top 5 results in some of the biggest sporting events on the planet (Tour de France, Olympics, World and European Championships). Our single focus is on improving performance in all settings.