Ask a cycling coach: 'Most training plans are too specific – how can I improve all areas of my cycling?
What's the best training you can do if you don't want to be railroaded into being a pure sprinter, time trialist or ultra-distance cyclist?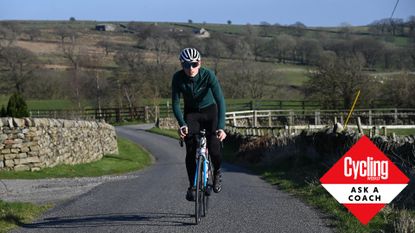 (Image credit: Future)
Get The Leadout Newsletter
The latest race content, interviews, features, reviews and expert buying guides, direct to your inbox!
Thank you for signing up to The Pick. You will receive a verification email shortly.
There was a problem. Please refresh the page and try again.
Nowadays there are so many off-the-shelf training plans available online for athletes. Most of them promise to improve one element of performance, be it VO2 max or FTP. Now, not only should these claims be taken with a pinch of salt, but what happens if your cycling goal is that you just want to get a bit better at everything? Cycling coach James Spragg explains how to go about becoming a better all-round cyclist.
Sports scientist and coach James Spragg is one of the experts who will be answering your questions in Cycling Weekly's ASK A CYCLING COACH series which comes out every Wednesday. Working both in research and applied settings, he currently runs Intercept Performance Consultancy.
Training can be thought of as trying to spin ten different plates at the same time. Each plate represents a specific element of fitness. The faster each plate is spinning the better that particular element of performance. Your overall performance is dictated by the average speed of all ten plates.
Typically, off-the-shelf cycling training plans focus on only one or two of these plates and do a pretty decent job of speeding them up; improving that particular element of performance, whether's that's building your endurance, improving your climbing or sprinting ability, increasing your FTP or for weight loss.
Where they fall down, is that while they are working to spin up one to two plates as fast as possible, they are not concerned with the eight other plates that are gradually slowing down. Therefore, you might see performance gains in a specific area, but your overall performance might not get any better, or worse you might even go backwards.
To continue to stretch this metaphor…
Not all of the spinning plates are the same size. Some are much bigger, take longer to get up to speed but then carry on spinning on their own much longer. These elements of fitness are the ones that you need to focus on if you want simply want to become a better all- around cyclist.
The key elements of performance in cycling are all concerned with aerobic fitness. Aerobic fitness is, to mix my metaphors, the cornerstone on which all other elements of performance are built. If you want to become a better all-round cyclist start here.
When people think about aerobic fitness they typically think of two measures, threshold power and VO2 max. However, there is in fact a threshold below both of these that is even more important. This 'first' threshold separates power outputs at which you can ride comfortably and those that you can't. When out riding you will know you have crossed it as suddenly you will not be able to hold a conversation in the same way you can when sat at the coffee shop – suddenly you will notice you are breathing a bit harder and will need to pause occasionally for breath. Improve this 'first' threshold and you will find it automatically pushes up both your threshold power and VO 2 max.
Improvements in aerobic fitness are a product of a long-term well balanced training plan. The best way to achieve this is to work with a good coach, but if you want to go it alone then I would recommend aiming for consistency above all else. If you are training consistently, you will, over time, accumulate a good amount of training volume. Also, if you are aiming for consistency then you are less likely to get distracted by those 'hero' sessions that leave you in pieces. Instead, you will hopefully, aim for sessions that are hard but that, with a few days of easier riding to recover, you are able to repeat.
When it comes to maximising consistency, the golden rule is little and often. This rule holds true as much for recovery as it does for intensity and volume.
So there you have it. Consistency is king - it's a bit boring and certainly not as fancy as those plans that you might be able to buy off-the-shelf... but it works. Train consistently, never too much intensity, never too much volume, make sure you have enough recovery and over time you will continue to improve as an all-round cyclist.
Do you ever find yourself with a burning question you'd like to directly ask a cycling coach? Well, now is your chance to ask away! In this series, we'll be putting your questions to expert coaches – send them in to Cycling Weekly's Fitness Features Editor at anna.abram@futurenet.com
Thank you for reading 20 articles this month* Join now for unlimited access
Enjoy your first month for just £1 / $1 / €1
*Read 5 free articles per month without a subscription
Join now for unlimited access
Try first month for just £1 / $1 / €1
Get The Leadout Newsletter
The latest race content, interviews, features, reviews and expert buying guides, direct to your inbox!
James Spragg is a sports scientist and coach, working both in research and applied settings. When not working with athletes James can be found skiing, climbing, cycling or drinking coffee!
Alongside Dan Lorang and Peter Leo, James runs Intercept Performance Consultancy. Over the last 8 years in various roles, as coaches, performance consultants, performance managers, and sports scientists, Dan, James and Peter have played a role in helping athletes achieve more than 10 World Championship titles, several Olympics medals (including a Gold and Silver Medal in Tokyo 2020) and several Top 5 results in some of the biggest sporting events on the planet (Tour de France, Olympics, World and European Championships). Our single focus is on improving performance in all settings.