How hard should you train?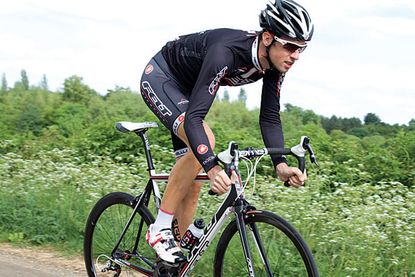 OK, you want to get fitter and ride faster. How hard should you train? Many cyclists use a middle of the road or 'Goldilocks' approach when it comes to training intensity - they train hard enough to push the body out of its comfort zone but not so hard as to exhaust themselves.
But while this seems intuitively correct, more recent research suggests that there could be a better way - polarised training. The polarised approach is based on the view that middle of the road training intensity is rather unproductive for making fitness gains.
Instead, endurance athletes such as cyclists would be better to spend a large proportion of their training time working at low intensity (in the 'easy' purely aerobic zone) and a small proportion at a very high intensity (near maximum power output), with very little time spent in the middle zone (near to lactate threshold).
The thinking is that polarised training provides an excellent 'aerobic foundation' yet allows for high-intensity work that really stimulates training adaptation without becoming too tired.
The conventional 'middle of the road' approach however means that you could spend most of your time training hard enough to tire you out and never leave you feeling really fresh but never hard enough to provide the training stimulus your muscles need to make maximum fitness gains. And now a study on polarised training in cyclists by Scottish scientists seems to provide further evidence for this approach.



The science
In the study, 12 cyclists each completed two blocks of six-week endurance training periods whose total volumes were similar but with differing intensity distributions. These two blocks consisted of: A polarised block, averaging 6.4 hours per week spending 80 per cent, 0 per cent and 20 per cent of training time in low, moderate and high-intensity training zones respectively.
A more middle of the road (threshold training) block, averaging 7.5 hours per week spending 57 per cent, 43 per cent and 0 per cent of training time in low, moderate and high-intensity training zones respectively.
After the first block, the cyclists stopped training for four weeks before commencing the second block (cyclists who had completed the polarised block then commenced the threshold block and vice-versa). Before and after each training period, following two days of diet and exercise control, muscle biopsies were taken and tested for mitochondrial enzyme activity (a measure of training adaptation).
In addition, 40km time trial performance, incremental exercise performance, peak power output and high-intensity exercise capacity (how long each cyclist could sustain 95 per cent of maximum power output) were also assessed.



In a nutshell
As you might expect from a block of structured training, both training periods produced gains in training adaptation within the muscles, endurance performance, peak power output, lactate threshold and high-intensity exercise capacity.
However, closer inspection of the figures showed that the polarised training regime had produced greater gains. In particular, the improvement percentages in polarised v threshold training were as follows: peak power output - eight per cent v three per cent; high-intensity exercise capacity - 85 per cent v 37 per cent; power output at lactate threshold - nine per cent v two per cent.



So what?
These results make encouraging reading for cyclists. Why? Because they suggest that a polarised approach to training intensity really does produce greater training adaptations, even when the volume of training in a polarised mode is less than that used in a conventional mode.
This also seems to fit with recent research showing the benefits of high-intensity intervals for endurance performance. Even better, polarised training is more interesting because of the greater training intensity variations and is less likely to leave you feeling tired and drained - a win-win situation!



This article was first published in the February 21 issue of Cycling Weekly. You can also read our magazines on Zinio, download from the Apple store and also through Kindle Fire.
Thank you for reading 10 articles this month* Join now for unlimited access
Enjoy your first month for just £1 / $1 / €1
*Read 5 free articles per month without a subscription
Join now for unlimited access
Try first month for just £1 / $1 / €1
Founded in 1891, Cycling Weekly and its team of expert journalists brings cyclists in-depth reviews, extensive coverage of both professional and domestic racing, as well as fitness advice and 'brew a cuppa and put your feet up' features. Cycling Weekly serves its audience across a range of platforms, from good old-fashioned print to online journalism, and video.