My Training Space: 'Cycling is all about fun for me – enjoy it while you can!'
Sportive rider and Cancellara-beater Ian Beard shows us around his memorabilia-filled cabin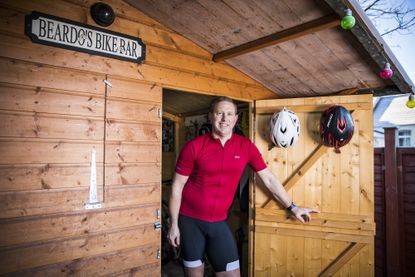 (Image credit: Future)
Get The Leadout Newsletter
The latest race content, interviews, features, reviews and expert buying guides, direct to your inbox!
Thank you for signing up to The Pick. You will receive a verification email shortly.
There was a problem. Please refresh the page and try again.
Each month in this MY TRAINING SPACE series from Cycling Weekly's print edition, a CW reader shows us around their training room, shed or garage, the part of their home or garden dedicated to all things cycling. They talk us through the equipment, as well as the motivating keepsakes and decorations that keep them training hard. If you'd like to show us around your training space, email a photo to david.bradford@futurenet.com. This time, it's the turn of Ian Beard…
During lockdown we bought a wooden cabin for the garden. My wife had had enough of my turbo being set up in the front room. From Christmas 2020 onwards, it was ready to go – with enough space for all my bikes and kit. It's been a great little space.
I've been into cycling since I was a kid. I got my first Peugeot road bike aged about 12. I'd watch the Tour de France on Channel 4 and afterwards ride a lap around our block pretending I was in the race. I remember watching [Greg] LeMond beat [Laurent] Fignon on the last day of the Tour in 1989.
I didn't get into racing until later in life: about 10 years ago, I started doing some crits – quite a humbling experience! I took a step back from racing in 2019, and these days enjoy being a weekend warrior and taking cycling trips away with my mates. Since 2010, we've been making regular trips to Bourg d'Oisans – with Alpe d'Huez on the doorstep, we love it. This year we're also going to do the Ghent-Wevelgem sportive at the end of March.
I have two sons, aged 12 and 15, who are not yet avid cyclists but enjoy taking the mickey out of me! In an average year, I ride 4,000-5,000 miles. Over winter I do two or three sessions in the cabin each week, and last year racked up 100 sessions. It's a bog-standard indoor setup: a 15-year-old bike on a 12-year-old Tacx turbo trainer. I don't measure power or heart rate; sessions are paced on feel.
Cycling for me is about experiences: as well as loving the mountains, I've been to several of the Classics, always on a budget. I'm still a kid at heart. While I'm still young and fit enough to do it, I want to do as much as I can. I feel very lucky in these strange times to still be able to appreciate the fun of riding a bike, and try not to take it too seriously. It's a hobby – enjoy it while you can!
Rider profile: Ian Beard
Age: 46
Height: 5ft 9in
FTP: N/A
Rides for: N/A
Lives: Chatham, Kent
Occupation: Hospital maintenance
Proudest cycling achievements: Won the 10-mile TT at the Le Blanq event on the Isle of Wight in 2021; won the 'Chasing Cancellara' Zwift event at Rouleur Live 2021 by staying ahead of the man himself while Zwifting alongside him on stage
Twitter: @beardo0776
Instagram: velo_beardo
His training space
Let's take a look inside...
1. RACE NUMBERS: The numbers are from sportives I've ridden over the years, including Milan-San Remo and Il Lombardia; and from Le Blanq (leblanq.com) events in Ibiza, with special guest Bradley Wiggins, and in the Champagne region of France, featuring Eddy Merckx
2. PHOTOS WITH LEGENDS: On the wall, there are photos of me with Brad Wiggins, Sean Yates, Johan Museeuw and Matt Stephens from trips to the Isle of Wight and France. There's also a signed photo of Wiggins winning the Olympic time trial in 2012, punching the air
3. CHILDHOOD FRAME: My original 1986 Peugeot frame – from my first bike. When my dad passed away a few years ago, I found it at the back of his garage. I'm not sure whether to restore it or keep the scuffs and scratches that it gathered during my childhood
4. COUNTRY FLAGS: The flags on the wall represent the Grand Tours: Italy, France and Spain. And behind the TV is a Flanders flag
5. RETRO JERSEYS: The replica jerseys are mostly in honour of Sean Kelly, including the famous Kas [Kelly's team from 1986-88] and PDM ones [1989-91]. There is also an old Peugeot Cycling jersey, as worn by Robert Millar [now Philippa York]. The Le Blanq jersey is signed by Brad Wiggins
6. THE BIKES: On the turbo is my 15-year-old Trek 1.2; I have a Fuji Altamira, which is now my winter bike; my nice bike is a three-year-old Giant TCR; and I also have an old Giant Talon mountain bike for going out with the kids
Image 1 of 3
The full version of this article was published in the 2 March 2023 print edition of Cycling Weekly magazine. Subscribe online and get the magazine delivered to your door every week.
Thank you for reading 20 articles this month* Join now for unlimited access
Enjoy your first month for just £1 / $1 / €1
*Read 5 free articles per month without a subscription
Join now for unlimited access
Try first month for just £1 / $1 / €1
Get The Leadout Newsletter
The latest race content, interviews, features, reviews and expert buying guides, direct to your inbox!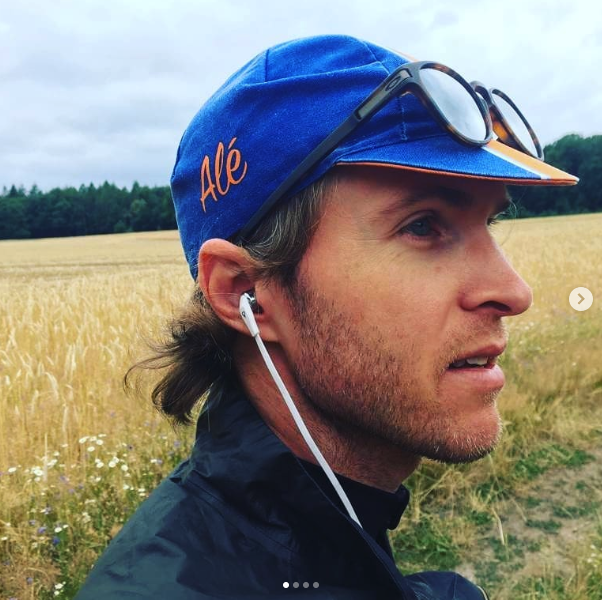 David Bradford is fitness editor of Cycling Weekly (print edition). He has been writing and editing professionally for more than 15 years, and has published work in national newspapers and magazines including the Independent, the Guardian, the Times, the Irish Times, Vice.com and Runner's World. Alongside his love of cycling, David is a long-distance runner with a marathon PB of two hours 28 minutes. Having been diagnosed with retinitis pigmentosa (RP) in 2006, he also writes about sight loss and hosts the podcast Ways of Not Seeing.