Paul Down: Recovering after major knee surgery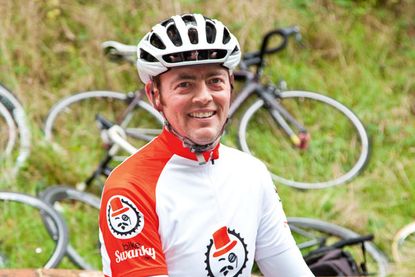 I had my first knee operation for a cartilage tear back in 2010," 42-year-old Paul Down says. "The consultant said 20 years of football had left my knees in pretty bad shape.


"The weird thing was I first noticed a problem when I was fitting a kitchen at home. I got off a little stepladder, walked up stairs, and by the time I came back downstairs again my knee was three times the size it should have been. The swelling never went down and I ended up in more and more excruciating pain.
"I went to the GP, and he referred me to a consultant. I was X-rayed and then I had an MRI scan. The consultant said I had torn my cartilage and I'd need an operation. He explained that my knees were completely knackered because I'd been twisting them in ways I shouldn't have been, with lots of stop-start running, while playing football.
"So when I got off the stepladder, instead of causing what would normally have been a little tear, in my case it had completely torn part of the cartilage off. It was a bit nasty, and it was really, really painful," Paul says.
"I had my first operation - a left knee meniscectomy - in 2010 and the consultant said to me straightaway: no more running. I was only running to lose weight, but the consultant suggested cycling instead. I've been a keen cyclist all my life, mainly mountain biking, but it was summer at the time so I bought a road bike and enjoyed the speed and distances I could cover."
Paul [middle] with his club Woking CC
Double dare
"My knee got better, but then last summer a cycling buddy of mine dared me to compete in a sprint triathlon. I started to pound the roads again trying to improve my running times, while getting out on the road bike at weekends," Paul says.
"I completed the triathlon in a respectable time and continued my weekly runs. Late last year every run became more painful, with my left knee being swollen all of the time. Even walking was painful. Running had damaged my knee again.
"After several sessions of physio which added no value or relief, I finally went under the knife for another meniscectomy on May 10 this year." However, there was a problem: Paul had also signed up to do the Prudential RideLondon Surrey 100.
"I was really concerned about my cycling season after the operation. I told the consultant I had a place on the '100'. I said to him, if you can guarantee I'll be fine to ride that after the operation, I'll go through with it. If I won't be fine to ride, I won't do the operation. There was no way I wanted to risk missing it," Paul says.
"I went to see the consultant and he said: 'What sort of mileage are you doing?' I told him I was doing about 25 to 50 miles a week. He said: 'Right, you need to double that. Get as many miles in your legs as possible because the stronger your legs are, the better they will keep your knee in the correct position, and you'll recover much quicker.'
"So I upped my mileage before the operation and then went into hospital for the meniscectomy."
Racking up the miles
"For the first couple of days after surgery my knee was very painful and swollen. There were only certain exercises I could do and I had to keep the knee elevated a lot of the time. I had to do lots of quad-tightening exercises and lifting my heel off the floor.
Really, you're just trying to make sure your muscles are keeping your knee in shape. I could still walk around, I just had to take it easy to begin with," Paul says. "I think it was about a week after the operation when I did my first 25-mile ride and had no problems at all. So I gradually upped the mileage.
"Four weeks after the operation I went back to see the consultant. He asked how my knee was and how my cycling was progressing. I said I was doing about 50 to 100 miles each week. He just picked up his Dictaphone and said: 'This is Paul Down, he's a very keen cyclist.
He's riding 100 miles a week. He's being discharged, thank you.' That was it. It was the shortest consultation I've ever had," Paul laughs.
"And from then on I just trained as normal for the '100'. Each week the knee got better. In fact, I probably upped my mileage earlier than I would have done. Typically I would have got to a month before the sportive and decided, right I had better put some miles in.
Whereas I was actually doing that three months before. So I think having the operation actually got me in better shape than I would have been in otherwise.
"And the Pru 100 was such a great event, with beautiful countryside, great roads and outstanding camaraderie between the riders. It was a bit painful, but not with my left knee - I had excruciating cramp in both my feet and left quad. I tried to smile for the official 'riding over the finish line' photo but didn't manage more than a grimace!" Paul says.
"I still get some pain from my knee, but nowhere near enough to affect my cycling. If I start running again, the consultant says he'll have to scrape more cartilage away, but eventually I'll have none left and will end up with a knee replacement.
"Cartilage acts as a cushion between the bones. Cycling is virtually no impact, and you're doing such a controlled circle with your legs that it's a very safe pastime for knees. So the answer for me is: cycle, don't run."
This article was first published in the October 10 issue of Cycling Weekly. Read Cycling Weekly magazine on the day of release where ever you are in the world International digital edition, UK digital edition. And if you like us, rate us!
Thank you for reading 10 articles this month* Join now for unlimited access
Enjoy your first month for just £1 / $1 / €1
*Read 5 free articles per month without a subscription
Join now for unlimited access
Try first month for just £1 / $1 / €1