Ask a coach: 'Big days and rest days or riding every day - how should I structure my training camp or vacation?'
Is it best to just stick to base miles or should you be sprinkling intervals into most rides?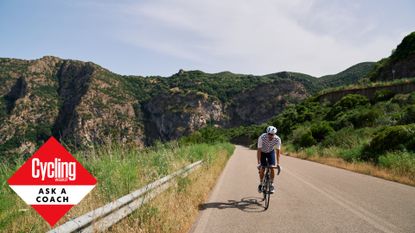 (Image credit: Future)
Do you ever find yourself with a burning question you'd like to directly ask a cycling coach? Well, now is your chance to ask away! In this series, we'll be putting your questions to expert coaches – send them in to Cycling Weekly's Fitness Features Editor at anna.abram@futurenet.com
Heading off for a week or two to a sunnier location before the warm weather arrives at home is a great way of building fitness in late winter/early spring.
The best cycling holidays destinations tend to include some pretty substantial climbs, which present the perfect opportunity for focused training, with threshold efforts up the climbs. It's easy to get excited and plan in lots of big mountain days, ticking off all the major cols.
While that is certainly a satisifying approach that'll no doubt give your legs a battering, what's the best approach to a cycling training camp to maximise on fitness gains? We put the question to cycling coach James Spragg...
Sports scientist and coach James Spragg is one of the experts who will be answering your questions in Cycling Weekly's ASK A CYCLING COACH series which comes out every Wednesday. Working both in research and applied settings, he currently runs Intercept Performance Consultancy.
This is a very timely question as I am currently sitting in departures on my way to southern Spain for a 12-day cycling training camp. For most athletes, a training camp offers a real taste of the pro lifestyle. Training in the sun and spending the rest of the day recovering. But there are a few common mistakes that I see amateur athletes making during cycling training camps. Hopefully, these tips will help you make the most of your next camp.
Recovery days
The first mistake I see athletes making is not having a rest day in their camp. It's very unlikely that at home you would train hard for seven days straight without a recovery day – so you cannot expect that you will suddenly be able to do this on a cycling training camp.
Even with the pro athletes I work with, we schedule one recovery day for every three days of hard training. This is really important as it means that we can get so much more out of the training days, especially those in the second half of the camp. I am convinced that if the athletes didn't take this recovery day, they would actually end up, overall, training less or not training as well due to the accumulated fatigue at the end of the camp.
A typical recovery day involves a very gentle recovery ride to a local café, a few coffees in the sun and a gentle spin home. Keep the total amount of riding to <2hrs and make it considerably easier than you have been riding on other days. If you end up having that slice of cake at the café then it's certainly not the end of the world.
Volume or intensity?
Most amateur athletes don't struggle to get in sufficient intensity when training at home. High-intensity training sessions can be completed in as little as 30 minutes on the turbo in the evening. Therefore, when you are on training camp and have the entire day to train, focus on the volume of training you are getting in. Long Zone 2 endurance rides are what you should be doing. This is particularly true if you aren't going straight into racing when you get home.
When you are doing these long endurance rides the key is to NOT get carried away. A training camp is not a race, you don't need to test yourself (and your teammates) on every climb. Relax, chat, and enjoy the scenery with the sun on your face.
If you do want to spice up the rides a little, I would recommend adding in a few town sign sprints – obviously be careful with traffic but short sprint efforts are a much better compliment to endurance rides than pushing hard on every climb.
If, when you get home, you are going straight into racing then you might need some intensity while on camp. In this situation, I would recommend taking one day in each block and making it an intense session. Focus on the one area you are trying to improve but make this ride a bit shorter than the rest. However, don't neglect the long endurance rides on the other days – remember, you only have so much time to ride in the sun and those intense sessions can always be done on the turbo at home.
Often you will be on a cycling training camp with friends or teammates, so if you are going to add in some intensity then focus on group efforts. Not only are these more difficult to do at home but it's a lot more fun to do efforts as part of a group than on your own staring at your power output.
What does a good structure look like?
A well structured week long training camp would look a little like this:
Day 1 – Shake down, easy endurance ride
Day 2 – Either a shorter ride with some group intensity OR a long endurance ride
Day 3 – Long easy endurance – longest of the camp
Day 4 – Recovery day
Day 5 – Intensive shorter day (best day to do some intensity is here) Or a medium
endurance ride with some sprints
Day 6 – Medium length endurance ride
Day 7 – Go home.
If this is the first time you've tackled a proper mountain climb that may last for 20 or 30 kilometres, check out our 10 tips for summiting success over here.
Thank you for reading 20 articles this month* Join now for unlimited access
Enjoy your first month for just £1 / $1 / €1
*Read 5 free articles per month without a subscription
Join now for unlimited access
Try first month for just £1 / $1 / €1