Does Kinesio tape really work?
Adhesive tape stuck on the skin seems an improbable remedy for cycling-related aches and pains — but it's growing in popularity. Does kinesiology tape really work? Tom Goom and David Bradford weigh the claims against the evidence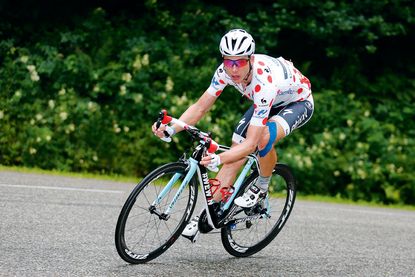 (Image credit: Yuzuru Sunada)
Get The Leadout Newsletter
The latest race content, interviews, features, reviews and expert buying guides, direct to your inbox!
Thank you for signing up to The Pick. You will receive a verification email shortly.
There was a problem. Please refresh the page and try again.
Why are many cyclists, even some pros, festooning their limbs with gaudily-coloured sticky tape?
No, they're not patching up improbably shaped crash wounds; they're attempting to alleviate muscular injuries and improve performance. The material in question is called kinesiology tape and is not, in fact, a recent innovation; it was developed 30 years ago by Japanese chiropractor Dr Kenzo Kase.
It's only recently, though, that the kinesiology brand has become very popular — and lucrative — with its distributors marketing various types of tape and training courses on how to apply it. Money well spent if it works — but does it?
See all our fitness articles here >>>>>
What's is Kinesio tape and what is it meant to do?
According to kinesiology and those who sell it, the tape can achieve a multitude of benefits, from improved blood flow to faster recovery. However, not all of these claims are supported by compelling evidence. In fact, in 2012 the Advertising Standards Authority (ASA) upheld a complaint against a company that made bold claims about the effectiveness of kinesiology tape, since there was insufficient evidence to support these claims.
There are three main reasons why a cyclist may consider using kinesiology tape: injury prevention, injury treatment and performance enhancement. We'll consider each one separately.
1) Kinesio tape for injury prevention
To prevent a cycling injury, an intervention needs to either reduce the cumulative load on tissues from repetitive training or reduce the risk or impact of traumatic injury. It seems unlikely kinesiology tape is able to achieve this.
What does the research say?
CW was unable to find any high-quality evidence to demonstrate that kinesiology tape is able to reduce injury risk in cycling. One small study suggested that the tape prevented calf cramp in triathletes, but it was a very low-quality pilot study on just six athletes.
Of the many different types of intervention that have been tried for injury prevention, only modifying training and doing strength-and-conditioning work have a good evidence base.
2) Kinesio tape for injury treatment
As a treatment for injury, kinesiology tape divides opinions among physios and researchers. In a clinical setting, it can have immediate and sometimes substantial effects on reducing pain. The tape is flexible enough to allow comfortable movement and durable enough to be worn during sport. As a result, it can be used to reduce pain during sport, for which it can be really valuable.
Part of what divides opinion is the question of how it works. Supporters of kinesiology tape say it improves muscle strength, reduces the load on painful tissue and aids healing. Others say it prevents incorrect movement that might be placing undue stress on certain areas. Critics say it's simply a colourful placebo whose flexible nature prevents it from providing significant support.
What does the research say?
Though the putative clinical effects of kinesiology tape may appear to be positive, the research has yielded very mixed results. Several papers report a short-term reduction in pain, with positive results seen in knee pain, plantar fasciopathy and low back pain. Equally, several papers show no significant effect, and there is a lack of high-quality research demonstrating the tape's effectiveness.
Six systematic reviews have examined the use of kinesiology tape across a number of conditions; five have been published in the last two years, and all the reviews reach similar conclusions:
- "In conclusion, there was little quality evidence to support the use of kinesiology tape over other types of elastic taping in the management or prevention of sports injuries."
Williams et al. (2012)
- "This systematic review found insufficient evidence to support the use of kinesiology tape following musculoskeletal injury, although a perceived benefit cannot be discounted. There are few high-quality studies examining the use of kinesiology tape following musculoskeletal injury." Mostafavifar et al. (2012)
- "Although kinesiology tape has been shown to be effective in aiding short-term pain, there is no firm evidence-based conclusion on the effectiveness of this application on the majority of movement disorders... More research is clearly needed." Kalron and Bar-Sela (2013)
- "There currently exists insufficient evidence to support the use of kinesiology tape over other modalities in clinical practice." Morris et al. (2013)
- "Although kinesiology taping is widely used in clinical practice, the current evidence does not support the use of this intervention... large and well-designed trials are greatly needed." Parreira et al. (2014)
3) Kinesio tape for improving performance
Major determinants of cycling performance include cardiovascular fitness (e.g. VO2 max), cycling efficiency, endurance and muscular strength. For kinesiology tape to measurably improve performance, it would have to have the capacity to improve some of these factors. From the viewpoint of current physiological knowledge, it seems unlikely that a tape applied to the skin could achieve this.
Another key determinant of performance is psychology. kinesiology tape may help cyclists feel more supported and more confident. Related to this extra confidence, it may also have significant placebo effects, which are known to aid performance.
What does the research say?
As far as CW has been able to ascertain, there are no high-quality studies proving that kinesiology tape is effective in improving cycling performance. Two small, unpublished studies have shown positive results, but we cannot draw firm conclusions from these, since they have not been subject to peer review and may have been skewed by bias.
For example, one trial showed a two to six per cent improvement in performance in five elite cyclists — but was carried out by the tape manufacturer. The other, a Masters thesis, demonstrated improvements in maximum power but no significant change in 1.5-mile time trial time.
Several studies have examined muscle power and activity patterns, proprioception, balance and function with kinesiology tape. Mixed results have been reported, making it difficult to draw any firm conclusions.
But it seems to work — how come?
It's unlikely that kinesiology tape is effective for preventing injury or significantly improving performance. It may have short term effects in reducing pain but is unlikely to be of long-term benefit.
"Many treatments we use in the clinic appear to have immediate pain-relieving effects, but have very mixed results when studied," says sports physio Tom Goom. "Massage, acupuncture and joint manipulations all share similar issues. Such treatments can have a role as adjuncts to other treatment options with a stronger evidence base. Usually their role is to reduce pain in the short term to help with rehab to produce more long-term results."
Many treatments that reduce pain in the short term unfortunately have little evidence to support their continued use. Though these treatments may be beneficial, they should not be relied on entirely. If you have an ongoing injury, make sure you use a rehabilitation programme to create long-term change and don't just rely on 'hands on' treatments such as kinesiology tape, which may not have long-term effects.
Kinesiology tape may be worth a try for back and knee pain; taping either side of the spine may help. For knee pain, try taping around the knee as shown. However, even if Kinesiology tape works for you, bear in mind it is probably only ameliorating the symptoms, not the cause, and if your problems persist, it's important to see a physio or health professional for a comprehensive long-term treatment plan.
Verdict
Kinesiology tape has been very well marketed, but not well researched. It's very unlikely to help performance or reduce injury risk, but may help reduce pain in the short term. This could allow you to continue riding during treatment, or give you time to address the overarching cause of discomfort such as a specific weakness. For persistent aches and pain, consult a qualified physio or health professional for expert advice.
Thank you for reading 20 articles this month* Join now for unlimited access
Enjoy your first month for just £1 / $1 / €1
*Read 5 free articles per month without a subscription
Join now for unlimited access
Try first month for just £1 / $1 / €1
Get The Leadout Newsletter
The latest race content, interviews, features, reviews and expert buying guides, direct to your inbox!
Founded in 1891, Cycling Weekly and its team of expert journalists brings cyclists in-depth reviews, extensive coverage of both professional and domestic racing, as well as fitness advice and 'brew a cuppa and put your feet up' features. Cycling Weekly serves its audience across a range of platforms, from good old-fashioned print to online journalism, and video.