40 seconds cycling, three times per week: That's how much you need to ride to get fit, says BBC documentary
Volunteers in BBC documentary see upp to 14 per cent improvement in fitness over five weeks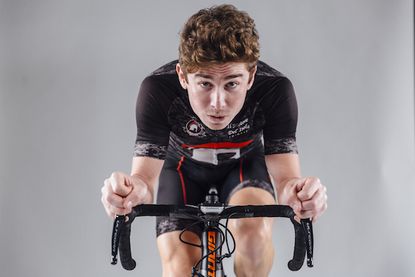 Two minutes of riding per week isn't a lot, but apparently it's all you need to do to see sizeable gains in your fitness according to a BBC documentary.
As part of The Truth About... Getting Fit, which was aired on BBC2 on Wednesday night, an exercise bike was installed and six office workers recruited to to test if short bursts of hard exercise known as high-intensity interval training (HIIT) can really help to improve fitness.
The guinea pigs were first subjected to tests to see how efficiently their bodies used oxygen, before jumping on the exercise bike in the office to ride as hard as they could for two bursts of 20 seconds.
>>> How to do a fat burning HIIT session (video)
These two sets of 20 seconds are repeated three times per week, meaning a total of two minutes of high intensity exercise (plus a warm down and cool down) each week for five weeks.
Researchers on the show measured the glycogen stores in the muscles of one volunteer on the show, finding that they dropped by 24 per cent after completing one session of the short sprints, significantly more than the drop in glycogen levels triggered by other forms of exercise, with the subsequent adaptations apparently benefiting the whole body.
Watch: How to do a strength building HIIT session
http://www.youtube.com/watch?v=ZpD6S8BjUbg
According to the researchers from Sheffield Hallam, the results achieved through one of these short HIIT sessions are the same as running for 45 minutes.
After the five week experiment, the researchers found improvements in all six of the participants in the study had achieved fitness gains, with one volunteer gaining a 14 per cent improvement in her fitness level, with an average improvement of 11 per cent.
>>> Four of the best indoor cycling session for turbo training
Of course the findings of the documentary will not come to any surprise to most cyclists, who have long been aware of the benefits of HIIT in improving fitness, with short and hard intervals being part of many time-crunched amateur riders' training regimes.
Still, there's much more to cycling than getting fit, and we won't be ditching those long weekend rides in the sun for the gym exercise bike just yet...
Thank you for reading 20 articles this month* Join now for unlimited access
Enjoy your first month for just £1 / $1 / €1
*Read 5 free articles per month without a subscription
Join now for unlimited access
Try first month for just £1 / $1 / €1