Could 650b wheels be an upgrade for you?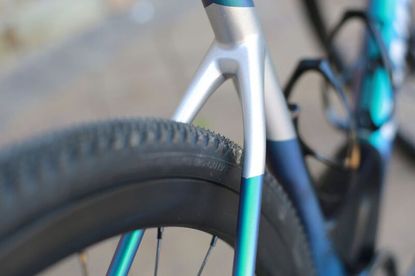 'Revolutionary' ideas in bike design come and go – often dropping off the radar and reappearing when enough time has passed for them to be revolutionary again.
Much of the cycling world was shocked at the arrival of front suspension on the Specialized Roubaix in 2016 until reminded that the RockShox Paris-Roubaix SL forks won successive editions of the Hell of the North between 1992 and 1994.
Emma Pooley has championed smaller wheels for shorter riders for years, using 650c hoops on her time trial bikes to enable an aggressive position – though she chooses a standard 700c for the road, citing neutral service as a key motivation.
Past mentality has smaller wheels ridden only by people sitting outside of the norm on the height scale – but in recent years they've been creeping in elsewhere: in gravel riding and on women's frames. Could opting for a smaller wheel size better suit your needs?
650b wheels for gravel riders
You can trust Cycling Weekly. Our team of experts put in hard miles testing cycling tech and will always share honest, unbiased advice to help you choose. Find out more about how we test.
Mountain biking moved from 26in to 29in wheelsa few years ago – with 650b being the highly popular middle ground. Now that roadies are dabbling off-road, trends appear to favour downsizing from the conventional 700c (the same rim diameter as 29in) wheel to a 650b (27.5in).
The apparent swap in wheel size preferences doesn't seem to make much sense until you consider the fact that the gravel-riding road cyclist is doing something very different off road than the gnarly-trail-loving mountain biker.
Slipping in a 650b wheel with a bigger-volume tyre fitted allows a gravel rider to get extra squish without having to make sacrifices in geometry (such as having long chainstays or slack head angles) as would be the case if fitting the same big tyre around a 700c wheel, since the diameter of a 700c rim with a road tyre is roughly the same as that of a 650b rim with a high-volume tyre.
Specialized re-launched its Diverge gravel bikes for 2018, with a dropper seatpost and capacity to run 700c or 650b wheels. Which wheel size you opt for comes down to individual preference, according to Diverge and Roubaix product line manager, John Cordoba.
"On the mountain bike side, a 29er is seen as the fast, stable choice; the 650b is the more manoeuvrable, more playful one. Similar on the road side, the rider choosing 700c probably wants the speed and stability of bigger wheels; a rider looking for smaller wheel size is maybe looking for the comfort aspect [of running a wider tyre], ways to gain a little bit more traction or be a little more playful."
"Rotational weight [is a factor too]. A 650b tyre would be a little easier to spin up to speed," adds road product manager, Stephanie Kaplan.
If road riders are seeking the big-volume tyres that mountain bikes have, and beginning to want accessories like dropper posts – it seems time to ask why we're so into 'gravel bikes' and 'adventure road bikes' – hasn't the time arrived for these riders to just be done with it and buy a hardtail mountain bike?
"Mountain bikers are fairly open when it comes to stack, reach, longer wheelbases, slacker head tube angles than a road biker is traditionally used to.... [a 650b wheel] gives riders the chance to keep the road bike geo that they love but to dabble in this new world," Kaplan says.
"This kind of riding is like being a kid again. I think you just have to embrace it, not say 'you shouldn't do that, you're best with this [mountain bike]'. Instead we have to say 'hey if that's what you want to do'... and make the best tools for the job that we can."
Read between the lines, and it seems in terms of simple performance, you might well be better off with a hardtail mountain bike. But if you're riding to the trails on the road or just love that road bike handling, then the 650b could be more fun.
There are a lot of brands delving into 'gravel' and 'adventure road'– but not everyone is championing 650b.
Canyon's newly launched Grail bike features 650b wheels only on its 2XS and 3XS frames, maintaining 700c elsewhere.
Marketing coordinator Jack Noy told us: "We use a 650b wheel on smaller frames to provide consistent handling experience [more on that below]. On the larger sizes we spec it with a 700c wheel – and you can fit up to a 45c tyre with that. That's probably enough – but sure there will be guys who play with a 650b wheel and a larger-volume tyre."
Lee Prescott fits riders to bikes and also designs geometry for custom bikes at Warwickshire's bike boutique, Velo Atelier, and is pro the use of 650b off-road.
"We do it all the time on the Open [mixed terrain] bike. You can run a normal 700c up to 38mm – but if you pop on a 650b wheel with a 2.1in tyre, the diameter is pretty similar so you're not losing anything in terms of your ability to roll over rocks, but you're essentially just turning a bigger percentage of that diameter into air cushion. I think it makes a lot of sense."
650b wheels on the road
Whilst Specialized is all for 650b off-road, it's not sold on the wheel size for traditional road riders. Which is at odds with Canyon's WMN range, that sees all 2XS and 3XS frames fitted with 650b wheels.
Canyon's explanation is that it's not possible to replicate the quality handling riders of larger frame sizes are able to enjoy when designing a small frame around 700c wheels.
"When you get to small sizes, if you're using 700c wheels, you still need to maintain a certain distance between the two wheels, and between the crank and the front wheel to make it rideable. So you end up slackening the head angle, increasing the fork rake. That pushes the front wheel back out again which solves the problem but affects the way the bike feels and affects the consistency of handling.
"By using a small wheel you gain the extra room, the size range increases and the consistency between the sizes stays the same," Noy says.
He adds: "You can get away with a lot of different frame sizes and still make the bike fit. Negative stems, short stems, long stems – but the problem with that is that the measurements might be right, but riding it, these adaptations can ruin the handling – it might feel fine on a turbo but as soon as you try to corner it could feel wrong. It's nice to have a frame small enough so you can stick with conventional set up."
As well as discussing the aero benefits of a lowered stack height thanks to smaller wheels, Noy also adds that there's an element of confidence in eliminating problems with toe overlap and added stability in the improved handling that will suit less experienced riders just as well.
In order to cater for the difference in gearing created by the smaller wheels, Canyon has used a semi-compact chainset on the smaller bikes instead of a compact on the 700c wheeled machines.
Though it's impossible to create an identical match, differences in gear inches range from 0.5 inches (0.3 per cent) to 4.3 inches (3.5 per cent) at max, when running a 25c tyre, meaning that bigger gears are required with smaller wheels in order to travel the same distance per pedal revolution.
This means that there's no danger of being undergeared on the flat, while acceleration should be quicker. This said, while a smaller wheel picks up speed more quickly, it also decelerates more quickly – for example when the rider freewheels on a descent.
Rolling resistance is also very slightly higher on on 650b wheel when compared with a 700c wheel but Noy comments: "Since we are talking about a smooth surface – road bikes – the roll-over effect on larger obstacles is not noticeable like it is on mtb."
It's all well and good talking about it, but what really matters of course is the ride. So I hop skipped over to Box Hill to try both a 2XS WMN Endurace with 650b wheels and an XS Endurace with 700c wheels, along with Noy and his Canyon colleague Michelle Ogilvie.
I just about fit into Canyon's 650b wheel range, though I'm on the border so could ride either whilst Ogilvie is 5ft 3in.
Starting out with the 2XS bike and its 650b wheels, the first thing to note is it was a smaller bike all round: the saddle-to-bar drop was more aggressive and the stack lower – which adds a kind of an unavoidable edge to the experiment.
Acceleration felt quick, I was able to pounce back onto Noy's wheel more easily when my cornering was indivertibly slower than his mountain biking background allowed.
Descending, however, I felt disadvantaged. I was working disproportionately hard to go slower than I expected. It's possible that it comes down to the quicker deceleration or possibly even the increased rolling resistance.
Olgilve, comparatively, felt much more in control of the bike, seeing a marked increase in descending speed and tackling the tight bends faster – later saying: "If I was buying now, I'd get an Ultimate with 650b wheels."
So we were split. However, at my height (166cm), I'm very much on the border - I can see much shorter women getting a more nimble-footed ride from a bike with this wheel size.
Specialized, on the other hand, isn't keen on the whole idea.
"We have people here who are 4ft 11in, 4ft 10in who ride our 44 Tarmac women's Amira and Ruby models and they really love the handling. I think for us, you have to balance out the needs of the market, desire from the riders, and then compromise at the platform. I feel we've hit a pretty good balance where we give the rider a common wheel size."
Kaplan, who measures in at 5ft 2in, comments: "[The] only really discernible benefits are stack and a little bit of reach. You're kind of locked in on the rear to a chainstay length based on manufacturing demands from groupset suppliers that say you can't go any shorter on the chainstay for shifting to work. That's where you would see a lot of the snappier handling."
When it comes to stack and reach, she reckons you can fit it all around a 700c wheel – commenting that the smallest Tarmac has a stack height of 500m, whilst the smallest Canyon Ultimate race bike comes in at 485mm. "That 16mm could be accounted for in a negative degree stem," she says.
Kaplan points out that Canyon's 3XS Ultimate has a head angle of70.5° whilst the 44cm women's Tarmac is able to offer a steeper and thus nippier, more race orientated, 71°. However, there's many more factors that play a role in handling, like rake and trail.
Cordoba adds: "I think we have to look at what the rider's need is, what we're actually trying to solve. If the problem is stack, we haven't encountered many riders, other than on a TT fit, looking for a lower stack.
"We are able to ciphen off fit for pro riders, and then look at fits from thousands of riders we have in the field, and then determine the right move from a broad business perspective."
Seeking an unbiased view, we asked Prescott – who fits bodies to bikes as well as devising custom geometry.
"I would say smaller people are better served by 650b wheels. There is always going to be a rolling resistance penalty. But the smaller wheel allows them to get into a better position. Ninety per cent of what you're doing as a cyclist is pushing air out the way, so if you can make yourself smaller [lower and more aero] its saves much more than rolling resistance adds . Rolling resistance adds three to four per cent of total resistance."
The height at which Prescott recommends we consider 650b wheels is lower than Canyon's recommendation of sub 165cm: "It depends upon rider flexibility and other factors but [I'd say] a few inches shorter."
We say...
If you're riding off-road and comfort is high on your agenda, there are few real downsides to trying a smaller wheel paired with a larger diameter tyre. Just make sure you've still got enough clearance for mud.
Most road cyclists can get on OK with a 700c road bike. But smaller riders who find they're struggling to get comfortable, can't get aero, or have to make changes to a 700c bike – such as using negative or very short stems – will probably benefit from hopping on to a 650b wheel. However, take the size guidelines with a pinch of salt and aim to try before you buy.
In both cases, range of tyres is pretty limited – so be prepared to shop around for your rubber until the industry catches up.
Thank you for reading 20 articles this month* Join now for unlimited access
Enjoy your first month for just £1 / $1 / €1
*Read 5 free articles per month without a subscription
Join now for unlimited access
Try first month for just £1 / $1 / €1