Best women's gravel bike clothing 2023: close-fitting and relaxed tops and shorts, reviewed and rated
We tested women's clothing across the gravel spectrum: from figure-hugging lycra to more relaxed tops and shorts - here are our favorites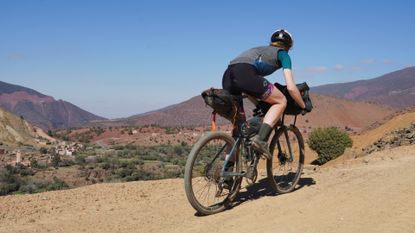 (Image credit: Future)
Best women's gravel clothing 2023: Jump Menu
'Gravel' means so many different things to different people. On the one hand, you have the competitive racing side, where performance and optimization are just as paramount as when racing on the road - albeit perhaps with a few more pockets.
At the other end, you have the bohemian social side - where anything goes and it's all about feeling comfortable, having fun and just being out there in nature. Skin-clinging lycra can be left at the door, and more flowing and freeing clothing can take its place.
But it wouldn't be gravel if there were clear 'rules' to be followed! There are so many exceptions to those broad generalizations that setting too much store by those rough pigeon holes is almost wholly pointless.
Non-competitive gravellers might still appreciate the many pockets and the more secure storage offered by cargo bib shorts and skin-tight jerseys - you just can't load up baggies the same way, and most definitely not to the same extent. Layering is also easier and more efficient, with options for gilets, arm and leg warmers - and sequence of jackets over the top.
On the other hand, there's nothing to preclude you from wearing baggies on a hard-and-fast blast, chasing your way up the climbs.
With all that in mind, here's my top picks across the gravel spectrum for women - from figure-hugging lycra to more relaxed tops and shorts.
The quick list
JERSEYS
Best overall
1. Velocio Women's Concept Merino Jersey
Best gravel jersey overall
Warm when the conditions are cool, yet still breathable when working up a sweat in the heat - Velocio's Concept Merino jersey became our go-to choice for all-day rides. The merino mix fabric is wonderfully soft and the fit is close yet comfortable. The pockets are more supportive than most merino jerseys, but do still sag if overloaded.
Best for storage capacity
2. 7mesh Women's Ashlu Merino Jersey SS
Best gravel jersey for storage capacity
This jersey also makes the most of the naturally odourless and thermal regulating properties of merino, whilst also acknowledging the limitations of the natural wool fibers. The rear five-pocket system is made from a more densely woven and elasticated material, which is much more supportive and allows you to carry more kit than usual with a merino jersey.
Best for relaxed fit
3. Castelli Unlimited Sentiero 2 Jersey
Best gravel jersey for relaxed fit
We found Castelli's jersey to be a brilliant option for those looking for a relaxed fit and great breathability. It's very light and airy with plenty of carrying capacity - although we didn't find much use for the tiny chest pocket. If you like the functionality of rear jersey pockets but don't want a skin tight fit, this is a great option.
RELAXED TOPS
Best top overall
1. Assos UMA GTC Jersey C2
Best relaxed gravel top overall
The UMA GTC Jersey C2 has Assos' usual high quality fabrics and finish, but pairs this with a much more relaxed fit - albeit still fairly on the slim side. The Assos UMA GTC Jersey C2 is one of the comfiest gravel tops we've used, and we'd expect it to last well season in and season out - there are no signs of premature wear so far.
Best for breathability
2. Castelli Trail Tech 2 W Tee
Best relaxed top for breathability
Super lightweight in all respects, this top doesn't have any pockets, zippers or any additional elements beyond its semi-open mesh material and cycling specific cut. As an ultra-breathable top for the hottest days, it does a great job in its simplicity and it feels super airy. But it's not one to consider if you're all about extra features.
Best for versatility
3. Rapha Women's Trail Tank
Best gravel top for versatility
A very versatile sleeveless tank top that's lightweight and snag-resistant. It's comfy to wear on gravel rides - as well as off the bike for yoga and other strengthening sessions, too! We never felt clammy when riding on warmer days; just be careful about the tops of your shoulders when out all-day!
CARGO BIB SHORTS
Best overall
1. Castelli Unlimited Cargo Women's Bib Shorts
Best cargo bib shorts overall
These shorts just hit the mark in every respect. They cover the basics excellently, with a high-density comfortable chamois and a breathable, compressive fabric for the legs. They also have an easy-pee system, minimizing faff on all-day rides. Then there are the pockets: generously sized and with a security flap - exactly what you need and want.
Best for comfort
2. Assos UMA GTC Bib Shorts C2
Best cargo bib shorts for comfort
Assos's UMA GTC bib shorts were so close to being our top recommendation. The chamois is particularly comfortable, offering an unrivaled amount of cushion for long rides on rough terrain - plus the easy-pee system of these shorts is particularly good. However, with the pockets divided into two by a stitch down the middle, fitting a phone and/or other items of that size is a difficult squeeze.
Best value
3. Le Col Womens Sport Cargo Bib Shorts II
Best value cargo bib shorts
These shorts miss out on a few features compared to the other two. First, the pockets don't have a security flap (in my opinion a must if using them for a phone). Second, the shorts don't have an easy-pee system. But other than that, they are comfortable and storing low-value items was trouble-free - a great option at a lower price point.
BAGGY SHORTS
Best baggies overall
1. Rapha Women's Explore shorts
Best baggy shorts overall
I loved these shorts. The pockets are huge; the material robust, stretchy and breathable; and the waistband comfortable and secure. I also really liked the fit: slim and just the right length. They quickly became my go-to for gravel riding. A zipped pocket on the rear would be better for storing a phone, though, as heavy items do bounce on your legs at the front.
Best value baggies
2. 7mesh Women's Farside Short
Best value baggy shorts
There's not much in it between Rapha's shorts and these: Rapha's are a little stretchier, but these feel more robust. The belt/waistband of the Rapha shorts is a little more comfortable, but these have a rear zipped pocket which can hold a phone without excessive bouncing. Though I prefer the fit Rapha's shorts, you can't argue with the price of 7mesh's.
Best long baggies
3. Castelli Unlimited W Baggy Short
Best baggy shorts for longer length
With a DWR coating and proving to be generally quite robust, these shorts work well for riding further off the beaten track, when you want a bit more protection from the elements and trailside foliage. I found the leg length a little long, but other people might prefer that. The pockets are generously sized, but there isn't a zipped rear one.
OUR PICK OF THE BEST WOMEN'S GRAVEL CLOTHING
You can trust Cycling Weekly. Our team of experts put in hard miles testing cycling tech and will always share honest, unbiased advice to help you choose. Find out more about how we test.
JERSEYS
The best gravel jersey overall
1. Velocio Women's Concept Merino Jersey
Best gravel cycling jersey overall
Specifications
Sizes: XXS - 3XL
Colors: 5
Pockets: 4 (3 standard + 1 zipped)
Reasons to buy
+
Wide size range
+
Breathable and soft
+
Odour resistant
+
Close and comfortable fit
+
Zipped valuables pocket
So soft and very breathable, this is a merino jersey that excels in hot conditions, as well as on cooler and damper days. Although it primarily uses merino wool, this is blended with nylon and elastane to help obtain the close fit and durability that this jersey offers.
We found that the jersey wicks really well and rarely feels clammy. The merino fibers are naturally antimicrobial and odour resistant, which is very useful for all-day rides and/or multi-day bikepacking. The hydrophilic and thermal regulating properties of merino wool are also very welcome when caught out by a shower!
Its fit is a little more snug than other gravel jerseys we've tested, but it's still comfortable when riding - which is the important thing. Unlike the super short sleeves of 7mesh's Ashlu Merino Jersey, the sleeve length here is just where we want it: about halfway down to the elbow - not too long, not too short.
Overall we found that the Concept Merino jersey provides close and comfortable fit. The low cut collar design makes it easy to breathe and eliminates unnecessary flapping. With three good-sized rear pockets - including a zipped valuables one - the jersey ticks the practicality box too.
The best gravel jersey for storage capacity
2. 7mesh Women's Ashlu Merino Jersey SS
Best gravel cycling jersey for storage capacity
Specifications
Sizes: XS - XXL
Colors: 4
Pockets: 5 (3 standard + 2 zipped)
Reasons to buy
+
Excellent, sag-resistant pockets
+
Huge zipped pockets
+
High quality, comfy merio
Another merino option, but this time in a slightly more relaxed fit and with greater carrying capacity. The Ashlu Merino boasts a 'floating' pocket system, which is made from a polyester and elastane mix. This blend is much more supportive and springy than the merino wool which the rest of the jersey is made from - which meant we could stuff a lot of kit into these pockets without running into the issues of sagging which you typically get from a merino jersey.
The jersey also has two side-loading zipped pockets beneath the traditional three rear easy access pockets. One of these zipped pockets spans the width of two standard - which makes it larger than any other zipped pocket we've come across on a jersey. It's a very useful space for tucking away a large smartphone and other valuables.
The main body is longer in length than the Velocio, so this jersey suits those who are riding in a more upright position. Plus, it also doesn't look too out of place off the bike. Our only complaint is that the fit is a little baggy around the shoulders and the sleeves are shorter than most.
Overall, we were really impressed, though - this is a high quality merino jersey with plenty of spacious zipped and easy access pockets. If you are looking for a relaxed fitting jersey for longer adventures, the Ashlu Merino comes highly recommended.
The best gravel jersey for relaxed fit
3. Castelli Unlimited Sentiero 2 Jersey
Best gravel cycling jersey for relaxed fit
Specifications
Sizes: XS - XL
Colors: 4
Pockets: 5 (3 standard, 1 zipped + 1 chest)
Reasons to buy
+
Relaxed
+
Good wicking abilities
+
Retro styling
We found the fit of the Unlimited Sentiero 2 Jersey to be a lot more relaxed than the other gravel jerseys we've tested, such as the 7mesh Women's Ashlu Merino jersey. This makes Castelli's offering a good option for those who care more about adventure than speed and expressly don't want a figure hugging fit. The jersey uses a 92/8 polyester/elastane blend which has a slight stretch to it and excellent wicking capabilities.
Not only is the fit relaxed, we found that the jersey comes up larger than expected too. We had to swap our first sample for a smaller size than usual - worth bearing in mind if you have other jerseys from Castelli. If you're usually towards the smaller end of the size spectrum, you might find that there isn't an option small enough for you.
Three standard pockets line the rear of the jersey. Plus, there's a fourth zipped pocket for cards or other valuables. We don't really see the point of the chest pocket - other than that it gives the jersey a very retro look. If that's the style you're after, then this is a comfy, relaxed top that'll serve you well off-road.
The best gravel jersey for close fit
4. Sportful Cliff Supergiara W Jersey
Best gravel cycling jersey for close fit
Specifications
Sizes: XS - XXL
Colors: 8
Pockets: 6 (3 standard + 3 mesh)
Reasons to buy
+
Lots of color options
+
So many rear pockets - six!
+
Sleek sleeve ends
Reasons to avoid
-
Fit is slightly tight across the chest
-
No zipped pocket for valuables
In terms of the fit and feel, Sportful's Cliff Supergiara W Jersey is the jersey which most closely resembles what we'd typically ride out on the road - the only difference being double the number of pockets, and the (arguably) cooler, art-y styling! It features a stretchy fabric, a comfortable cut, and the sleeves have a seamless, raw cut finish that provides a secure fit.
For long distance gravel rides, the Sportful Cliff Supergiara W Jersey provides much more scope for pocket organising than a typical jersey - it has a total of six rear pockets, thanks to a layer of mesh which has been added to the outside of the three usual jersey pockets.
This doesn't serve to really functionally increase the amount of kit you can carry - if you fill up the mesh pocket, the resulting bulge means that there isn't much space to fill up the jersey pocket behind. But it does mean that you can split up where you're storing your phone, cards and keys to make access a bit easier and reduce the time you spend rummaging around for the right thing. Despite all those pocket options, there isn't actually a zipped one for securely storing your valuables - worth bearing in mind.
RELAXED TOPS
The best relaxed top overall
1. Assos UMA GTC Jersey C2
Best relaxed top overall
Specifications
Sizes: XS - XL, XLG
Colors: 2
Pockets: 2 zipped