Race Bike of the Year 2011: £3k grouptest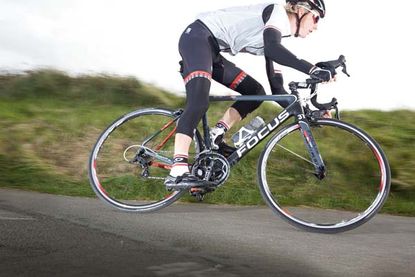 Last year we pitched our Race Bike test at £2.5k but for 2012, several bikes have caught our eye that sit just a little above this price point.
Also, feedback from you, the readers, indicated that around £3,000 is what you're looking at spending, so we've pushed up the ceiling price this time around.
Not all that long ago £3K would have felt like a big outlay on a bicycle, but then £30 used to fill up the car with fuel, and now it seems to barely budge the needle.
The reality is you could, without too much trouble, blow 10 or 11 grand on a road bike now, but we know well enough that not many of us have pockets that deep. Plus, honestly, neither do you need to shell out that kind of money.
Everything we've tested here has racing in its genes - each of the brands represented can be seen under the backsides of riders in the pro peloton.
We think you'll agree, once you've heard what we've got to say, that £3,000 is sufficient to get you everything you'll need and you'll be able to rest assured that your bike won't be holding you back from the sharp end of the action next year.
What earns favourable points with us in this test is practicality, not bells and whistles. Posh, glossy components might look the bee's knees, but won't necessarily be helping you move up to the front when the chips are down. For a race bike we're looking for considered choices that won't drive up the price without a corresponding increase in performance.
Frames, forks and wheels are obviously the heart, but we'll be on the lookout for any corner-cutting or smart spec choices to deliver the complete package. The long and short of it is we won't waste your precious time telling you every little detail - just the sort of stuff we think you'll need to know to help you decide whether you want to buy one.
Trends
There are certain technologies that, for a race bike at this price, generally come as standard. Internal cabling is present on all but the Trek, and while we accept it's not always the most practical in terms of mechanical ease and function, it creates a neater, cleaner-looking bike.
There are currently more bottom bracket standards than you can shake a crankarm at, and all except Lapierre have gone for an oversized BB. The Focus and the Boardman use BB30 with corresponding chainsets, while Trek uses its own super-wide BB90 standard, paired with a Shimano chainset (24mm axle).
Tapered head tubes are on all four models, demonstrating there's little doubt it brings significant benefits, and head tubes have been elongating slightly in recent years. The average head tube length of our chosen four was over 150mm, in medium-sized frames (approximately 56cm top tube) suggesting that the days of noses pressed on front tyres are behind us, at least at this price point.
Frame and forks
It goes without saying that this is the deal breaker - the body composition of the machine. If the frame/fork platform falls short on performance, no amount of spec is going to salvage the ride quality. Thankfully, this isn't the case with any of the bikes listed here. In fact, every last one of these framesets is using cutting-edge technology and materials.
You can't knock what Trek offers with the Madone 4.9. The frame is directly descended from a multiple Grand Tour-winning gene pool, and features like the built in Ant+ sensors for speed/cadence are great touches that set it apart.
Trek's own BB90 bottom bracket standard is also highly desirable, a super-wide, and with it super-stiff, concept that despite using a standard 24mm Shimano axle feels on a par with the BB30 crowd.
The Madone 4.9 has the taller H2 Fit head tube, so there's scope for a more upright front end, if that's your bag, or another way to look at it is you can run with fewer headset spacers than usual, resulting in a laterally well supported and stiff set-up.
Boardman has opted for stiffness acquisition through chunky, 'rounded-off', square profiled tubes, dare we say, not a million miles off Cervélo's 'Squoval' concept. It's a clear indication of the design brief for the new SLR frameset, and sure enough, the results become instantly obvious as you take your first pedal strokes up the road.
The frame/fork package is super solid and very light too, and will no doubt appeal to a certain type of rider. It's entirely subjective and goes completely against our 'function over form' statement, but you can't help noticing it's not going to win any beauty contests.
Lapierre's Xelius 400 frameset is incredibly light at 860g, although it didn't build into the lightest bike on test, but clearly has the potential to be extremely svelte. It's the odd one out of this bunch, being the only frame that doesn't use an oversized BB standard leaving a door open for a potential future iteration.
Easton's EC90SL forks are a posh choice with a high price tag and low weight, and are much improved over older models we've used, so Lapierre has definitely not skimped there. It could improve on the finish of the entry points for the internal cable routing, though. Poor-fitting rubber bungs attempt to neaten and conceal the holes where the cables enter, but they constantly fall out and look unsightly. Focus has no such
problem with a very neat cabling solution, built like veins into the lay-up of the tubes.
Also using a branded aftermarket fork, in this case 3T's Rigida Pro, it's a frameset that has a lot going on that you might not notice at first glance. The Izalco Pro 1.0 frame has several shaped, sculpted tubes extending from its massive bottom bracket area, and the rear triangle is a real focal point for this model.
Wheels and tyres
There's a common theme running through the wheel choices here, but we'll talk more about that later. Tyre wise, it's an even split - two top-end and two mid-level selections. The wheel-tyre combo the Boardman SLR 9.2 offers, bearing in mind it's the cheapest bike on test at £2,599.99, is the closest to being bang on the money.
Mavic's Ksyrium Elite wheels are tough, stiff and still fairly light, and Boardman has pushed the boat out in selecting Vittoria's top-of-the range rubber, the Open Corsa Evo CX 320tpi. An unexpected expense, but very much appreciated in terms of top-quality ride feel.
All too often tyres feel like they were an afterthought when the budget was all-but-spent already. Full marks to Boardman for not cutting corners in an important area.
Focus too has selected top-end treads with Continental's GP4000, which have proven themselves in our tests for many years, yet it hasn't spent a correspondingly large sum by selecting the Fulcrum Racing 5 wheelset. Trek is keeping it in the family, as you'd expect, with Bontrager Race Lite wheels, and a set of Cadillac-reminiscent white-walled Bontrager R3 Plus tyres.
The Bontragers are the cheapest wheels on test, but rest assured they come from good stock, as Bontrager goes from strength to strength as a wheel/tyre brand. They ride well enough not to hinder the overall performance of the bike, but equally, they won't set your world alight, and much the same can be said of the tyres. Lapierre has slotted a set of Mavic's Ksyrium Equipe, in white, into the Xelius 400, shod with Michelin's Lithion 2 tyres.
It's unfair to say the package was poor: it was up to the task, but really it was no more than adequate. Ultimately it's a bit lacklustre for a race bike. Which brings us to this next point.
We're going to stick our necks out a bit here and say this...
Remember back in the day when bikes came with pedals and manufacturers cottoned on to the fact that most people had their own ideas and so stopped supplying them? From what we've seen, that same mentality is beginning to creep in with wheels - at least it's certainly beginning to feel a bit like that for us. Manufacturers seem happy to fit low end-wheels - nothing in this test retails for much over £300 a pair, and the cheapest is significantly under £200. That just feels a bit out of sync with Dura-Ace level components and some pretty hot high-modulus carbon framesets.
In light of how much the wheels affect the ride quality of the bike, we are left to the obvious conclusion that manufacturers perhaps assume, or expect even, riders to have another set of 'Sunday best' wheels to put in for race day. The Focus is possibly the most obvious example.
The rest of the spec is up to that of a pro team, yet the Fulcrum Racing 5 wheelset retails for £229.99, and is often found on bikes of considerably less value. We should point out, not to do the Fulcrum Racing 5s a disservice, that actually the wheels perform exceptionally well, punching above what you'd expect, but regardless, we'd have preferred more in this category.
We're left wondering if it's a trade-off that manufacturers need to rethink, or are we just to accept that's how it is? For no specific reason other than it reinforces the point well, (we don't mean to pick on it), popping a set of high-end hoops in the Focus, as it stands, blows the budget, but does make it a superior race bike.
We played about with a few options. So we'd put it to the board - why not shave off some expense elsewhere? Ultegra is good enough to race on - so spend what's left for a higher wheel spec. We think the end result might be preferable in attaining the holy grail of 'raceable straight off the shelf'.
Groupsets
Boardman prevents a Shimano clean sweep in this test, by speccing SRAM's Force groupset - a solid choice, with proven performance combined with a low overall weight.
However, in this test, the shifting quality was let down by a combination of the Jagwire cables, and the internal routing on the SLR 9.2 frame. The lever action felt very heavy straight from the get-go, and only got worse as dirt gathered under the bottom bracket guide.
It's a simple fix that Boardman needs to action in order not to annoy its customers - fit better quality cables, preferably Gore (which SRAM recommends and fits as standard to its flagship Red groupset) while possibly enclosing the exposed under-BB cable guide to keep out the muck, then it'll be a case of 'problem solved'.
Elsewhere it's mainly a Shimano Ultegra affair, but with some Dura-Ace kit on offer too. The exception, and stand-out leader in terms of spec, is the Focus, offering a full Dura-Ace groupset, the only exception being a Rotor 3D+ chainset, which is of a roughly equivalent high retail value, and impressively stiff to boot.
Besides the aforementioned wheel choice, it doesn't appear Focus has skimped to shoehorn this high a spec into a sub-£3k price, which is indeed impressive. This bike is literally specced to a pro race team level.
The Trek 4.9 too includes some choice up-speccing in certain areas with a smattering of Dura-Ace kit. However, opting for a Dura-Ace chainset and Ultegra shifters feels like the wrong way round. We think, in terms of tangible performance increases, Dura-Ace shifters and an Ultegra chainset would have stacked up better, and probably not made a huge difference to the overall price.
Lapierre, on the other hand, has stuck firmly to Ultegra throughout, which arguably leaves it fractionally behind the others on spec, but we all know that the pedigree of Ultegra needs no reinforcing and it's always pleasing to have a full and matching groupset, so it's hard to mark it down for that.
Unless you've got any particular allegiance to a certain brand, or simply prefer one's lever-hood ergonomics over another, you really can't go wrong with any of the
choices on this four-bike menu.
Finishing kit
We're always pleased when manufacturers choose finishing kit that you trust, and would be happy to go and buy as aftermarket kit. Ritchey's WCS crops up a fair bit here, used by both Boardman and Lapierre. It's a strong choice being light, good looking and reliable. Stems are stiff to aid good handling and the seatposts are easy to adjust.
The WCS carbon seatpost on the Boardman is an added bonus for weight saving too. Overall both Boardman and Lapierre have done an excellent job with choosing desirable finishing kit, even the saddles, both Fizik, are popular aftermarket purchases, and definitely not cheap options.
Equally, 3T is a brand with a huge heritage, and Focus has picked a mix of its wares to kit out the Izalco Pro 1.0. While the Doric Team seatpost, in unidirectional carbon, is a luxury choice, the Ergonova wing-shaped alloy bar felt cheap and not a particularly good shape according to personal preferences anyway.
You can't slate a brand for using its own in-house kit, and the Bontrager finishing kit on the Madone is better than most 'own brand' gear, but perhaps with the exception of the carbon seatpost, it lacks any particular appeal. Like we said at the very beginning though, it's not about glitz, it's more about getting the job done, and you can't argue that the Bontrager kit delivers.
You just can't help assuming that pretty soon you'd want to be making some upgrades. That may not apply to the Bontrager saddle however, although like bars, it's personal. The Affinity 3 was superb despite looking bulky and padded - a pleasant surprise, further enhancing what was already an incredibly comfy bike.
The ride
Now for the nitty gritty - how the formidable four will treat you out on the road. Well, if it's a super-stiff, lively feel you're after, then the Boardman SLR 9.2 will oblige.
It stands a peg above the other three, no doubt thanks to a massive 'boxy' construction, particularly influenced by the down tube and chainstays. Add to that the additional support offered by the BB30 guarding against wastage of your precious pedalling input, plus it's the lightest in this test too by nearly half a kilo no less, and you're left feeling like every day's a good day. As you'd expect, it's quick off the mark and a swift climber too.
The payback for that liveliness, however, is the Boardman is also the harshest ride of the four. Be prepared for plenty of road vibration and to feel the full force of big bumps, which will sometimes have you unexpectedly airborne. For some, it's possibly a little too far on the stiffness scale, but this is a race bike test after all, and many will love its direct, aggressive persona.
Flicking straight to the other end of the spectrum, the Madone 4.9 is the flying carpet ride of the bunch. It offers a ride feel that will keep you going all day, but rest assured, it's got the beans too. Trek has achieved a hard-to-reach balance with its 4 series. Its light and stiff frame platform delivers performance capable of winning races, but which is not going to beat you up in the slightest.
It's got a mild tendency to feel reluctant to turn in at times, but that does keep it super-stable through turns and on fast descents too. Very little to complain about really, and a formidable all-rounder.
The Xelius 400's geometry leaves the frame fairly stocky in the size tested - 52cm, medium, in order to get a 55.5cm top tube, an unusually short seat tube and correspondingly long seatpost for a rider of 6ft. Proven in the hands of the Française des Jeux team though, there's no problem with that, but it does result in a lively little number.
It's not far short of the Boardman in the stiffness stakes, and has a feeling we could liken to riding a quality aluminium frame, for example Cannondale's CAAD 10 - no bad thing. That does give it some kudos in a race bike test as it's punchy and direct, and actually very likeable.
While it's not significantly holding the frame performance back compared to the others here, an update to BB30 or similar would be no bad thing. If anything is holding back the Lapierre from being a test winner it's the wheelset, which needs to be addressed.
Previous versions of the Focus Izalco have scored highly, and its continued development seems to be taking this frameset from strength to strength. The Focus offers the best balance of desirable attributes with stiffness aplenty where it's needed, yet with intelligent use of tube shaping, the Focus rear end works superbly.
It's laterally rigid, but the curved stays are doing enough to keep the harshness away. The Izalco was a firm favourite for its handling too, predictable and reassuring at all times.
VERDICT

We've often speculated that these days, if you're spending this kind of money you can't really go too far wrong, and this test has reinforced that for us. Based on what we've found here, the pleasing reality is you're spoilt with an almost 'can't-lose' situation with this current crop of £3K bikes.
Yes, there were the odd few quibbles and niggles, and our general concerns about wheels across the board, but nothing insurmountable, and actually all four of these bikes could produce the goods in a competitive environment.
What we didn't stipulate at any point in our search for a race bike was actually what type of arena we expected the bike to perform in, and what started to become apparent during the miles of testing was that our eclectic mix of contenders appeared, through their respective traits, to be leaning towards specific disciplines.
If your tipple is criteriums and/or short circuit races, then the squat geometry and with it tight, responsive handling and stiff feel, of the Lapierre Xelius 400 lends itself perfectly. It's a really fun bike to ride aggressively, and delivers a grin factor accordingly.
We really bonded with this bike out on the road, despite initially not being overly enamoured by what appeared in essence, to be a fairly run-of-the mill package. The Boardman's superior stiffness and low weight also means it excels if your style is more aggressive and attacking too.
It could also slot nicely into either a crit or road race season. I'd happily recommend it as a race bike to anyone who prioritises forward motion over comfort, as it's a little on the harsh side versus the others here, and it's superb value at £2,599.99, so comes very close to winning outright.
If your chosen race or event is a longer affair, like a sportive, racing your club mates or for a gold award, then the Trek's superb comfort and stability mixed with low weight and superb power delivery means it's got practically all bases covered. It was a personal favourite in terms of fit.
The Focus is the only one that's hard to pigeonhole, and that says a lot. It's a superb all-rounder, a real do-it-all machine, and for that reason has to pip the others and be crowned overall winner here. Money can't buy a much better spec than what's on offer on the Izalco Pro 1.0 and its frame/fork combo is superb.
If you can stomach the thought of buying it and then, at some point, also having to shell out for some lighter, racier wheels, then what you'll end up with is a bike capable of absolutely anything.
THE BIKES
Boardman SLR 9.2 £2,599.99
Mavic Ksyrium Elite wheels
SRAM Force
Ritchey WCS/WCS Carbon finishing kit
7.0kg/15.4lb
www.boardmanbikes.com
The Boardman's best attribute is undoubtedly its power delivery. Seated or standing the frame holds firm, and assisted by the BB30 chainset you'll feel every ounce of your pedalling power pushing you along, up or down dale. You'll feel a fair amount of road buzz, and occasionally find yourself momentarily airborne on badly roughened surfaces, but when you want a bit more it always seems like the Boardman has it in abundance, which combined with its lightness makes it nimble and fast.
Focus Izalco Pro 1.0 £2,899.99
Fulcrum Racing 5 wheels
Shimano Dura-Ace/
Rotor 3D+ chainset
3T finishing kit
7.6kg/16.7lb
www.focus-bikes.com
The Izalco Pro 1.0 looks every bit the part, and backs up a superb aesthetic with an abundance of other desirable features, such as a full Dura-Ace spec and Rotor's 3D+ chainset for an enviable pro-level specification for the price. The wheels are its only real let-down, and if you can see past that detail, then the Focus is immensely capable. In fact, it's hard to fault across the board.
Lapierre Xelius 400 FDJ £2,849.99
Mavic Ksyrium Equipe wheels
Shimano Ultegra
Ritchey WCS Alloy
finishing kit
7.4kg/16.4lb
www.hotlines-uk.com
As the only bike not using an oversize standard for its BB, the Xelius frameset was surprising, snapping at the heels of the stiffest bike here, no doubt helped by its very compact geometry. It's arguably a no-frills bike compared to the others, but to put a positive spin on that, all the more credit to it, because it's still a highly addictive bike to ride.
Trek Madone 4.9 £2,700
Bontrager Race Lite wheels
Shimano Ultegra and
Dura-Ace mix
Bontrager finishing kit
7.6kg/16.7lb
www.trekbikes.com
There were a few bits that Trek could maybe switch around to make the Madone 4.9 even better, but regardless it was a firm favourite here. Trek's wealth of experience in carbon lay-up shines through in a frame that delivers more than ample stiffness where you need it, yet feels silky smooth and stable powering over a cobbled street.
WHAT ELSE IS OUT THERE?
Colnago CLX 3.0 Ultegra £2,999.99
Felt F3 SRAM Red £2,999.99
BMC Racemachine Ultegra £2,999.99
BMC Roadracer SL01 Ultegra £2,799.99
Scott Foil 20 Ultegra £2,799.99
Cannondale CAAD 10 Dura-Ace £2,599.99
Dedacciai Assoluto RC Athena £2,666.66
Ghost Race Lector Team £2,699.99
Thank you for reading 20 articles this month* Join now for unlimited access
Enjoy your first month for just £1 / $1 / €1
*Read 5 free articles per month without a subscription
Join now for unlimited access
Try first month for just £1 / $1 / €1