Armstrong's team-mate Popovych testifies he did not witness doping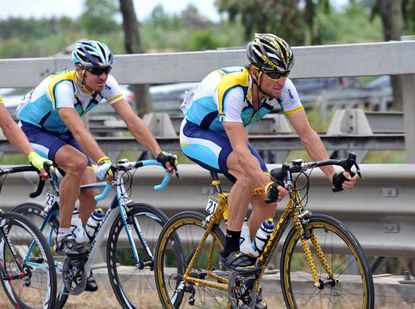 Lance Armstrong's former team-mate Yaroslav Popovych faced federal prosecutors for 90 minutes in a grand jury hearing yesterday in Los Angeles. The 30-year-old Ukrainian testified he had not witnessed doping while part of Armstrong's teams in 2005, 2009 and 2010.
"He doesn't know anything about what the focus of the investigation is," Popovych's attorney, Ken Miller, told New York's Daily News. "He did testify and he's happy to have it behind him."
Popovych rode on team Discovery Channel and helped American Lance Armstrong win his seventh consecutive Tour de France in July 2005. Popovych also finished 12th and won the white jersey of best young rider.
Armstrong asked Popovych to return to his side when he came back from retirement last year, first at team Astana and at team RadioShack this year.
Federal investigators served Popovych with a subpoena on October 22 when he was in Austin, Texas, for Armstrong's Livestrong Challenge Austin ride. He and his girlfriend had planned to visit the US for only four days before returning to his home to Italy. After he was subpoenaed, though, he stayed and hired Miller.
"How he was served struck me as a little peculiar," Miller told the Los Angeles Times. "It was effected on a guy at a charity ride who was going to leave Texas for a vacation with his girlfriend, a guy from Ukraine who doesn't speak great English and didn't really understand what was going on."
However, Popovych understands English well and likely knows about the the doping investigation into his team captain, Armstrong. The investigation gained momentum in April this year when Armstrong's former team-mate, Floyd Landis alleged wide-spread doping use in the team. During this year's Tour de France, Armstrong answered questions involving the investigation several times.
Landis left Armstrong's team after the 2004 season and joined Phonak. He won the 2006 Tour de France, but lost the title immediately afterwards when a doping test revealed he used testosterone. Besides alleging Armstrong doped in May, Landis also confessed to doping after years of denial.
The investigation is led by Food and Drug Administration criminal investigator Jeff Novitzky. Besides Popovych, Novitzky has already called other witnesses to testify, including former team-mate Tyler Hamilton, former liaison to eyewear company Oakley, Stephanie McIlvain, Landis' former physiologist Allan Lim, who worked with Armstrong this season and Greg LeMond. He has also requested documents from Armstrong's long-time sponsors, Nike and Trek.
Novitzky has also investigated other sports stars, including Marion Jones and Barry Bonds for steroid use. Jones eventually spent six months in prison for lying under oath during.
Related links
Armstrong's team-mate Popovych summonsed in doping investigation
Landis unlikely to stand trial for hacking says manager
Landis admits he doped and implicates others
Thank you for reading 20 articles this month* Join now for unlimited access
Enjoy your first month for just £1 / $1 / €1
*Read 5 free articles per month without a subscription
Join now for unlimited access
Try first month for just £1 / $1 / €1