BBC to broadcast Beryl Burton radio drama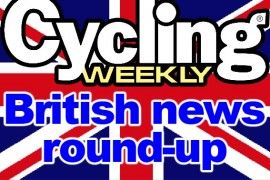 >>>We want to hear what's happening in your area - from racing results to sportives, recreational cycling to commuting. To submit your stories for CW's British news round-up, please email Nick Bull or Richard Abraham>>>
'La Yorkshire Dame a Bicyclette,' a radio drama about legendary cyclist Beryl Burton, will be broadcast on BBC Radio 4 on Tuesday November 27 at 2.15pm.
Written by and starring Maxine Peake, the drama is the first that the TV actress has penned and she is relishing the opportunity to play a great female lead and to use the rich sounds of bicycles whirring and clicking over the radio.
If you miss the production then you will be able to listen to it again after its broadcast on the BBC's iPlayer service.
Reservoir gains an extra day of racing
The Tour of the Reservoir Premier Calendar race will be upped to a two-day event in 2013, organiser Mike Hodgson can confirm.
The race will span the weekend of April 27 and 28 and now includes a further day of grippy racing around the Derwent Reservoir on the border between County Durham and Northumberland.
Following the demise of the Tour Doon Hame, formerly known as the Girvan, Hodgson explained he was keen to give something back to the calendar and support the local economy.
"We're going to drop the sportive and up it to two days, which takes little or no more organising," he said. "The race brought £40,000 to the local economy this year, so we're hopeful of bringing it up to £100,000 in 2013."
Stretton passes away
Ron Stretton, team pursuit bronze medal winner for Great Britain at the 1952 Helsinki Olympics, passed away last week after a long battle with cancer.
Stretton was part of Norwood Paragon when he won his medal and, despite emigrating to Canada in 1955, remained a member throughout his life.
He is survived by his wife and three daughters.
Vulpine cycling fete
British cycling apparel brand Vulpine will be hosting the second Vulpine Cycling Fete to showcase the best of cycling's entrepreneurs.
Taking place at the Balham Bowls Club on December 1, a range of brands and companies will be there at what organisers like to call 'an afternoon of party, not a trade show.'
Expect to see the likes of Rollapaluza, Look Mum No Hands, Artcrank and Nobrow, along with a range of artists. Entry is free.
East Sutherland Wheelers in running for local club award
One of the country's northernmost cycling clubs, East Sutherland Wheelers, is in the running for the 'Local Club of the Year' award at the 2012 Scottish Sport Awards.
The Wheelers were founded in 2010 in Golspie in the far North of Scotland and organise youth cycling, spin classes, touring routes and time trials in one of the most sparsely populated areas of the UK.
"It's really great to know that all the hard work put in by a whole range of local volunteers throughout the year has the opportunity for such recognition," said the club race co-ordinator Ian Sargent.
The awards will take place on December 9 in Glasgow and will be broadcast on STV.
>>>We want to hear what's happening in your area - from
racing results to sportives, recreational cycling to commuting. To
submit your stories for CW's British news round-up, please email Nick Bull or Richard Abraham>>>
Thank you for reading 10 articles this month* Join now for unlimited access
Enjoy your first month for just £1 / $1 / €1
*Read 5 free articles per month without a subscription
Join now for unlimited access
Try first month for just £1 / $1 / €1
Richard Abraham is an award-winning writer, based in New Zealand. He has reported from major sporting events including the Tour de France and Olympic Games, and is also a part-time travel guide who has delivered luxury cycle tours and events across Europe. In 2019 he was awarded Writer of the Year at the PPA Awards.