Bettini in trouble over dope control notification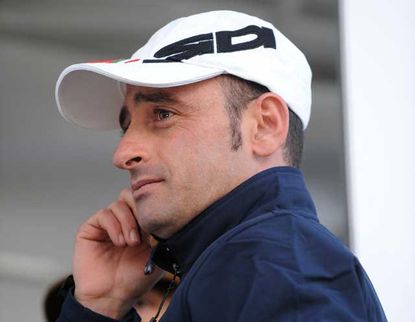 Italian coach and two-time world champion, Paolo Bettini is in trouble for tax evasion and alerting a rider of a doping control.
"I'm accused of something that doesn't exist," Bettini told Italy's ANSA news agency. "It's very damaging to my image."
Padova prosecutor, Benedetto Roberti accused Bettini of abusing his powers by alerting one of his riders, reportedly Enrico Gasparotto, of a doping control ahead of last year's World Championships. Bettini said that he called all of his riders to remind them that they would have anti-doping controls the following day, September 21, 2010, so that they would not be late.
The tests were reportedly planned tests by the Italian cycling federation (FCI) and not surprise tests by the World Anti-Doping Agency (WADA) or the Italian Olympic Committee (CONI).
Bettini "called to alert not one cyclist, but all of them competing in the Worlds," said the FCI in a statement last night, "to avoid them missing the control."
FCI president and UCI vice president, Renato Di Rocco said that Bettini acted correctly and would keep his job.
The date of Bettini's hearing is unknown.
Yesterday, investigators in Livorno also ordered Bettini to pay €2 million for evasion of taxes. He was accused of evading €4.5 million in taxes from 2003 to 2008. After an eight-month investigation, he and the prosecutor agreed a fine of just under half of the amount.
Sky re-signs Berry, Flecha and Knees
Team Sky announced on Thursday that it has renewed the contracts of Juan Antonio Flecha, Christian Knees and Michael Barry. Flecha and Knees re-signed for two years, and Barry one year.
Lloyd makes return in Sun Tour
Matthew Lloyd made his return to racing this week at the Jayco Herald Sun Tour in Australia. It marks his first race since being dismissed by Omega Pharma-Lotto in April.
The team said it had nothing to do with doping, but refused to specify a reason for firing the Australian.
He won a stage and the climbers' classification at the Giro d'Italia last year. The Sun Tour may signal his rumoured return with Australia's GreenEdge team.
Riccò faces 12-year suspension
The Italian Olympic Committee (CONI) requested a 12-year doping ban for Riccardo Riccò on Wednesday.
"The suspension will almost certainly be reduced," Riccò's lawyer, Fiorenzo Alessi told La Gazzetta dello Sport. "We will defend him in front of the Italian anti-doping tribunal [TNA]."
Riccò tested positive for EPO-CERA at the 2008 Tour de France. In February, after returning to race with team Vacansoleil, he nearly died reportedly due to a botched blood transfusion.
In the hearing, he said that he was only injecting himself with an iron supplements. The prosecutor, though, pointing to signs of blood doping when he checked into the hospital on February 6
A medic at the hospital said that Riccò admitted "he had done an auto-transfusion of blood that had been kept at in a refrigerator at home for 25 days." Afraid that "he had stored the blood poorly."
The TNA is expected to rule on the CONI's request in the next month.
Tour of Britain 2012 dates announced
The ninth edition of The Tour of Britain will take place from September 9 to 16 next year, the organiser announced on Thursday. The time slot falls between the London Olympics and the World Championships.
Mark Cavendish used the Tour of Britain this year as his final preparation before winning the World Championships.
The organiser announced the race will again visit England, Scotland and Wales.
2012 Giro and Tour routes 'leaked'
The 2012 Giro d'Italia and Tour de France will officially announce their routes within the week, even if versions were leaked on Monday. Both race organisers had their routes accidentally revealed on their websites.
The Giro will be presented in Milan on Sunday, the Tour in Paris on Tuesday, but below are the stages that were accidentally published.
Giro d'Italia 2012
Stage 1, May 5: Herning - Herning 8.7km TT
Stage 2, May 6: Herning - Herning
Stage 3, May 7: Horsens - Horsens
Rest day, May 8
Stage 4, May 9: Verona - Verona TTT
Stage 5, May 10: Modena - Fano
Stage 6, May 11: Urbino - Porto Sant'Elpidio
Stage 7, May 12: Recanati - Rocca di Cambio
Stage 8, May 13: Sulmona - Lago Laceno
Stage 9, May 14: S. Giorgio del Sannio - Frosinone
Stage 10, May 15: Civitavecchia - Assisi
Stage 11, May 16: Perugia - Montecatini
Stage 12, May 17: Seravezza - Sestri Levante
Stage 13, May 18: Savona - Cherasco
Stage 14, May 19: Cervere - Cervinia
Stage 15, May 20: Busto Arsizio - Pian dei Resinelli
Rest day, May 21
Stage 16, May 22: Limone del Garda - Falzes
Stage 17, May 23: Falzes - Cortina
Stage 18, May 24: San Vito Cadore - Vedelago
Stage 19, May 25: Treviso - Alpe di Pamepago
Stage 20, May 26: Caldes - Passo dello Stelvio
Stage 21, May 27: Milano - Milano TT
Tour de France 2012
Prologue, June 30: Liege - Liege 6.1 km (TT)
Stage 1, July 1: Liège - Seraing 198 km
Stage 2, July 2: Vise - Tournai 207 km
Stage 3, July 3: Orchies - Boulogne-sur-Mer 197 km
Stage 4, July 4: Abbeville - Rouen 214 km
Stage 5, July 5: Rouen - Saint-Quentin 197 km
Stage 6, July 6: Épernay - Metz 210 km
Stage 7, July 7: Tomblaine - La Planche des Belles Filles 199 km
Stage 8, July 8: Belfort - Porrentruy 154 km
Stage 9, July 9: Arc-et-Senans - Besançon 38 km (TT)
Rest day, July 10
Stage 10, July 11: Mâcon - Bellegarde-sur-Valserine 194 km
Stage 11, July 12: Albertville - La Toussuire - Les Sybelles 140 km
Stage 12, July 13: Saint-Jean-de-Maurienne - Annonay Davézieux 220 km
Stage 13, July 14: Saint-Paul-Trois-Châteaux - Le Cap d'Agde 215 km
Stage 14, July 15: Limoux - Foix 192 km
Stage 15, July 16: Samatan - Pau 160 km
Rest day, July 17
Stage 16, July 18: Pau - Bagnères-de-Luchon 197 km
Stage 17, July 19: Bagnères-de-Luchon - Peyragudes 144 km
Stage 18, July 20: Blagnac - Brive-la-Gaillarde 215 km
Stage 19, July 21: juillet Bonneval - Chartres 52 km (TT)
Stage 20, July 22: Rambouillet - Paris Champs-Élysées 130 km
Thank you for reading 20 articles this month* Join now for unlimited access
Enjoy your first month for just £1 / $1 / €1
*Read 5 free articles per month without a subscription
Join now for unlimited access
Try first month for just £1 / $1 / €1