Bicycle Film Festival rolls into London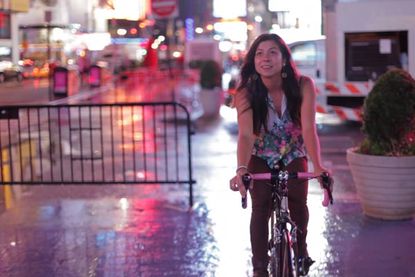 Cycling will be celebrated through the medium of film this weekend as the Bicycle Film Festival rolls into London. Now in its tenth year, the festival visits 45 cities around the world paying tribute to bicycle culture in all its facets.
After tonight's opening party at Hackney Downs Studios, the festival will begin in earnest on Friday, kicking off with the free-to-attend Cycling Symposium - a chance to discuss cycling in London from various angles. The pictures start moving on Friday evening with a selection of short films before the bill is topped by feature-length 'Moon Rider' - a heartbreaking tale of the lonely life of a young championship racer.
Saturday's schedule is made up of a series of shorts based on two themes - BMX and urban cycling - whilst Sunday showcases two feature-length films including 'Ciclo', in which two brothers retrace the cross-continental bike journey they made 56 years earlier.
Not solely confined to film, the festival is also partnering Saturday's VeloJam - the women's track racing day at Herne Hill Velodrome - and will put on a road ride and a bike polo competition on the Sunday.
All screenings take place at Barbican Cinemas and there are still some tickets available for all programs at www.barbican.org.uk/film. For further information on schedules and trailers, see www.bicyclefilmfestival.com.
Thank you for reading 20 articles this month* Join now for unlimited access
Enjoy your first month for just £1 / $1 / €1
*Read 5 free articles per month without a subscription
Join now for unlimited access
Try first month for just £1 / $1 / €1