Britain's team pursuit quartet crash out of qualifying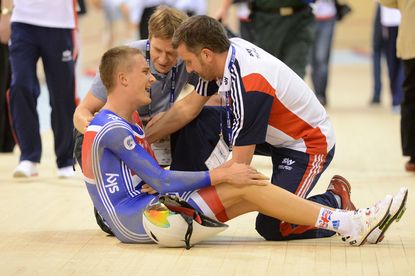 The British men's team pursuit squad crashed out of qualifying at the Glasgow track world cup after a touch of wheels in the back straight left just one man riding.
Owain Doull was the only rider to survive the carnage as Andy Tennant, Sam Harrison and Joe Kelly crashed down just after they had passed the two kilometre point.
Although details are patchy, British coach Chris Newton believed man two ran in to the back of man one and brought the front three riders down. Tennant came off the worst, suffering cuts to his leg.
The team was riding to a 4:03 minute schedule which would have been good enough for second place and a ride in the gold, silver medal final.
Denmark qualified fastest with a time of 4:02.981. They will ride against Germany in the gold medal final later this evening while Spain and Belgium will contest the bronze medal.
Chris Newton, British Cycling's Olympic Academy coach, said: "From what I could see, man two - Joe - went under the wheel just coming out of turn two. He's overlapped the wheel and lost it and man three and man four came down onto him.
"It's one of those things, it can happen frequently or infrequently. It hasn't happened for a couple of years now.
"Initially we wanted to get everybody down into the medical room and assess how badly injured they were. We saw that Andy had lost a lot of blood there."
Newton also refused to blame Britain's relatively-inexperienced line-up for the crash. "We weren't really on the limit there. Training's gone really well, above what we were riding there. Everything's gone to plan so far, just on this occasion it hasn't.
"Going by the splits, we were holding a good schedule. Whether there was a slowing from rider one (which triggered the crash) it's too early assess."
Andy Tennant had to recieve treatment to cuts on his legs but he was soon back in the track centre, "I don't know what it was. Without looking at the video you can never tell," he said. "When you're trying to ride that close, it's really difficult. I imagine it was a touch of wheels, one slight movement if you're overlapping the wheel and you could soon come down if it's at the wrong time."
""I know Joe's really upset. He doesn't need to be. Mistakes happen. There's nothing you can do, that's bike racing. The Danes slowed up in the last kilo so we probably would've just nudged in ahead of them. It would've been a good fight in the final, but nevermind."
Related links
Glasgow Track World Cup: Coverage index
Thank you for reading 20 articles this month* Join now for unlimited access
Enjoy your first month for just £1 / $1 / €1
*Read 5 free articles per month without a subscription
Join now for unlimited access
Try first month for just £1 / $1 / €1