Canyon Demo Day - Saturday 20 May
UK Cycling Events have teamed up with Cycling Weekly Sportive Series partners Canyon to bring an exclusive Demo Day to Sussex on Saturday 20 May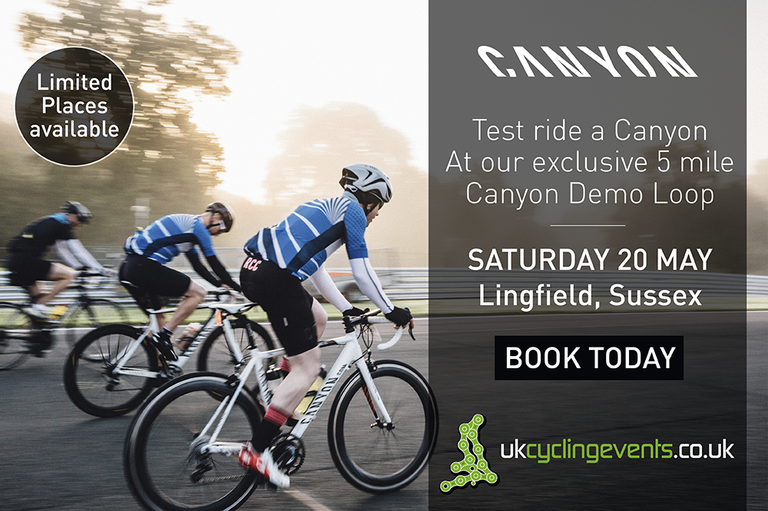 As the Official Bike Partner of the Cycling Weekly Sportive Series, UK Cycling Events have worked with Canyon to bring you an exclusive chance to try out their bikes first hand. Alongside the Cycling Weekly Surrey Hills Cyclone, Canyon will be bringing a range of their road bikes for demo. Places are limited so you will need to book early to avoid disappointment.
Canyon will be bringing the following bikes from their range, with a selection of sizes available:
Aeroad CF SLX DB 8.0
Endurance CF SL DB 9.0
Ultimate CF SL DB 9.0A
Endurance CF SXL DB 8.0 W
There will be four demo time slots available and each demo slot is £10. Should you want to test out all their range, you can book multiple slots and try different bikes. The Canyon Demo Day will take place on Saturday 20 May in Lingfield, Sussex, where there will be a fully marked five mile Canyon Demo Loop for you try the bikes out on.
"At Canyon we strive for the very highest standards in both our products and our services.
This applies to our research and development, our design, and all the way down to how we assemble our bikes and the customer service we deliver. We conduct the most stringent tests around, always going the extra mile to ensure that we do absolutely everything to make our bikes the best they can be. We want to represent our sport in the best way possible, and promote the sense of a united riding community.
This is our passion. This is what we do."
To find out more and book your test ride visit ukcyclingevents.co.uk