Chris Froome's mesh skinsuit sunburn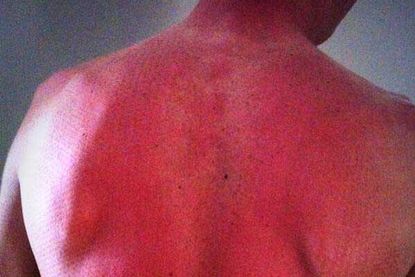 Ouch. One drawback of Team Sky's new lightweight, aerodynamic mesh skinsuit has been revealed by Chris Froome - it does not protect the rider from the sun's ultra violet rays.
Froome's fiancee Michelle Cound posted up a photograph via her Twitter account on Wednesday of the 2013 Tour de France winner's back badly sunburnt after a training ride in the new garment.
"The danger with wearing mesh jerseys... #ouch" she tweeted.
Detecting a possible chink in Team Sky's usually impenetrable armour, Garmin-Sharp team boss Jonathan Vaughters tweeted back: "Aha! We've found his weakness. Now on to manufacturing motorized ultra violet ray guns for the TdF"
Meanwhile, Froome has probably taken a trip down to his local pharmacy to stock up on factor 100 suncream.
Team Sky's Road Race Mesh Skinsuit is manufactured by Rapha for the squad. Froome caused a stir when he posted a photo of himself wearing the suit at the beginning of the month, when its see-through qualities could be easily observed.
Sky will be using the suit during the hotter early-season races, including this week's Tour Down Under and the forthcoming tours of Qatar and Oman.
Photo: Michelle Cound
Thank you for reading 20 articles this month* Join now for unlimited access
Enjoy your first month for just £1 / $1 / €1
*Read 5 free articles per month without a subscription
Join now for unlimited access
Try first month for just £1 / $1 / €1