Christophe Bassons: 'Riders aren't terrified of the UCI'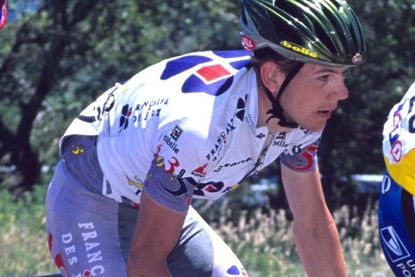 One of the problems facing the new Change Cycling Now group was the apparent lack of support for the group's aims exhibited by current pro riders. At the press conference to launch its 'Charter of the Willing', there were no currently active pro riders present.
Both CCN founder Jaimie Fuller and ex-rider Paul Kimmage explained this absence by saying that, as far as Kimmage was concerned "riders were all just terrified" of the UCI, while Fuller said he "had tried very hard to get riders engaged."
It's clear that the CCN group needs the broad support of current pro riders to Dr Michael Ashenden's new anti-blood-doping strategy. A system which if it was put in place "will guarantee the winner of the major Tours has not blood doped." Ashenden was confident that riders' group (CPA) president Gianni Bugno would be able to 'sell' the new anti-blood-doping regime to riders.
In the meantime, we asked CCN supporter Christophe Bassons if he thought that riders were "terrified" of the UCI, as Kimmage had suggested by way of explaining their absence from the CCN attendees in London.
"No... um... it's not that they are terrified of the UCI, I think it's complicated. What they say, what they think and what they do is always different for different riders. Personally, I don't understand when they say they're scared when we all talk about doping and yet at the same time not be terrified of the riders around them who are doping? And not scared of doping itself? We can't pretend there's no problem anymore because in the Tour there is still doping. For sure."
Bassons continued: "From what I can see one of the problems with the riders is that the media turn riders into gods and the riders love that, they love it. And the riders are worried about saying anything or saying that they are not doping.
"Why? Because although riders are not doping 'much,' although they are not taking 'heavy' doping products, they are still worried that the because they are still taking medicines and infusions to help recovery under medical orders - they almost all do that - it's medically OK, not forbidden. And if they are doing that and don't admit to it and not facing up to the reality of that, they feel they are not really in a position to say that the riders around him are cheating.
"If they speak, they are taking a risk that they might later be exposed for taking medically authorised products and that they are the ones who are cheating.
"And that's one of the reasons it's hard to get riders to talk openly about doping. Also, riders want to hang on to their jobs because most of them don't know how to do anything else and a rider is going to have a hard time with the UCI and other authorities like WADA or their Federations. I'm a bad example because I spoke up and I had to leave, I'm like an example of why you shouldn't talk," laughed Bassons.
The point surely is that, as ever, the problem of doping is not black and white and the issue of getting riders to speak up isn't only rooted in a fear of the UCI.
At the CCN conference, Greg LeMond perhaps unwittingly put his finger on it: "I think all the riders want to know is that there's a level playing field and that the rules will be really enforced and that they know the limits of what they will be competing in."
And if the current crop of riders feel that progress is being made in an anti-doping direction, why, in the light of Bassons' comments, would they want to get involved, no matter how laudable the project? What if, in the main, the current riders don't care enough who the president of the UCI is so long as the anti-doping measures appear to be having an impact?
Related links
Greg LeMond for UCI president?
Change Cycling Now group unveils 'Charter of the Willing'
Thank you for reading 10 articles this month* Join now for unlimited access
Enjoy your first month for just £1 / $1 / €1
*Read 5 free articles per month without a subscription
Join now for unlimited access
Try first month for just £1 / $1 / €1