Contador ban decision due on Thursday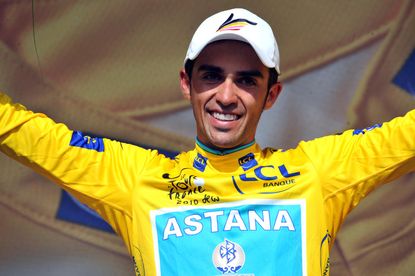 A decision on Alberto Contador's case relating to his positive test for banned substance clenbuterol at the 2010 Tour de France is due on Thursday (January 27).
The Spanish Cycling Federation (RFEC) is due to announce the outcome of its investigation and detail any suspension from competition.
Several Spanish papers, including Marca and AS, have stated that Contador will likely receive a one-year ban and be stripped of his 2010 Tour de France win.
A one-year rather than the more usual two-year ban from competition indicates the complexity - and a degree of uncertainty - of the case.
In the event of a one-year ban, it is possible that either or both of the Union Cycliste Internationale (UCI) and the World Anti-Doping Agency (WADA) could take the case to the Court of Arbitration for Sport (CAS) to increase the ban to two years. WADA has already stated that it is ready to take the case to CAS in the event of an aquittal.
However, earlier this month it was reported that the UCI and WADA had been invited by RFEC to help reach a joint decision in the case. A collaboration was subsequently denied by the UCI, but if it is correct then it is unlikely that any party will take the case further with CAS.
Contador tested positive for clenbuterol from a urine sample taken on the second rest day of the 2010 Tour de France on July 21 in Pau. Clenbuterol can be used to reduce the amount of body fat in athletes leading to overall weight loss and an increase in ratio of muscle to fat.
A low amount of the drug was found in Contador's urine sample - 50 picograms or 0.000 000 000 05 grams per millilitre - but its use is banned at any level.
The Astana rider quickly blamed tainted meat as the source of the clenbuterol, claiming that a friend had imported a steak from Spain for him to eat. Unscrupulous farmers have in the past used clenbuterol to increase the quality of meat from their livestock, although its use in farming is banned European Union.
WADA tested meat from the butcher and abbatoir in Irun, Spain, where Contador's meat originated but found no trace of clenbuterol.
The Spaniard has been provisionally suspended by the UCI since August, when news of the positive test broke. A back-dated one-year ban would mean Contador would possibly be free to ride again in August this year, in time for the Vuelta a Espana.
Related links
UCI admits it had documentation on Contador case since early December
WADA disputes Contador contaminated meat theory
Contador welcomes disciplinary hearing into clenbuterol case
Contador strengthens defence team in clenbuterol case
What next for Contador?
Spain's sports minister urges patience in Contador case
Saxo Bank to continue team sponsorship with or without Contador
Riis has a plan B is Contador is banned
How does clenbuterol testing work
Contador considers quitting cycling due to doping scandal
Tension rises over Contador's clenbuterol case
Contador case splits experts' opinions
Alberto Contador: The clenbuterol, the beef excuse and traces of plastic
Spanish authorities investigate source of Contador's mystery meat
McQuaid quiet on Contador case but says Spain can do more
Did Contador have a transfusion during the Tour?
Contador points finger at imported meat for clenbuterol positive
Contador tests positive for clenbuterol says governing body
Thank you for reading 20 articles this month* Join now for unlimited access
Enjoy your first month for just £1 / $1 / €1
*Read 5 free articles per month without a subscription
Join now for unlimited access
Try first month for just £1 / $1 / €1